Voices from the Crowd – Eli Parks
Each year Jesuit produces numerous theatrical shows with our abundance of actors. But who is the team behind the curtain making every technical component of the show possible?
Senior Eli Parks is one of Jesuit's best technical theater leaders, taking charge in class and after school. Parks' love for the theater community sparked during middle school as he tried acting, however, he soon realized it wasn't quite the thing for him. 
"When I was a freshman, my sister was a senior, and she had taken it for three years and had really liked it," Parks said. "I wanted to do more backstage stuff and technical theater was the opportunity to do that."
Since starting technical theater, Parks has been in essential leadership roles, most recently being named the stage manager of the show Eurydice. Calling directives from the script, Parks cued lights, sound effects, props, mics, and any other technical aspects, ensuring that everything got done properly and efficiently.
"It was a really in depth, dramatic show and it had a lot of technical aspects that we hadn't done before," Parks said. "It was a show that was completely new to everyone in class and the theater community here in general."
Fellow technical theater student David Reynaud works closely with Parks, as they've collaborated together since freshman year. Reynaud appreciates Park's helpful nature and willingness to assist anyone at any time. 
"It's always great to collaborate with [Parks] to see his vision for the script and production," Reynaud said. 
When Parks is not in the theater, you can find him hanging out with friends, like senior Clark Vowels, either studying for science class or watching Formula One racing. 
"We started watching [Formula One racing] last year, and now we have a fantasy F1 group together," Vowels said.
Along with Park's niche for technical theater and F1 racing, Park's has an affinity for science. Parks hopes to become a biochemical engineer, although he is open to the unlimited opportunities that will come in the STEM field. 
Park's driven mindset derives from him believing in himself and always putting sufficient effort into everything he does.
"It's all about committing time, energy, and effort, which sometimes is the hardest thing to do. But if you put in the work and hours, anything's possible", Parks said. 
About the Contributor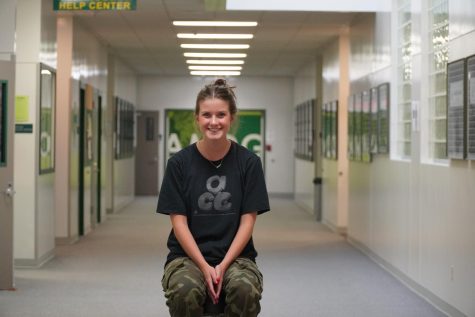 Brynn Ensminger, Staff Writer
B
ig-hearted.
R
eliable.
Y
outhful.
N
ice.
N
utty. All words to describe
Brynn
Ensminger. Brynn is a senior and will be joining the Jesuit media team for her first year. Brynn has always had a passion for writing, as she feels it is a wonderful way to express herself. She is most passionate about writing pieces on the issues many teens face, in hopes of connecting students with one another. Her experience in understanding teens comes from living with her three brothers. Brynn has two older brothers who graduated from Jesuit in 2021, as well as a younger brother who is a freshman. Along with talking about the struggles of high school, Brynn hopes to be the voice of one of Jesuit's podcasts, as she loves to chat! Discussing celebrity, school or any other drama, she is here for it. When she's not in the classroom, you can find Brynn playing soccer, lacrosse or even singing some karaoke. Although she's not the best singer, she sure knows how to put on a show! Brynn looks forward to learning more about media and further developing her leadership, inquiry, and communication skills.