Men's Varsity Basketball Beats Westview on Senior Night
Even with a home playoff game and preserving a shot at the Metro League title on the line, the result was not the highlight of the night. Those honors go to the nine seniors of the Jesuit Crusaders.
The festivities started well before the clock struck zero and even before the first quarter tip. 
The families and friends as well as the students that turned out made themselves heard when each senior marched out to half court with their immediate family to get a picture taken and an applause.
Senior big man Patrick Kelley had this to say about the festivities, "It's really cool. We're able to have a senior night with no restrictions. It's great."
COVID restrictions had hindered every basketball season since the 2018-2019 season. These seniors were lucky to have one normal season during high school.
For the evening tip off the Westview Wildcats put their shortest starter (5ft 8in) in the center circle to face off with Jesuit's 6ft 4in Payton Roth. Westview stood no chance as that was a sign of things to come.
Jesuit jumped out to an early lead over the Wildcats and never relinquished it. The Crusaders leading scorer Isaiah Crane helped them to keep that lead steady even when Wildcats senior Bogdan Chobu hit 3 pointer after 3 pointer to keep the lead at bay.
Crusaders senior forward Payton Roth said, "It's good we took care of this game, now we can move onto Beaverton and focus on the chance to win the Metro League Title outright."
What is turning out to be the Metro League "Championship" game is scheduled for 7:00 PM Friday, February 24th at Beaverton High School.
https://youtube.com/live/UERmQpgtcO4?feature=share
About the Contributor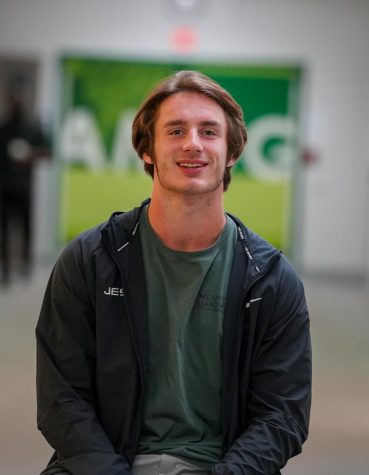 Garrett Speer, Staff Writer
Garrett Speer is a Senior at Jesuit High School and a first year journalism student. He is interested in writing about all kinds of athletic events at Jesuit with a focus on football, basketball, baseball and soccer. He is looking forward to announcing games this year for those sports as well. He strives to potentially be a play by play announcer for this year and in the future. Outside of school Garrett loves to be involved in sports and athletics. He plays on the varsity football team and also runs track. For both sports this year he is looking to end on a high note. He also loves the outdoors and the mountains. Garrett loves to go hiking to scenic and remote destinations especially during the summer. Garrett is the youngest child in his family. His sister, Jesuit High School class of  '19 is currently in her senior year of college at Whitworth University in Spokane. There are no pets in his family although he has always wanted a dog.  Garrett is hoping to play football in college as it his his passion. He believes that football and sports are an escape from reality and wants to be involved in them as much as he can.