Jesuit Women's Basketball moves on to the semifinals after buzzer beater finish
Number 1 ranked Jesuit Women's Basketball played number 8 ranked Willamette in the quarterfinals of the OSAA 6A Basketball playoffs today.
With the game beginning at 1:30pm, Jesuit students were allowed to leave school early to attend the game after having their parents sign a permission slip. Many students chose to make the trip out to the Chiles Center on the University of Portland's campus.
Grace Clark, a freshman at Jesuit, was enthusiastic to watch the big game.
"I decided to come support my friends and my fellow Jesuit students," said Clark.
Senior Nico Hidalgo looked forward to seeing Jesuit secure the win.
"I think it's going to be a big W for Jesuit," said Hidalgo. "I think we definitely have got this!"
After a close game with neither Willamette or Jesuit taking a significant lead at any point, Emma Sixta hit the buzzer beater shot in the final seconds of the game to secure the win for the Saders.
Natalie Sartell, another senior who attended the game, was amazed at the nailbiter finish.
"It was incredible. I was on the edge of my seat," said Sartell. "What a great win for the Saders!"
With Jesuit's 58-55 win over Willamette, they move onto the semifinals game at 1:30pm on March 10th.
Number 4 ranked Beaverton and number 5 ranked Clackamas started their 3:15 pm game shortly after Jesuit took the court to determine who will face off against Saders.
About the Writer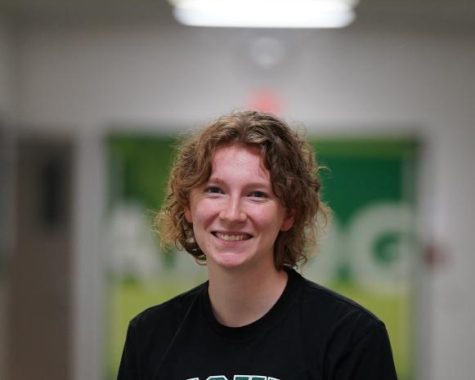 Caitlin Thomas, Staff Writer & Photography Editor
Curious, driven, and open-minded, Caitlin Thomas is an active member of the Jesuit community. She is involved in student government, women in sports club, and the ambassador program. Caitlin developed her interest in media taking photography class her junior year. She enjoys unique projects like fashion photography, senior photos, and focusing on capturing a subject's personality in her pictures. You'll find her with her camera at many Jesuit events capturing the unique, diverse community. Thrust into the spotlight, Caitlin interviewed 4 Jesuit students dressed as bananas at the Homecoming Football game while filling in for a sideline announcer at the last minute. This chance interaction launched her excitement in discovering passions in journalism and JCTV. She plans on reporting current events and Jesuit student interests. Caitlin loves being involved at Jesuit and in the greater Portland community, volunteering at Blanchet House and co-founding the non-profit Handle With Care PDX. Outside of school, she enjoys reading, working out, and traveling. She also enjoys exploring Portland's thrift stores and vegetarian restaurants.