Dr. Danner Returns to Teaching at Jesuit
Theology Teacher Mr. Danner Returns After Semester-Long Trip Abroad
After spending a semester in London, Mr. Jason Danner returned to Jesuit to continue teaching theology.
Danner teaches World Religions, a theology class offered to junior and senior students.
Danner's wife, a theology professor at Lewis and Clark College, led a class in a study abroad program in London which focused on how the role of religion in British society has changed from the traditional period to modern day.
Danner emphasized the course focuses on the presence of concepts like magic, myth, and superstition and how it has an effect on religion.
One of Danner's favorite experiences was visiting Buckingham Palace just hours after the queen's death.
"London is a city of almost 9 million people. It's very busy. There's noise all the time and on that day [the day the queen died] it was dead silent," Danner said.
Danner also talked about one of his recently re-discovered hobbies: electronic music creation.
"It's one [hobby] from high school[…]," Danner said. "It used to be very expensive then, but now it's really cheap so during the pandemic, I ordered a board.. I'm not working or with my kids I'm under the headphones. It's like a daily meditation. Put on the headphones, listen to the music, and then 30 minutes later it's back to whatever you're doing in your own world."
Senior Darsh Mandera highlighted the impact the Danner's class had on him and he is happy to see Danner return.
"I really enjoyed getting to learn about different cultures and religions around the world and see the ways they overlap while still having a different set of beliefs," said Mandera.
About the Contributor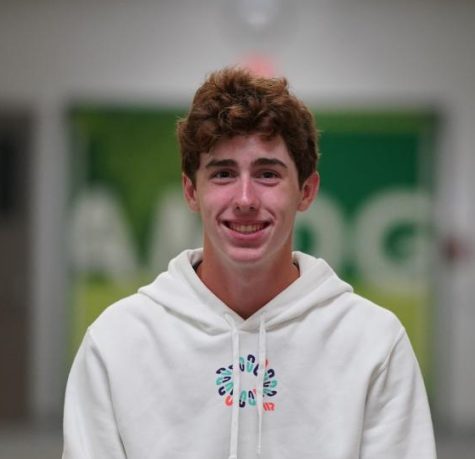 Jack O'Connor, Staff Writer
Senior Jack O'Connor joined the journalism world this year to make his impact. At Jesuit, he plays tennis, and is involved with the theater program. Outside of school, he loves to hangout with his friends, listen to music, travel, ski, climb, and create unforgettable memories. Jack is intrigued by the ever-evolving world of technology, and enjoys learning about the latest developments in the industry. He is excited to begin his journey as a journalist, meet new people, learn new skills, and inform the student body.