Schedule Irregularities Disrupt Class Plans, But Promote School Spirit
Over the last three weeks, Jesuit High School has encountered numerous schedule irregularities including two snow days, a two-hour delay, and an early release Friday.  
These irregularities were furthered by Jesuit's run in the women's basketball state playoffs. 
Following a buzzer beater win against Willamette on Wednesday, March 8th, the Jesuit administration announced an adjusted schedule for Friday, March 10 so students could attend the 1:30pm semifinal game against Clackamas.  
While being excused from school for mid day semifinal playoff matches has been a precedent for years, the unusual schedule initially prompted questions from students and school faculty.  
The schedule on Friday, March 10 is a half day, and omits 2nd, 3rd, 4th, and 7th period, but notably includes a 6th period, which is the fifth time that class has met this week.
According to Vice Principal Mr. Scott Powers, who is a part of the administration team who makes scheduling decisions, the extra class has a practical purpose.
 "The idea behind the extra 6th period on Friday is that we are losing a sixth period due to our Social Justice Week schedule next week.  By adding it back this Friday, we were able to balance the total number of period meetings," Powers said. 
However, balancing period schedules across multiple weeks presents challenges to some teacher's plans. Ms. Emily Keller, who has been an English teacher at Jesuit for over 10 years, expressed her preference for keeping different class periods in sync. 
"The way that many of us set up our canvas home pages doesn't lend itself to balancing across two weeks," Keller said. "It's complicated to teach different periods, material from the week prior since they still need to be caught up in the schedule." 
When asked about who makes decisions regarding scheduling, Mr. Powers responded, "School schedules are created by a team of administrators who meet weekly consisting of all the Vice Principals, Mr. Maxie, and Mr. Arndorfer." 
This recent spate of schedule irregularities prompts a larger conversation on how Jesuit teachers create class schedules in anticipation of changes.  
Some teachers have planned their day-to-day lesson plans weeks in advance.  
Senior history teacher Mr. Mark Flamoe shared his class planning strategy. 
"I used to try to have everything scheduled out for the entire semester up until this year," Flamoe said. "But when we miss days I have to go back and adjust everything and that was time consuming."   
Mr. Flamoe says he now shifted to a shorter term schedule to prepare for schedule irregularities.
 "What I do now is, I've held off rescheduling everything long term and just reschedule things by the week," Flamoe said.  think it's helpful for students to be able to look at the entire semester and see when things are due though, but it's just impossible."
He also noted that the schedule changes have pushed back his upcoming unit test. 
"In my US government and politics class, we had scheduled to have the current chapter tests prior to spring break but now we're not able to do that.  So it kind of eats into some of the review time we have for the AP exam," he added.
On the other hand, students have rejoiced in the lightened workload due to recent school cancellations and schedule adjustments.  
"I have got a lot of classes off and some other stuff canceled, so I'm fine with it and it makes school shorter sometimes which is good," senior Heath Masingale said. 
He also cited the importance of school spirit and supporting our athletic teams.  
 "I think going out and supporting your school for sports is really important. Whenever teams are competing in the playoffs, I think they should provide the opportunity for us to go there and show our Sader spirit," he added.
Jesuit High School Activities Director Ms. Lauren Blumhardt, advocated for school spirit as well. 
"It is important to us to show that we value all sorts of sports and activities. Same thing for our theater production, if they have a matinee or if it's during the school day. We want to make adjustments and make sure that all students get the opportunity to be recognized for their hard work," Blumhardt said.
School schedule irregularities have always been debated, but some Jesuit teachers, like Mr. Flamoe, believe that the administration has overall improved the base schedule.  This year, Jesuit introduced a new "Flex Schedule" allowing for built in times for clubs, assemblies and for teachers to conference with students, among other opportunities.
"I'm happy with it relative to what it used to be," Flamoe said. "I really don't know what else you're supposed to do in a real world environment with students and weather, athletics and such an important thing as a social justice week. We all believe in those things."
"I think it's the reality of being in an institution where so many different things are going on. You just have to be willing to be kind of spontaneous.  My only recommendation is that people accept that reality. When you compare it to what it used to be, it's hard to complain."
About the Contributor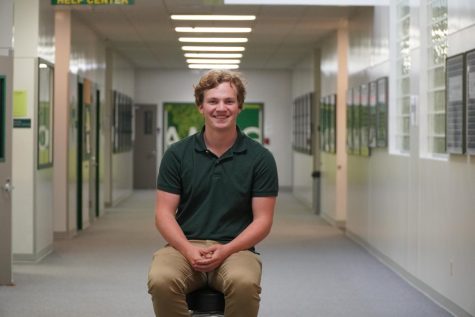 Clark Vowels, Executive Director, JCTV
Clark Vowels
is a Senior at Jesuit High School and
reports for the Jesuit Chronicle. He
has been pursuing videography and filmmaking for 6 years. When he was in 6th grade he took a
media studies course where he learned the fundamentals of videography and video editing. This
sparked a passion for video and he has continued to build his skills by becoming proficient in a
plethora of film and photo editing software. Recently, he has taken on the role of Executive
Director of JCTV, where he helps produce varsity sports broadcasts for Jesuit. Outside of school,
you will usually find Clark camping, mountain biking, skiing, and surfing in the beautiful pacific
northwest. This year he is particularly interested in broadening Jesuit Media's video journalism,
offering more ways to access stories from our team of writers. Clark also has played Football for
Jesuit through his Junior year, played guitar in the Jazz band for all 4 years of high school, and
continues to participate in Tech Theatre for every drama production. Clark hopes to build a solid
resume of videos to help him pursue his dream career of becoming a videographer for Red Bull
marketing.