Climate Activists Speak to Students During Social Justice Week
During the annual Social Justice Week, Jesuit hosted climate activist and Stanford student Sophia Kianni and Brenna Davis, director of Education for Justice and environmental initiatives for the Ignatian Solidarity Network.
Kianni, an Iranian-American 21-year-old activist, discussed with students how to make a positive impact on the climate, especially for young people.
Kianni founded a nonprofit organization called Climate Cardinals, which translates climate change information into 100 different languages. This helps aid the gap in climate education for those who don't speak English. Kianni founded Climate Cardinals during COVID when she was only 17.
Sophia Kianni's keynote presentation focused on how students can find ways to get involved in unique ways to aid the climate crisis. Kianni offered solutions, which included social media advocating and emailing representatives.
Kianni is the youngest member of the United Nations Youth Advisory Group on Climate Change.
On Wednesday, Brenna Davis of the Ignatian Solidarity Network spoke to students about the intersection of Jesuit teachings and climate change.
Davis's presentation focused on how individual actions, like consuming less, conserving, recycling, and other actions can help the collective create a more climate centric environment.
Davis stressed the importance of Jesuit education and acts of justice. Additionally she encouraged students to work for "love" and find hope, even in times of difficulty and pessimism, especially surrounding the climate.
Both talks focused on how individual actions can aid in the fight against climate change.
About the Contributor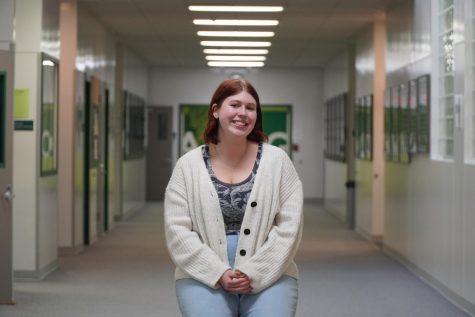 Allie Ruden, Editor in Chief
Allie Ruden is a senior at Jesuit High School and a second-year journalism student. Allie was born in Portland, Oregon, and is an only child. She has a labradoodle named Daisy who loves to nap and sunbathe.  In Allie's free time she loves to read, cook, and listen to all kinds of music. She loves to explore Portland with her friends. Her favorite places to eat in Portland are Bamboo Sushi, JoLa Cafe, and Grassa (highly recommended). Allie enjoys going to the beach, especially Manzanita and Lincoln City, and traveling all around Bend.  She loves writing and her favorite subjects in school are Journalism, English, and Spanish. Allie is interested in writing articles about music, pop culture, and the students and issues of the Jesuit community. She is excited to be able to write about what she is passionate about and delve into issues important to her. Allie is thrilled to be writing for
The Jesuit Chronicle
this year and is hoping to meet some new faces!