Understanding the "Walk a mile in my shoes" Refugee Awareness Activity
Barring the COVID era, every freshman class goes through the same activity, called "Walk a mile in my shoes," in which students learn what it is to be a refugee, if only for an hour.
According to the Jesuit Refugee Service(JRS), the point of the activity is to help high school students understand the lives and experiences of refugees. (JRS)
Ms. Jennifer Kuenz, the Associate Director of Ecological Justice & Global Networking and Physics teacher, said that Jesuit was an early adopter of the program.
"Our first year was in 2017, so this is our seventh year of doing some sort of refugee awareness activity," Kuenz said.
At Jesuit, the activity takes place in the Moyer lobby, where freshman students go through stations that are similar to areas in a refugee camp. There they learn about how they would get things like food, water, or medical supplies.
Student Volunteers like junior Xavier Wilson staff the stations, and teach the freshmen about the topic at hand. Wilson believes that the activity is important, because it teaches students about intricacies that they would not know otherwise
"They[The Freshmen] don't really know how bad it is [or] how many diseases there are," Wilson said.
Wilson got involved after doing a refugee activity in Mr. Fiorella's sophomore scripture class, and was inspired.
"I kind of grew an interest in the refugee services and how they all interact. When I heard[Jesuit] needed help, I just kind of sprung to action," Wilson said.
Due to online school, Wilson's version of the "Walk a Mile" was much more stunted.
"I was actually in the class, the one that did it online[…]I don't remember much of it now," Wilson said.
Kuenz said that the Covid years were challenging to the activity in general. While Jesuit did an activity with JRS in Canada over Zoom, it wasn't the same, according to Kuenz.
"We intentionally chose to have[the activity] be part of our freshman history curriculum because we wanted to make sure that every student at Jesuit went through the experience. So those two years of not doing it [in person] were challenging. Students didn't remember it as well, because it was on Zoom," Kuenz said.
In the future, Jesuit aims to increase awareness of the refugee crisis by trying to make sure that students have opportunities to expand upon their knowledge on refugees.
"The hope is that now that we're out of the pandemic, teachers will be able to build on what they know their freshmen learned in their world history class, and then bring that to a deeper level." Kuenz said.
While she said that the long-term impacts of the activity are unknown, Kuenz said that the hope was that all Jesuit students came out of it with a lasting sense of appreciation for refugees.
"There's hopefully a depth of awareness of those on the margins, right? It helps open our eyes in a different way," Kuenz said.
According to Wilson, there was almost an immediate difference in the freshmen.
"I definitely saw the students feel like their eyes are a little bit more open. The teachers also. A bunch of them were just coming to me in the hallway saying 'Oh, wow, my students are more aware of them[ the refugees] or aware of the situation,'" Wilson said.
If someone wanted to get more involved, Kuenz said that the best way would be to get involved at a community level, and at Jesuit.
"There's always ways to donate or be involved in our local community[…] reach out to the Arrupe center to potentially go on a Kino border trip, or be involved with Kino teens."
For his part, Wilson said that he was planning on helping out again next year.
"It's just a really cool opportunity to talk to people, tell them information about refugee camps and all that stuff," Wilson said.
About the Contributor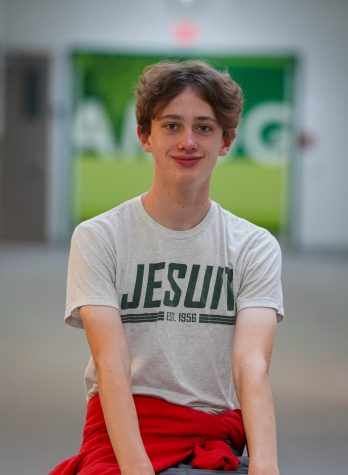 Seamus McCarthy, Staff Writer
Born and raised in Portland Oregon, this is Seamus McCathy's first year in Media Production, and he is
excited to start writing and producing media. He is excited to write about current events,
happening within the school and outside of the school including politics, school activities/events
and his current random subject of interest. He got the inspiration to take this class from the HBO
series,
The Newsroom
and classic movies such as
All
the President's Men.
He hopes that this
experience will help him to decide whether he wants to continue journalism throughout college.
When he is not in school, Seamus fences, goes for runs, and walks his dog. He lives with his
aforementioned furry companion, his brother, and parents in Portland.