Coach Ruchaber Wins National Tennis Coach of the Year
Coach Kirsten Ruchaber, long-time women's tennis coach, was selected by the National Federation of State High School Associations as one of the 2021-22 National Coaches of the Year.
Coach Ruchaber was first nominated by the state association, and she was then considered for the sectional and national award. She was judged based on her record, membership and affiliation with coaching and other organizations, involvement in the community, and her coaching philosophy. Twenty-three coaches from high schools across the country were selected, and three were from Oregon.
Coach Ruchaber has been coaching women's tennis at Jesuit for 23 years. She has a record of 317-12 overall, and she has led the tennis team to 17 Metro League titles and 9 state championships. She was named Metro Coach of the Year six times and Oregon Athletic Coaches Association Coach of the Year five times.
What stands out about coach Ruchaber is her dedication to her athletes and her goal of developing not just good athletes but also good people, following in Jesuit's tradition of forming men and women for others.
"I'm not only helping them with tennis, in coaching them on the court, but I'm trying to help develop good character for the rest of their lives and help make them into young women for others," Ruchaber said. "As a coach, it's important and special for me when I can make an impact and know that I'm helping girls overcome obstacles not only in their daily lives but on the court as well."
Coach's Ruchaber's influence is reflected in how much her athletes look up to her.
"Coach Ruchaber has made such a positive impact on the tennis team. She has created a spirit of competitiveness where the team pushes each other to be better, but also supports each other in their matches," said senior Mimi Rawlinson.
About the Contributor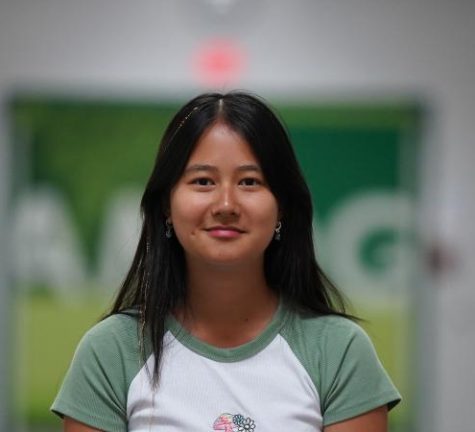 Lan Nguyen, Staff Writer
Lan Nguyen is a senior at Jesuit High School. She is the 2022-2023 yearbook Co-Editor-in-Chief and has a passion for graphic design. Lan has had an interest in journalism ever since her first journalism assignment in middle school where she investigated the school district's increasing budget cuts. Over the summer, Lan took a course on Advanced Media Methods at the School of the New York Times and attended the 2022 Northwest Yearbook Workshop at the University of Puget Sound. Lan is interested in covering local and global current events and student features, and she hopes to leave a strong impression on the community through the Jesuit media program and yearbook for her senior year. Outside of class, Lan is on the Varsity cheerleading team and works as a lifeguard and swim instructor. In addition to design and journalism, Lan enjoys reading and swimming.