Opinion: Effective Class Discussions Decrease Political Polarization
A 2020 survey at the University of North Carolina found the following: a quarter of undergraduate students believe it is okay to suppress some widely held views professors might deem as "wrong," students harbor divisive stereotypes about classmates with different beliefs, and some students even stated that they are not open to engaging socially with students who do not share their views. 
With our increasingly polarized society that has escalated since the pandemic, these results are not surprising. However, they are concerning. 
At Jesuit, AP US Government & Politics and Civil Rights in America teacher Mr. Mark Flamoe has also observed changes in how students engage in discussions as political polarization has increased throughout the years.
"I sense that there is an increased reluctance for students to express their views," Flamoe said.
Junior Reese Griffith has noticed the same reluctance among students. She shared one instance from a class in which she observed an anonymous classmate stifle their perspective as a result of political polarization. 
"I remember one time when there was a discussion about politics in a class and a classmate of mine clearly had a different perspective than most of the students and felt uncomfortable by the overwhelmingly opposite views in the classroom," Griffith said. "The student was quiet and didn't contribute [their] differing insights."
Schools should not be a place where civil discourse and connection are stifled by party lines. Further, it is vital that the next generation of voters and leaders learn how to engage with opposite perspectives with respect and understanding.  
The solution to these issues that have seeped into schools is to foster more intentional class discussions about modern issues.
Senior Carter O'Sullivan sees value in class discussions like these, especially in his AP Government and AP Macroeconomics classes, as they provide an outlet for him to enhance his opinions.
"I've been able to question others' ideas and even have my own ideas questioned," O'Sullivan said. "So in return, I'm able to improve and adjust my thoughts."
Griffith also shared that she's been able to intellectually connect with other students during discussions in her AP US History and AP Language and Composition classes.
"It's been really fun to find people I didn't expect to agree with on certain issues and share our thoughts on them," Griffith said. 
The success of class discussions is contingent on how they are structured.
"I try to encourage students to focus on nuanced, complex discussions of substantive issues, rather than just argue the world events that lead to heightened emotions," Flamoe said. 
O'Sullivan thinks this is a vital skill for students to cultivate in high school.
"In the real world, you're going to be questioned," O'Sullivan said. "So when you say things, I think it's important to know how to back up your thoughts and healthily debate."
Ultimately, political discussions provide high school students with the foundation to navigate our polarized world and preserve civil discourse.
"It's so valuable to see all the different perspectives in action," Griffith said.
About the Contributor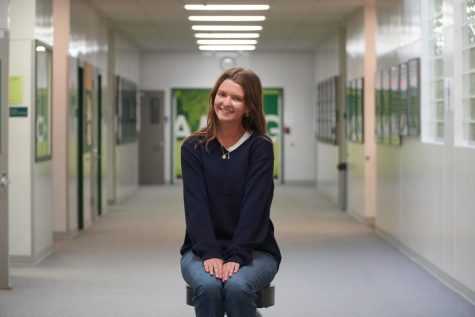 Lauren Herrick, Editor in Chief
Senior Lauren Herrick is a returning student from Journalism and a member of the editorial
board this year. Lauren enjoys producing feature and opinion pieces, collaborating with the team
to lead the development of the online and print paper, and enhancing her passion for the craft of
journalism through incorporating technology such as podcasts— check out the Sader Scoop, 
which she co-founded and edits. When she's not writing, you can find her reading the
Wall
Street Journal
or listening to NYT's The Daily. Outside
of journalism, Lauren enjoys practicing
yoga, part-time baristing at a local cafe, spending time exploring Oregon with her friends, and
listening to a lot of country music. She's excited to help lead the Jesuit media program and
explore topics more in depth during her second year of the program.