Feature: Junior Adrian Valenzuela, From Pianist to Composer
Junior Adrian Valenzuela is not only a star student but a composer of classical music.  
Valenzuela started piano lessons at 8-years old.
"It's been a steady part of my life from elementary through high school," Valenzuela said.
But his composition of classical music started a bit later. Valenzuela has been composing his own pieces for three years.
He was introduced to the art by his piano teacher, who thought Valenzuela would excel at it.
"My teacher told me that it would be a great opportunity for me and so I've been doing it since then," Valenzuela said.
A lot of work and time goes into composing music, but the process is exciting and extremely rewarding.
"It is a nice way to show my musical talents," Valenzuela said. "My favorite part is seeing the final product. You spend many hours and all nighters trying to make something work and so to see it work out in the end, is a feeling that I really can't explain."
Recently, Valenzuela achieved a major goal of his.
One of his compositions was played by the Metropolitan Youth Symphony.
"It was a dream come true because I've always wanted to see something of mine played and to see that happen, is an experience I will remember for a very long time," Valenzuela said.
As well as playing the piano and composing his own music, Valenzuela sings, runs, and loves math.
He hopes to incorporate all his interests into his future.
"I want music to remain a part of my life," Valenzuela said. "I'm looking into minoring in music, with a computer science major."
Two people have inspired Valenzuela through the course of his life.
"My dad got me into singing and he encouraged me to do more and more of it and my mom brought me to my first music class," Valenzuela said. "From there, the rest is history."
Not only has he been inspired throughout the course of his life, he is also a source of inspiration for his peers.
"He is very dedicated to what he does," senior and choir vice president Clare Mahoney said. "He finds the perfect balance between fun and focus. He is a great leader."
Being a choir member is an important part of Valenzuela's life. He enjoys being a part of the community.
He not only sings, but has the special role of giving the starting note during practice and concerts. He's able to do this with his perfect pitch.
Music has impacted Valenzuela's life greatly.
"Music has definitely gotten me through some really tough times and without it, especially during the pandemic, I don't know what I would have done," Valenzuela said.
To listen to Valenzuela's composition for the Metropolitan Youth Symphony, click here.
About the Contributor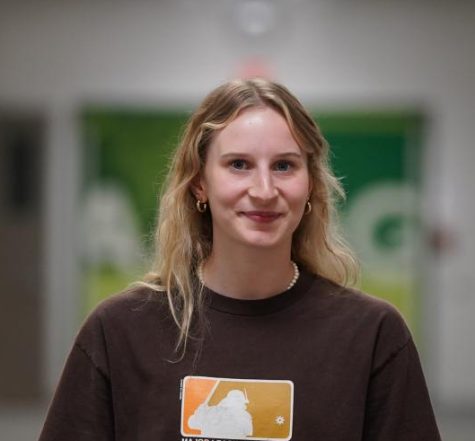 Veronika Lizier-Zmudzinski, Staff Writer
Half Italian, half Polish witty Jesuit High School senior Veronika Lizier-Zmudzinski has
joined the journalism world. She loves to write on controversial topics, fashion, life at Jesuit, and
anything European. Her wit will keep you laughing, her sense of style will inspire you, and her
unapologetic take on today's society and politics will broaden your perspectives. Veronika loves
to cook pasta, travel the world, hangout with friends, volunteer at the Blanchet House, and dance
ballet. She has been dancing since she was three and performing on stage has become one of her
favorite things. She is now excited to perform as a journalist. She can not wait to meet new
people, conduct interesting interviews, and keep the Jesuit community up-to-date with
everything going on. Veronika is ready to gain so many useful skills from diving into the world
of writing.