ASB Candidates Explain Why They're Running for Office
During Flex last week in the Cardoner room, several juniors gathered to discuss how they plan to better student life at Jesuit High School. Four of them hope to be the next ASB president, and they all have a plan to improve things at Jesuit.
The atmosphere in the Cardoner room was lively, with all four of the candidates waiting to talk to other students.
Junior Xavier Wilson is running for ASB president because he wants to build back school spirit and build a welcoming atmosphere.
"I want to provide a warm, welcoming community at Jesuit that's also very high spirited," Wilson said.
Wilson also wants to change the school's dress code. In order to do this, he looks forward to working closely with the school administration.
"I'm going to talk to the administration about [the dress code] and see if I can make it a little bit more relaxed in some aspects," Wilson said.
As far as building school spirit, Wilson wants an open forum where students can have input in what the school does.
"I'm going to talk and listen to what the [student] body wants and just work with the administration to the maximum potential possible in order to make that happen," Wilson said.
Junior Piper Lavey wants to open more communication between student government and the general student body. She also wants to help increase school spirit.
"I really want to open communication between ASB officers and the students by making an email list or a complaints box," Lavey said.
Additionally, mental health is a large focus in her campaign.
"I think mental health is really important. So floating more mental health days at Jesuit[…]putting that at the forefront of our minds because I think students get very caught up in school, and that's a stressful thing," Lavey said.
Lavey wants the administration to pay attention to students' mental health needs.
"I want to make sure that people are putting their needs in the forefront of the administration's minds," Lavey said.
Lavey also wants to relax school rules about the student section at sports games, which she believes are negatively impacting school spirit.
"The regulations on what students can and can't do are very restrictive[…] I think it would be more fun if we loosened the restrictions a little bit," Lavey said.
Junior Sash Ravishankar is running for ASB president because he wants to be an intermediary between the student body and the administration. He outlined three ways to do this.
His first way is through increasing student spirit by way of competition.
"My first step is increasing student spirit through three types of competitions, first being student faculty competitions," Ravishankar said.
These competitions would be different than those of previous years, including eating contests and trivia showdowns, as well as the classic student-faculty basketball game.
Ravishankar also wants to reform student-teacher relationships into a more one-on-one approach.
"I want student-teacher relationships to be more than just a teacher teaching a student. I want it to be more of a mentorship where teachers can provide additional guidance outside the classroom," Ravishankar said.
Thirdly, Ravishankar wants to increase the amount of space students have for eating, hanging out with friends, and doing homework. He also wants to change lunch lines in the cafeteria.
"If you go to the cafeteria, it's so crowded there's so much there's so many people everywhere and I want to work to create more space for the students[…] the other part is during the lunch, the lunch lines are completely crowded and we need a way to make those more efficient so students can maximize their time. I plan on doing this by putting barriers between each lunch line to increase the flow of students and make the whole process faster," Ravishankar said.
He also wants to organize polls and forums so that students can have more of an impact on day-to-day decisions about the school.
Junior Adrian Torres-Arranaga is running for ASB president because he too wants to achieve three main objectives.
"I feel that the students could be given a larger degree of freedom in ways to choose the ways in which their community is grown and expanded," Torres-Arranaga said.
More specifically, he wants students to have larger input in the process of building school spirit, and school activities like Jesuit's got talent.
"I would use polls in order to specifically highlight ways in which the Jesuit community wants to be improved and ways in which they can," Torres-Arranaga said.
Torres-Arranaga also wants to expand flex opportunities, with more activities like "Jesuit's Got Talent" and Munch Madness."
Finally, he wants to have more culinary opportunities, by bringing samples from local eateries, such as Salt and Straw.
"I want to bring more light to local restaurants," Torres-Arranaga said.
Why do that? Torres-Arranaga believes that it will increase school spirit.
"It has been proven time and time again that school spirit is increased when free food is given out," Torres-Arranga said.
About the Contributor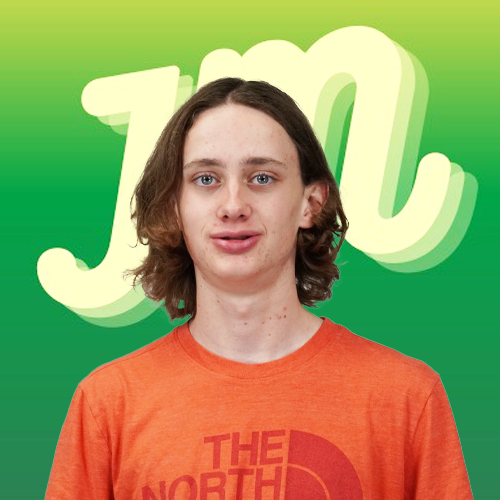 Seamus McCarthy, Lead Writer
A senior at Jesuit High School, this is
Seamus McCathy's
second year in Media Production, and he is excited to continue writing and producing media. He has been writing since elementary school, but was really inspired to become a journalist by the Media Production class. He enjoys writing about politics and school events, and aspires to work as a journalist through and after college. When not at school, he is running, fencing, or walking his four-year-old dog. He lives in Portland with his parents, brother, and the aforementioned furry companion.