Kessler Named Track & Field Head Coach
Jesuit High School Track and Field has hired a new head coach that has 14 years of experience.
Laura Harmon, who was the head coach of Jesuit track and field team for 1 year, took a job offer at Washington State University to coach women's running, leaving the Jesuit program without a head coach.
Carson Kennedy, a junior on the track team, was fond of his former coach.
"She was an amazing coach, and an even better person," junior Kennedy said.
With there being a new job opening for the track and field team, Jesuit was hoping to find a coach with previous experience of coaching high school track & field. The program hired Shane Kessler, a former track & field, and football coach of various high schools in the Portland area.
"They were looking for a more experienced coach that wasn't new to the atmosphere," coach Kessler said.
Kessler attended Tigard High School and the University of Oregon as a walk-on for 5 years on the Ducks football team. He later went on to coach football and track & field at the high school level for 28 years. In 14 of those years, he coached Track & Field at Beaverton and Tigard High School.
There are 404 student athletes signed up for Track & Field this season. This requires a coach that is skilled in management.
Coach Kessler, who has coached track & field for many years, knows what this process is like, and is no stranger to dealing with complicated logistics.
"I don't think it's a struggle, it just takes more details to manage it because you have a higher volume of kids in a small space," Kessler said.
Further on, Kessler has implemented a new form of management to maximize efficiency at practice.
"We work in a pod system. They're broken down into smaller groups so there are enough coaches to help the athletes maneuver around each other to complete their workouts," Kessler said.
Coach Kessler noted how he has felt the support from the community here at Jesuit as a result of noticing a significant difference in the expectations and attitudes from faculty and staff.
"When I got the tour, I could feel a difference between this place and other places I've been at in the past, and it was a good feeling," Kessler said.
Coach Kessler wants to make sure students know of the passion he holds for this sport, and hopes that he can bring a new form of positivity and excitement to the school.
"I'm passionate about getting kids to be the best they can be and help them discover something new," Kessler said.
Coach Kessler has a passion to help students be their best. He recognizes that a lot of students don't know how good they can be, and he often refers to this year's saying, "Be unafraid" to help motivate students. The most important thing that Kessler believes in is to have everyone come together and move in the same direction. Kessler stated his three main objectives for what a student athlete should do to achieve success and happiness.
"Smile and have fun, be passionate about what you do, and get as good as you can," Kessler said.
There has been excitement and conversation from athletes on the team about the new head coach. Kessler has displayed his ways of being an experienced coach, and athletes have noticed this new coaching style, and appreciate his attention to detail with managing the whole team.
"He's very responsive to his athletes, he's very open minded and clearly wants everyone to have fun," senior runner Josh Augustine said.
"He's a great guy who cares about his athletes, and most importantly wants to win," sophomore Max Baricevic said.
However, with Kessler being a fresh new face to the Jesuit community, building relationships with students and athletes can take some time. In light of these obstacles, Kessler has implemented a leadership council to give athletes an opportunity to lead their team, but also develop a stronger relationship with him.
"I think I have developed a pretty good relationship with him considering that I have joined the leadership council and I've taken steps to get to know him, and help him get to know the team at Jesuit," junior James Timmins said.
"I don't think many people know him too well yet, but it is a work in progress and he is making an effort which is the most important thing," Augustine said.
Jesuit is currently ranked second in the Metro League. Coach Kessler is excited to continue to lead the team in the best way possible, and achieve success.
About the Contributor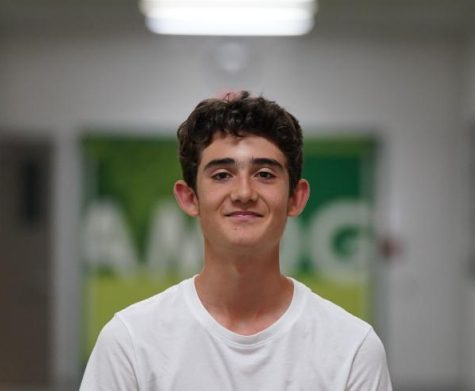 Matias Crespo, Staff Writer & Videography
I am a sixteen year old Junior at Jesuit who has a passion for videography and Journalism. I am interested in writing about sporting events and big changes on campus. I would love to write about all the athletic accomplishments in our school, and inform everyone on the statistics and big moments of the game or match. I am also interested in writing about the changes made on campus for this school year, and how it will impact our students in a positive way. Getting the opportunity to interview some of the top decision makers on campus would be a great way for the students to feel more connected with their school. Regarding my hobbies outside of school, I love videography. For many years now I have found a passion for filmmaking of various forms of content like short films, travel videos, documentaries, and so much more. I have started to help with video content for Jesuit, along with co-lead film club at our school. I love exploring the outdoors and going camping with my friends and uncle. I have camped all over the state of Oregon, and absolutely love getting the chance to disconnect from the world for a weekend. Camping is a very relaxing and spiritual experience for me, because I feel close to mother nature and love being with the people I enjoy. I think I am a pretty comedic person, and love to make people laugh. Nevertheless I am a hard worker and love to see positive results.