Chamber Choir Travels to NYC
Jesuit's Chamber Choir took their talents to the Big Apple— the group traveled to New York City for a weekend of singing and bonding from April 13-16.
Before the pandemic, it was typical for the choir to take a yearly out-of-state trip. This year's New York City trip marks the return to this long-loved tradition. 
The main event that the Chamber Choir participated in during the trip was competing in the Big Apple Classic competition with other high school choirs in upstate New Jersey, which they ended up winning first place in. 
Senior Chamber Choir member Jack Smith described the competition.
"The competition was draining since most of us were sleep deprived and had to wake up early and immediately get on a bus," Smith said. "The auditorium also didn't have air conditioning and it was 86 degrees out. Even with all of this, we gave one of our best performances and won the competition along with the Cantoria Choir, Jazz Band, and String Orchestra."
However, they didn't stop singing after that. Senior Chloe Heller described the many places in New York that choir was able to have a mini-concert at. 
"We had the opportunity to perform at St. Francis Xavier Church, a New York Jesuit Cathedral, and we sang at the 9/11 Memorial," Heller said.
When they weren't performing, choir bonded on the trip through visiting all of the destinations New York has to offer.
"We did a lot of touristy things," Heller said. "We went to Radio City Music Hall, Ellis Island, and saw a Broadway show."
Chamber Choir now looks forward to Oregon's state competition, which they qualified for just a day before they left for New York City.
"We got so much closer with each other," Heller said. "I think this trip was very important for us, since we recently qualified for state and are now so much more bonded going into the competition."
About the Contributor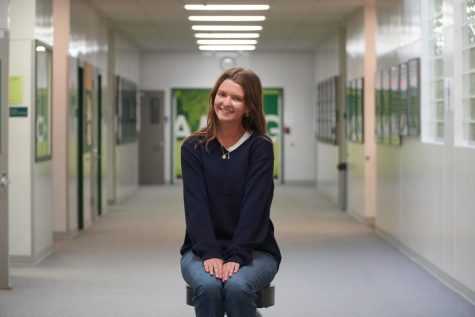 Lauren Herrick, Editor in Chief
Senior Lauren Herrick is a returning student from Journalism and a member of the editorial
board this year. Lauren enjoys producing feature and opinion pieces, collaborating with the team
to lead the development of the online and print paper, and enhancing her passion for the craft of
journalism through incorporating technology such as podcasts— check out the Sader Scoop, 
which she co-founded and edits. When she's not writing, you can find her reading the
Wall
Street Journal
or listening to NYT's The Daily. Outside
of journalism, Lauren enjoys practicing
yoga, part-time baristing at a local cafe, spending time exploring Oregon with her friends, and
listening to a lot of country music. She's excited to help lead the Jesuit media program and
explore topics more in depth during her second year of the program.