Good Luck with Charlie and Brynn
As Charlie Riddle and I, Brynn Ensminger, reflect on our four years at Jesuit, we are filled with lots of memories, laughs, and pieces of advice. In our newest podcast "Good Luck with Charlie and Brynn", an extension of the Sader Scoop, we unpack our best pieces of advice from our Freshman year, touching on social, academic, and extracurricular aspects. 
Socially:
Coming into Jesuit as a new student, whether your entire middle school class is alongside you or you are the lone student from your old school, it can be overwhelming. Who will your friends be? Will they like you? Are you going to be included? As questions flood the freshman's mind, we are here to give some advice to ease their worries. 
First off: try your best to be involved. Whether that is going to sporting events, plays, dances, coffeehouse, JCTV broadcasts, and everything in between, dive into everything that Jesuit has to offer. Although it may be daunting, reach out to new people at these events who you didn't know before, as a lot of the time, that person is wanting someone to talk to them anyways. Additionally, don't be too caught up about who you are friends with. Instead, find people who genuinely care and appreciate the real you. Those concrete relationships are the ones that will carry you throughout your high school career.
Most importantly, be kind! Maybe that is sitting with someone who is alone, saying hello to someone new in the halls, or intentionally acting with care. Don't contribute to a person's negative high school experience. 
Academically:
High school grades: scary, weighty, daunting. As a freshman walking into an entirely new environment, with a lot more people, stress, and pressure, it can be difficult to not get caught up with grades. A letter that students let define their worth, grades can take over one's identity. But find a balance between grades and an outside life. That doesn't mean to slack off in your classes and not prioritize your school work as it is important to set a good foundation for yourself early on, but it's imperative that you don't lose yourself in the process. 
You are not alone in your classes. Jesuit is full of people who are willing and want to help you succeed, so use those resources! Go to teacher office hours, the CLARC for NHS tutoring, or ask an upperclassmen. 
Finally, find class courses that work best for you. Your classes should push you to be successful., as they challenge you to be your best self.
Extracurricular activities:
Jesuit has tons of extracurricular activities students are welcome to. Ranging from sports, the arts, robotics, academic bowls, and much else, there are many groups students are encouraged to try and join. So, put yourself out there, what's the worst that can happen? 
These groups are places that can act as an outlet from your busy life, so try your best to find a group that welcomes you. The group you end up loving may not be the first one you go to, so try them all out!
Additionally, your time at Jesuit goes by in the blink of an eye. Knowing that, try your best to walk away with no regrets. Actually take the time to enjoy the activities you are involved in, don't use them as something you have to do. Act with grace towards yourself, and find a balance between intensity and enjoyment. 
About the Contributor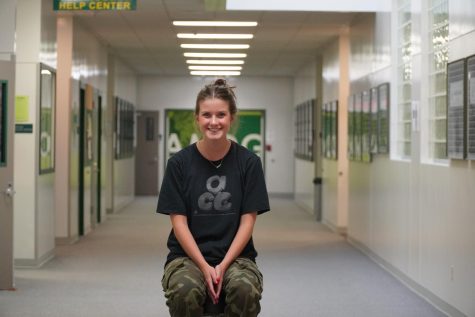 Brynn Ensminger, Staff Writer
B
ig-hearted.
R
eliable.
Y
outhful.
N
ice.
N
utty. All words to describe
Brynn
Ensminger. Brynn is a senior and will be joining the Jesuit media team for her first year. Brynn has always had a passion for writing, as she feels it is a wonderful way to express herself. She is most passionate about writing pieces on the issues many teens face, in hopes of connecting students with one another. Her experience in understanding teens comes from living with her three brothers. Brynn has two older brothers who graduated from Jesuit in 2021, as well as a younger brother who is a freshman. Along with talking about the struggles of high school, Brynn hopes to be the voice of one of Jesuit's podcasts, as she loves to chat! Discussing celebrity, school or any other drama, she is here for it. When she's not in the classroom, you can find Brynn playing soccer, lacrosse or even singing some karaoke. Although she's not the best singer, she sure knows how to put on a show! Brynn looks forward to learning more about media and further developing her leadership, inquiry, and communication skills.