26 Pebbles: A must-see show
26 Pebbles, Jesuit's highly anticipated Spring Drama Production, had its opening night this Thursday.
Eric Ulloa wrote this play after visiting Newton, Connecticut, the town where the Sandy Hook Elementary School shooting took place on December 14, 2012. The advertisements for this production emphasize that although the shooting is the inciting incident, this play is not a reenactment of the event. The inspiration for this play were the 60 interviews Ulloa conducted with various members of the community as it was reeling with the aftermath of the shooting.
When audience members enter the Moyer Theater, instead of being ushered to the familiar, cushioned red seats, they are led onto the stage to a mock-Black Box set-up, creating an intimate setting.
The lights fade and the actors take the stage. A story about a small town community takes shape. The 10-person cast switches between longer monologues and powerful dialogues, allowing a dynamic story to unfold.
Because of its small, intimate setting, this show engages the audience, making them feel just as much a part of the story. Piper Lavey, a junior, usher and audience member during the show, reflected on what this show meant to her.
"I tried to go into the show as blind as possible because it was really important to me that I was able to experience it with the full emotion that I could," Lavey said. "I don't honestly know a lot about school shootings. I tend to kind of avoid stuff like that in the news because it freaks me out."
Many might avoid this show altogether because of the anxiety and exhaustion of being faced with seemingly unending news about school shootings. However, audience members exit the show with a new, more informed perspective about the emotional fallout of these tragedies.
"In seeing the show, it taught me so much about mortality and how that is not always something that has to be looked down upon with ultimate grief," Lavey said.
This show is a heavy one as it explores topics of loss, grief, and trauma. However, stories like this need to be told, especially with the uptick in mass shootings since Sandy Hook.
In 2022 alone, there were 300 school shooting incidents. A little over a decade earlier, in 2010, there were only 15 school shootings.
To date in 2023, there have been 193 school shooting incidents and 93 victims.
In her "Note from the Director", Elaine Kloser, mentions the shooting at Robb Elementary School in Uvalde, Texas on May 24, 2022 as an impetus for the drama department hoping to put on the show 26 Pebbles.
Last year, the Jesuit Against Gun Violence club staged a walkout during the school day as a way to honor and remember the victims of the Uvalde shooting. Students who attended the walkout last year will remember the somber, yet reflective and hopeful atmosphere in Hayes Plaza that day.
26 Pebbles creates a similar atmosphere. The production showcases the complexities of the issue of gun violence and the fallout of mass shootings through its use of lighting, engaging visuals, dynamic costuming, and an overall impressive, emotional delivery from the actors.
Kekoa Dowsett, a junior, who played Michael and Fr. Weiss in 26 Pebbles, shares the importance of this show, especially in the current social and political climate in the United States.
"I think this story needs to be told not just because of our political climate, just everything that's been going on in the world recently. The fact that we have had more mass shootings than days. The fact that the number one cause of death for children in the United States is gun violence," Dowsett said. "I think all of that culminates in this desperate need for not only information but this sort of catharsis that comes with this play. We need that hope. We need that reassurance that everything will be okay if we really put in the work."
Senior Chloe Heller, who played Carole and Julie, also shared their thoughts on the message of this story.
"This story needs to be told because we need hope for the future," Heller said. "We still face this issue every single day and we need to bring that hope and show that if we change, we can move on and build a better future."
Hope shines on the stage and in the lobby after the show. In addition to students working to bring this story to life on stage, the group of students working behind the scenes put together an informative and moving lobby display after the show.
Frankie Modeaux, a senior who worked on the lobby display, noticed how this event and this show hit close to home for them.
"Before being involved in this, I just knew about Sandy Hook and the 26 victims that died, but as I was reading all of their stories and the things that the children's parents wrote for them, it sunk in that this is real and it could happen anywhere and that it's incredibly upsetting and something we need to fight against," said Mondeaux.
The production also explores the topic of mental health and its relation to gun violence. This was a raw conversation which hinted at the stigma surrounding those with mental health issues. Elliot Hunt, another senior who took an active role in making this lobby display, reflected on the research he did in preparation for the show.
"I wrote the article and all the facts about mental health and helping students get mental health checkups at school and evaluations, especially when they are feeling down," said Hunt.
Although some might have reservations about seeing this play, the Jesuit students, faculty, and staff involved in this production went above and beyond to tell a story that displays how a community can come together and support one another. It is a definite must-see production.
Dowsett reflects on the questions that came up for the cast throughout the process of workshopping and putting on this show.
"We talk about this in different rehearsals – it's this idea of what is love and what is the absence of love. What does that do to affect our communities? What does that do to affect ourselves? How do we deal with that?" Dowsett said. "I think this show really encapsulates all of those aspects through this arc of though we may love each other and though we may have this community of love, there are those that fall by the wayside and those that lack that love or don't feel that love that we so desperately want them to feel."
The audience is left to ponder these same themes and questions. Going to the show with family and friends or even striking up a conversation with fellow audience members after the show is an impactful and insightful experience.
"It answers all those burning questions and gives us more burning questions," Dowsett said. "And then, by the end of it, not everything is resolved, but we have this sense that we can do something about it and that we can use our love and spread our love to make a difference."
About the Contributor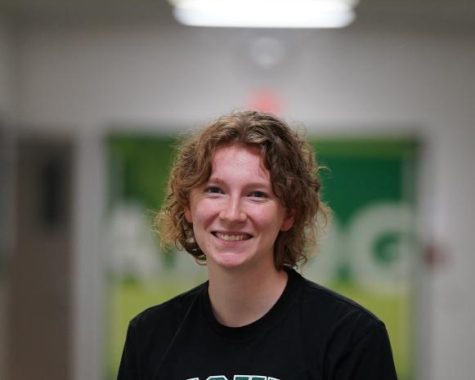 Caitlin Thomas, Staff Writer & Photography Editor
Curious, driven, and open-minded, Caitlin Thomas is an active member of the Jesuit community. She is involved in student government, women in sports club, and the ambassador program. Caitlin developed her interest in media taking photography class her junior year. She enjoys unique projects like fashion photography, senior photos, and focusing on capturing a subject's personality in her pictures. You'll find her with her camera at many Jesuit events capturing the unique, diverse community. Thrust into the spotlight, Caitlin interviewed 4 Jesuit students dressed as bananas at the Homecoming Football game while filling in for a sideline announcer at the last minute. This chance interaction launched her excitement in discovering passions in journalism and JCTV. She plans on reporting current events and Jesuit student interests. Caitlin loves being involved at Jesuit and in the greater Portland community, volunteering at Blanchet House and co-founding the non-profit Handle With Care PDX. Outside of school, she enjoys reading, working out, and traveling. She also enjoys exploring Portland's thrift stores and vegetarian restaurants.