Track and Field Recap: April 19th Jesuit defeats sunset
On Wednesday April 19th, Jesuit defeated Sunset 95-50 in men's and 85-50 in women's.
The first race of the day, the women's 4×100 meter relay, Jesuit's Iman Foster, Cameron Gatlin, Jada Williams, and Kiana Johnson ran a time of 50.07 seconds, giving Jesuit an early 5-0 lead on Sunset.
In the men's field events, senior thrower Nicholas Sousou won both the discus (124'0 feet) and shot put (45'0.75 feet), and Nolan Schweiss won the triple jump with a jump of 39 feet 9 inches.
The women's distance team had a solid meet with Jane Mattson winning the 800 with a time of 2:24.48 and Maura O'Scannlain winning the 1500 with a time of 4:47.69.
Along with the distance team, the women's sprint team had a good meet with Kiana Johnson winning the 100 meter dash with a time of 13.02, Cameron Gatlin winning the 100 meter hurdles with a time of 16.53, and Emerson Strub winning the 300 meter hurdles with a time 50.38.
Junior sprinter Landon Lagesen ran the 400 for the first time this year, placing 3rd with a time of 54.85.
"It's electric, running the 400, I hear Jesuit athletes yelling my name who I don't even know, that's the support and community we have here at Jesuit," Lagesen stated.
In the women's field events, Gabriella Feleciano won the high jump by clearing 5-02.00, Laura Shiely won the discus with a throw of 90-00 feet, Iman Foster won with a jump of 16-05.50 feet, and Cameron Gatlin won the shot put with a throw of 31-00 feet.
Jesuit's next meet is at home for the Twilight Relays on April 28th, with the first event starting at 2:00 pm and last event ending at 9:00 pm, consisting of teams and athletes from Oregon, Washington, Idaho, Colorado, Montana, and California.
About the Contributor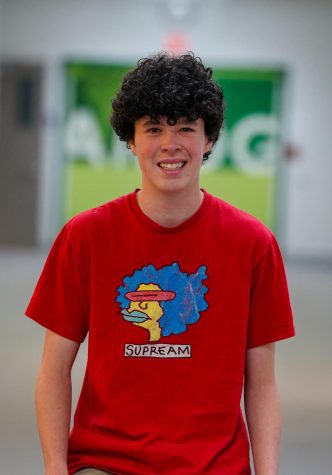 Eamon McDonagh, Staff Writer
Eamon McDonagh is a junior at Jesuit and it is his first year doing journalism. Eamon decided to
do journalism because of his brother, who loved doing broadcast journalism as a junior and
senior at Jesuit. Eamon is interested in writing about all different sporting events at Jesuit,
especially football, basketball, and baseball because of his experience playing these sports. His
love for sports started at a young age by following the Portland Trailblazers, Minnesota Vikings,
and Minnesota Twins closely since age five. Outside of school, Eamon is a part of the Jesuit
basketball program and is slowly picking up golf in his free time. Eamon and his brother
frequently listen to the Bill Simmons Podcast, and often argue about different topics concerning
the NBA and NFL. Eamon loves watching movies with friends with his favorite all time being
Cars. He has two dogs at home, Rory and Lulu, who both love chasing tennis balls at the park.
Eamon has no prior experience in journalism, but he is very excited to learn and try.