Green Team Offers Gear Drop Off
Students can drop off old Jesuit gear in the Knight Lobby until May 19, according to Ms. Kuenz, a Physics teacher and an adult leader of the Green Team.
Run by Green Team, the drive was announced in the Daily Bulletin and seniors can drop off Jesuit branded clothing, including sweatpants, shirts, and sweatshirts.
On May 23 during Flex, students can pick out clothing they like to keep.
"The whole purpose is, especially for seniors who don't need all that extra Jesuit stuff that they can bring it somewhere it'll get used again," Kuenz said.
If there isn't enough gear, there likely will not be a gear swap on May 23, so that the school can save the clothing for the incoming freshmen.
Extra gear will be handed out to incoming freshmen during freshman orientation.
"The part that I love is when we can collect things that we are able to give freshmen at orientation," Kuenz said.
About the Contributor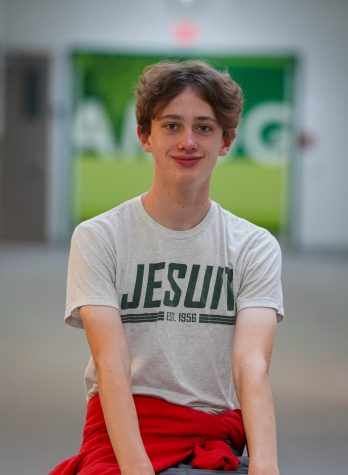 Seamus McCarthy, Staff Writer
Born and raised in Portland Oregon, this is Seamus McCathy's first year in Media Production, and he is
excited to start writing and producing media. He is excited to write about current events,
happening within the school and outside of the school including politics, school activities/events
and his current random subject of interest. He got the inspiration to take this class from the HBO
series,
The Newsroom
and classic movies such as
All
the President's Men.
He hopes that this
experience will help him to decide whether he wants to continue journalism throughout college.
When he is not in school, Seamus fences, goes for runs, and walks his dog. He lives with his
aforementioned furry companion, his brother, and parents in Portland.