Mr. Jeff Hall Leaves 32-Year Legacy on Students & School
For 32 years, Mr. Jeff Hall has been Jesuit's resident renaissance man.
During first period, you can find him with the tech theater students, constructing sets for upcoming plays and teaching them how to use all sorts of equipment. 
When the bell rings for second period, different students join him in the Moyer Theater for Drama & Theatre class, where he instructs students ranging from a lead in the recent musical to the senior trying to fulfill an art credit on how to perform scenes and monologues. 
On an assembly or Mass day, you'll see him making sure the audio and lighting are ready to go for videos and speeches that bring the whole school together. After that, he'll be with his creative writing class, encouraging them to write a page every day to fuel their imagination.
On opening nights for more than 100 stage productions, you'll see him watching a show that he directed student actors to create come to life. 
And he had originally just planned to be at Jesuit for a year as a long-term drama sub.
This spring marks the end of that original plan, as Hall will be moving to Anaheim, California to bring his talents to Disneyland. 
Hall's passion for Disney storytelling is common knowledge amongst his students, so it seems serendipitous that he will now be working as a Project Manager for Disney Live Enertainment's Initiatives and Integration team. 
Hall came to Jesuit two years before it went co-ed, during a time when the school was planning a huge expansion of facilities. One of the facilities under construction was the Performing Arts Center.
"Father Hayes, a Jesuit priest who used to be at Jesuit, was a real champion of the Performing Arts Center project," Hall said. "He really wanted it to be at the heart of the school. He felt like the performing arts were one place where every aspect of a Jesuit education could be reflected."
When asked about what he was most proud of creating at Jesuit, Hall highlighted how his work has helped bring this mission to light over the years. 
"I really do think we lived up to his vision of it being a heart of the school, not just a part of the school," Hall said. "Theater isn't everybody's thing, but for many people it is, and regardless, theater plays a role that I think is really important for the whole community to experience. Theater is a service to community."
Theater is certainly senior Alex Payne's "thing." Payne has been a key actor for Jesuit's drama program throughout his time at Jesuit, and served as the Drama Club president this year.
"My experience with the Jesuit drama program has been absolutely life changing," Payne said. "The community is just so welcoming. Performing in Jesuit productions is absolutely the highlight of my Jesuit career and I think it'll be very hard to top."
As a result of Hall's support, Payne was able to become a leader in the drama community at Jesuit even after some setbacks.
"I got cast as a lead for my freshman year musical," Payne said. "At the time, I felt like this was a decision many people weren't happy about. I even ended up transferring after freshman year. However, remembering how much Jeff and Elaine believed in me made me transfer back to Jesuit after I thought I really didn't belong here."
In addition to student actors, a crucial component in cultivating theater as a service to Jesuit's community is Jesuit's student tech theater team, which Hall started and directs. Junior Edison student Campbell Shaw is one of the main leaders of this team.
"What has made this program so successful is Jeff's can-do attitude and his motivation to make something happen even if it's not something a high school usually does or something that's hard to do," Shaw said. "Whether it's flying actors, pneumatic effects, or complex sets, Jeff inspires his students to put in the extra effort."
Shaw highlighted how Hall encourages his students fuel their own creativity.
"He has mentored me and taught me many invaluable skills, but has also given me tons of creative freedom to design lighting for shows and manage the repertory plot," Shaw said.
Hall continued to promote this freedom for high schoolers when he decided to teach the Creative Writing elective, a class where students write projects ranging from short stories to plays. Senior Stephanie Peterson took the course as a junior, and considers it her favorite class she's taken at Jesuit.
"It was nice to have that class as a break during the school day, a break in which I could just dump my creative energy into something that mattered," Peterson said.
Peterson spoke of the positive presence Hall had in class.
"You can tell he loves what he does," Peterson said. "He's a very engaging teacher, very charismatic and caring."
From drama productions to creative writing classes, Hall reflected on the role Jesuit has played in his life for the past three decades.
"It's been more than half my life," Hall said. "My daughter was less than a year old when I started working here, and my son was born while I was working here. Having Jesuit be an important part of my life was awesome. Having it be an important part of my family's life, too, was huge."
He now feels that his new position at Disney will not just be a culmination of all his various work at Jesuit, but in his past life experiences as well.
"There's no such thing as wasted time," Hall said. "The fact that I'm having this opportunity is something I'm incredibly grateful for, but it's also a product of the opportunities that I've had that have come before. Everything kind of ultimately becomes part of the story."
While Hall emphasized how much he will miss his community and coworkers at Jesuit, he's excited to see what's next for the theater program.
"I think there's a lot of things we've done really well, but I think it will be good for the programs to get a new leader that will also do things really well, but differently," Hall said. "I think it will take the program in new directions. The goal shouldn't be to keep it the same. The goal should be taking it to the next level."
Hall mentioned how much stories and storytelling mean to him. He now looks forward to working for a company that also recognizes the importance of storytelling in our world.
"Storytelling is my way of making sense of the world," Hall said. "And we all become stories. Ultimately, that's all we really leave in the world, all that lasts, is our stories."
Now, he'll continue to write his life story in Anaheim.
"I'm calling it Act 3," Hall said. "Teaching was Act 2. It was unexpected, and it happened, and it was amazing and the center of my life for three decades. And now I feel very fortunate to start an Act 3."

About the Contributor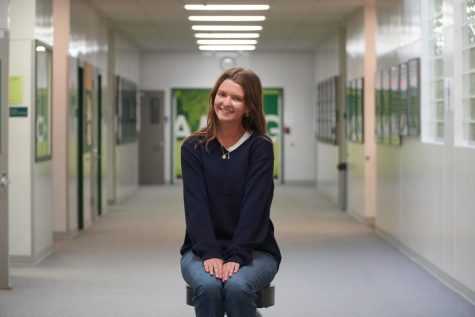 Lauren Herrick, Editor in Chief
Senior Lauren Herrick is a returning student from Journalism and a member of the editorial
board this year. Lauren enjoys producing feature and opinion pieces, collaborating with the team
to lead the development of the online and print paper, and enhancing her passion for the craft of
journalism through incorporating technology such as podcasts— check out the Sader Scoop, 
which she co-founded and edits. When she's not writing, you can find her reading the
Wall
Street Journal
or listening to NYT's The Daily. Outside
of journalism, Lauren enjoys practicing
yoga, part-time baristing at a local cafe, spending time exploring Oregon with her friends, and
listening to a lot of country music. She's excited to help lead the Jesuit media program and
explore topics more in depth during her second year of the program.