Mrs. Hagelgans exiting Jesuit
Emily Hagelgans, Vice Principal of Academics, will exit Jesuit after the 2022-23 school year. She will be taking on a new role as the Principal of Cristo Rey Jesuit High School in Seattle, Washington. 
In this new role, she will work closely with former Jesuit principal Mr. Hogan, who will now serve as  the President of Cristo Rey Seattle. Cristo Rey, similar to the model of De La Salle North Catholic HS in Portland, "delivers a career focused, college preparatory education in the Catholic tradition for students with limited economic resources, uniquely integrating rigorous academic curricula with four years of professional work experience and support to and through college" (Cristo Rey Seattle).
"The students work one day a week and the school partners with corporate sponsors who pay to have an entry-level job filled," Hagelgans said. "We have a team of four students who fill that job and so the salary for that job is divided amongst those students, which is used to help pay for their tuition. They also provide a significant amount of financial aid for families who need it."
 Hagelgans reflects on her time at Jesuit and moving into a larger role in the upcoming year. 
"I started teaching science at the original Cristo Rey school in Chicago," Hagelgans said. "Then I was dean of students and Director of Student Activities. I moved here in 2017 as Dean of Students and then I've been vice principal Student Life and Academics." 
During her time at Jesuit, Hagelgans has helped create programs for Spanish speaking families, as well as incorporating new processes into administrative duties. 
"I've done a lot to support families where Spanish is their primary language since then, we've ended up building a support team for those families to connect with," Hagelgans said. 
Her impacts in advancing inclusivity were also  echoed by many faculty members who have worked with her. 
"She is a great role model for women," Blumhardt said. "She advocates for women's safety and equity and it's really great to have a female leader today." 
Similarly, Ms. Colleen O'Mahony, Director of Learning Support, spoke on how she will miss Hagelgans' compassion and understanding. 
"Ms. Hagelgans is such a strong role model for everyone on campus but particularly for female identifying folks because she never compromises her strength," O'Mahony said. "Anyone who's ever been in a situation where they needed to be vulnerable with her knows she has a well of compassion because she's worked at schools and had life experiences that are all over the gamut, really, I think make her exceptionally compassionate."
O'Mahony also noted how her strengths lied in her life experiences to her role as an educator. 
"Students are sometimes surprised when they have made mistakes when they find themselves at like, sort of low points of their young lives, she really comes through with this intense compassion that I think you can only get if you've lived through difficult things," O'Mahony said. "I've seen difficult things and she so stunningly shines the most in those moments because I think she can say from a place of real knowledge that you are more than your worst decision."
Her Jesuit journey has come full circle, as she taught science at the first Cristo Rey school in Chicago, and now she will be  the principal of the 40th Cristo Rey school in Seattle. She is incredibly excited for this new challenge.
"I also get to work with Mr. Hogan again, which is fun," Hagelgans said. "We've worked well together. I think it was a full circle thing for me to start a brand new school. It'll be a different population of students so I'm excited to walk with those families on this journey of high school. I am excited to think about all the different cultures and diversity that will bring my own growth and learning."
Hagelgans is excited to continue the Jesuit mission in a completely new environment. Andrea Casey, Director of Arrupe Center for Justice, explained her appreciation for  Hagelgans' commitment to the Jesuit mission. 
"I think she's a direct communicator, which I really appreciate," Casey said. She is good about setting clear expectations, which is really helpful with both students and colleagues. One of her greatest strengths is her commitment to Jesuit education, her understanding of Ignatian spirituality and pedagogy and her background as a classroom teacher."
Although this is an incredible opportunity, Hagelgans is sad to be leaving the Jesuit community that has supported her for the past 6 years. 
Hagelgans will utilize experiences from Jesuit to help her new role. 
"I've learned a lot about working with diverse groups of people and just different people," Hagelgans said. "Jesuit is so large and everyone comes from their own backgrounds and experiences. The way I see something might be different from someone else or a family's perspective or the student perspective."
In her new role, she will be responsible for all aspects of the students' experiences, including student life, academics, and athletics. 
"I will be the instructional and faith leader of the school," Hagelgans said. "I'll have to be ultimately responsible for all the things that are happening on the school side: academics and student life." 
Hagelgans assumes that she will have a replacement who will, as she did, work alongside Mr. Powers in the Vice Principal role, although no replacement plan or person is in place. 
"It's kind of bittersweet and we're going to miss her," Casey said. "Another strength I would add is that she's not afraid to ask questions and challenge us to take a critical look at ourselves and where we need to grow and where we need to do better. I'm gonna miss her, but of course, I see where she's going."
 Hagelgans offered a reflection on the meaningful experiences she's had over the past 6 years. 
"I'm incredibly grateful for the time I've spent with you over the last six years," Hagelgans said. "I'm excited for this opportunity yet leaving is difficult. This is a special place full of wonderful people and I treasure the experiences we've shared and the relationships we've formed. There's great work happening here and I will continue to keep the Jesuit High community in my prayers."
(UPDATE: as of June 1 2023, Ms. Hagelgans will stay at Jesuit for 2023-24 school year)
About the Contributor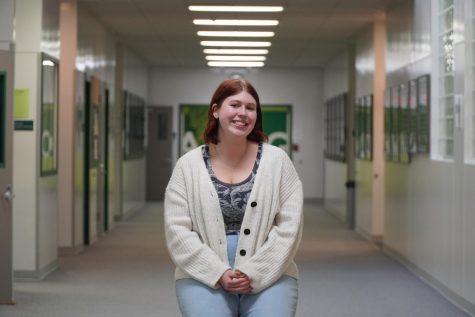 Allie Ruden, Editor in Chief
Allie Ruden is a senior at Jesuit High School and a second-year journalism student. Allie was born in Portland, Oregon, and is an only child. She has a labradoodle named Daisy who loves to nap and sunbathe.  In Allie's free time she loves to read, cook, and listen to all kinds of music. She loves to explore Portland with her friends. Her favorite places to eat in Portland are Bamboo Sushi, JoLa Cafe, and Grassa (highly recommended). Allie enjoys going to the beach, especially Manzanita and Lincoln City, and traveling all around Bend.  She loves writing and her favorite subjects in school are Journalism, English, and Spanish. Allie is interested in writing articles about music, pop culture, and the students and issues of the Jesuit community. She is excited to be able to write about what she is passionate about and delve into issues important to her. Allie is thrilled to be writing for
The Jesuit Chronicle
this year and is hoping to meet some new faces!