Softball completes valiant comeback against West Linn
Last Thursday, Jesuit's Women's Softball faced off against West Linn. With playoffs on the horizon and a roster full of seniors, the women's softball program hoped to continue their 5 game win streak leading into the game. 
However, through the first 6 innings, the West Linn women began pulling away as the 7th inning began with a score of 5 to 14. 
With one inning left in the game, the Jesuit women were down 9 runs to West Linn. A comeback would seem far-fetched but for this team, "[we] just tried to take it one at bat and one run at a time," senior Caroline Murphy said.
"I honestly didn't even think about winning until we scored that 10th run, which put us up by 1, because we still had to get three outs. Those last three outs on defense were super stressful, and I didn't let myself fully believe that we did it until the game was officially over."
"This game has the potential to provide strong momentum for this team however," Murphy said. "The goal for the playoffs is just to play our game like we have been all season. We know what we're capable of and what our job is. Just play a good, clean game and the rest will come naturally."
The team has gone through ups and downs this season, but Murphy characterizes the season by resilience.
"I think the thing I love most about this team, which you can really see from Thursday's game, is that we never give up," Murphy said. "We never get down on ourselves and we fight each and every game until the very end. We have pulled out some stressful wins that way and I think a lot of it is because of our mentality and how close we all are. We really believe in and trust each other."
Thursday's game will serve as a good confidence booster for the team with their first playoff game being Monday, May 22.
To find the Women's Softball bracket and all scheduling, visit the link here. 
About the Contributor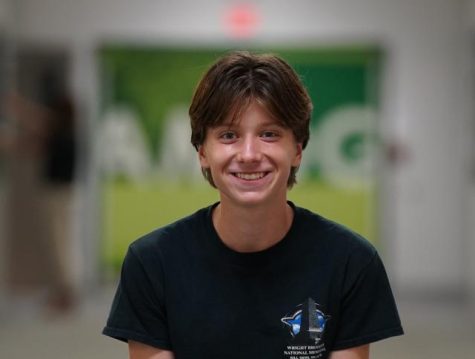 Gus Clevenger, Staff Writer
The power of storytelling is used to inspire and make people think more deeply and thoughtfully
about what was presented to them. To Gus Clevenger, a senior at Jesuit high school,
storytelling is at the forefront of his life, through seeking out new adventures and finding creative
ways to describe the world around him. As a young kid, Gus was surrounded with art and
writing and never saw himself doing much of anything else. Through listening to his dad make
up crazy stories about made up characters, to walking around OHSU and sitting through
interviews of dental students with his mom, storytelling was always there. This will be Gus's
second year as an editor and writer for the Jesuit Chronicle. In his first year as a Journalism
Student, he learned the fundamentals of Indesign as well as explored topics ranging from the
Jesuit administrative policies to food writing. Gus enjoys writing opinions , sharing different
perspectives, and connecting people through stories. He hopes to continue discovering what he
loves to write about as well as continue to put passion into his work to connect the Jesuit
community through stories and discussion. In his free time, Gus enjoys running, cooking,
drawing, going on long walks, and being with family.