Playfest Preview
Playfest, known as Jesuit's annual Playwriting Festival, will take place May 25th-27th in the Black Box theater.
Playwrights from Mr. Hall's creative writing class each writes a script for a mini-play. Out of all of the scripts submitted, four are chosen, each with a screenwriter and a director. Students auditioned  for a role in one of the mini-plays. The audience can expect an intimate experience and quality playwriting, directing and acting. 
Playwright, senior Elliot Hunt provided a glimpse into his play, "WAKE UP!"
"The play is about this guy that has insomnia and he takes too much sleep medication. Basically, you are seeing his wacky dreams," Hunt said.
In terms of costuming, the audience should look forward to seeing a monster suit in the production. 
Another exciting play of the four being performed is Clare Mahoney's, "Literally". The play is about a teacher passing out and the children are figuring out what to do. 
Frankie Mondeaux, senior director of Clare Mahoney's play "Literally", has enjoyed the process thus far. 
"It's been really fun to work with people trying to figure out how to make teenagers act like children," Mondeaux said. 
Having prior experience in the acting world at Jesuit, Mondeaux has taken on a role as director this time around. 
"Directing is obviously very different from acting in the plays. One thing we talked about a lot is how you can delegate tasks," Mondeaux said. "Most of it is my responsibility. Although, I can say, 'Oh, hey, can you go grab this for me', but I can't just expect someone else to figure out all the problems. "All the tech stuff falls on me and then my job is to distribute those tasks. It definitely makes me have a better appreciation for what our directors do."
Tickets are now on sale at www.jesuitportland.org under the tab "Theatre Program", one weekend only: May 25th-27th.
About the Writer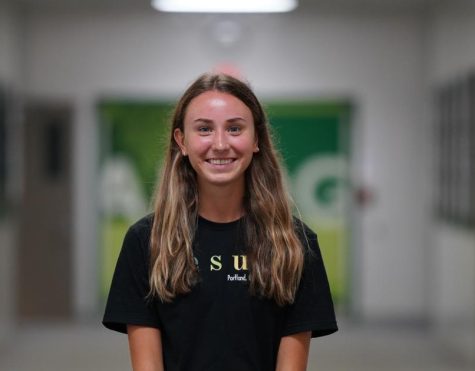 Aoife Gish, Staff Writer
Senior Jesuit High School student Aoife Gish is filled with curiosity, excitement and care for others in her community. Aoife is on the Jesuit women's soccer team and participates in track & field at Jesuit. She also is in her second year in student government. Apart from her involvement at Jesuit, Aoife is passionate about journalism. She enjoys editing videos, writing articles and is curious by nature, making her an enthusiastic interviewer. Aoife attended a selective writing workshop in seventh grade at Portland State University where she learned about varying writing techniques to improve her work. Being around sports her whole life, Aoife is intrigued to delve into the Jesuit sports scene as well as hearing from the Student Body surrounding current events at Jesuit. Aoife hopes to provide meaningful content so that the Jesuit community can ignite curiosity surrounding their school and find security knowing that Jesuit News is real news.