Women's Spring Athlete Spotlight: Caroline Murphy
Caroline Murphy is a senior who participates in various activities at Jesuit. From leading retreats, to attending setons, and excelling on the softball field, she has truly embraced the Jesuit experience.
Murphy has been playing softball since she was in the 5th grade. Her passion for the sport was first sparked after seeing her brother play baseball. She would play catch with her brother whenever she could and her interest grew from there. She now plays first base at the varsity level under Coach Speciale.
The 2023 season has been an exciting one thus far and has taught Murphy a lot about softball and working as a team.
"The team cannot be good unless you have bonded," Murphy said. "You need to become friends off the field, if you wanna work well together on the field."
Despite a rocky start for the crusaders, the team has apparently found their groove and are gaining great momentum in the season. The team has a plethora of young talent that leaves Murphy and her fellow seniors excited knowing that Jesuit softball is in good hands and has a bright future ahead. Through the difficult start, the team has truly come together and has tied for the second best season record in the metro league. Murphy believes that softball has taught her the importance of hard work and dedication. Fellow senior and teammate, Pema Yehshopa, speaks on Murphy's role on the softball team.
"She is a really hard worker and great teammate", Yehshopa says.
Looking forward, Murphy will be attending Gonzaga University and majoring in finance and international business. She is grateful for the role softball has played in her life and feels that she is leaving her softball career on a good note.
About the Contributor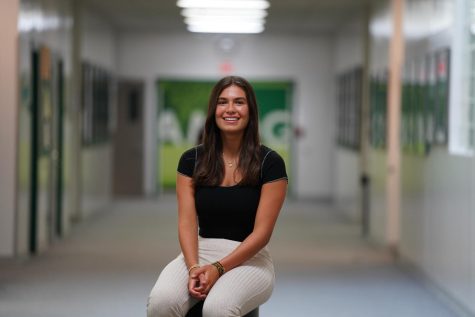 Alex Hawes Silva, Staff Writer
Alex Hawes Silva is a seventeen-year-old, Mexican-Canadian, student at Jesuit High School. Despite
her North American background, she spent the majority of her childhood living in Asia. For over
a decade, she lived in China, Singapore, and India. It was in those places that Alex first
discovered her love for journalism. In countries that were constantly buzzing with newsworthy
events, Hawes was enthralled by the hum of it all and was eager to share. What started with
writing in a journal every night turned into a passion that has seeped into every facet of her life.
Hawes often works in broadcast journalism, by announcing sporting events and editing film. She
has also created podcasts, articles, and put together a documentary on climate change. She
hopes to begin writing about global and cultural events as well as sports. In addition to
journalism, Hawes also enjoys playing soccer, camping, and traveling.