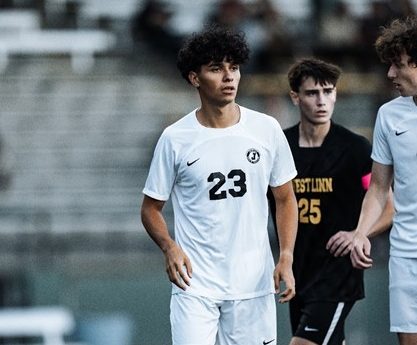 The West Linn Lions fought the Jesuit Crusaders off their home field with a 2-0 win handing Jesuit their first loss this Tuesday.
The Crusaders were hoping to stay undefeated after some impressive opening games but were unable to defeat a young hungry Lion team. Although the loss was disheartening for Jesuit, head coach Jeff Skipper looked to the future.
"It's alright, past championship teams have lost multiple games in their seasons," Skipper said. "The important thing is that we get better with every game so that we can peak during playoffs."
Under the West Linn lights, the beginning of the game looked like it would be an easy steal for the Crusaders as they controlled the ball in the Lions half for the first several minutes. After several shots, still unable to find the back of the net, the Lion's offense surprised the Jesuit defense with a fast-paced counter earning themselves a corner kick. Unleashing the ball into the mix of the Crusaders' own box, the Lions forward, Isaac Kensinger, found the ball at his foot and converted the first shot for the Lions making the score 1-0.
Again, the Crusaders' offense held the ball in the Lion's half but were still unable to get one back.
Another counterattack emerged for the Lions with Gabe Valdes driving the ball up the left wing of the field before crossing it in for Haaken Retzlaff who caught it on his head and got it past the hands of Elliot Parelius. The end of the half left the Jesuit Crusaders stunned as they trailed 2-0 at the half, their largest deficit of the year.
Starting off the second half with a little more energy to their attack, Jesuit pressed harder on the West Linn defense causing several turnovers which resulted in more opportunity for the Crusaders to earn one back.
On one occasion, the Jesuit midfield was able to win the ball in a dangerous area resulting in Caden Hoppes setting up a shot for Henry Vanderhoff which was deflected and controlled by Logan McGuire before he too unleashed a shot. This one hitting the crossbar and bouncing out. Several more attempts neared the goal coming from a variety of Jesuit attackers but were still unable to convert despite numerous corner kicks from Pablo Salazar and long throw-ins from Hoppes.
Although the Jesuit Crusaders took a difficult loss, they look forward to starting a winning streak beginning with their next game against another powerhouse team, Ida B. Wells on Thursday, September 14th. They also look forward to getting back injured starter Diego Nieves after he was unable to play against the Lions due to an injury acquired in practice.