Rosehaven provides safety and security
Rosehaven provides safety and security
Rosehaven Club connects the Rosehaven day shelter and community center to the Jesuit community. 
Roshaven, a day shelter for women, children, and gender-diverse individuals, provides safety and security, as well as resources for many people to meet their physical and emotional basic needs. Rosehaven also works with people experiencing any life-altering challenges, such as domestic violence or divorce, providing tangible resources, such as clothing and hygiene products, as well as providing a sense of community and safety.
Rosehaven Club recently started at Jesuit in 2017, with the purpose of more students and youth becoming involved in interacting with people experiencing homelessness.
"A few seniors in 2017 started it because they created Youth Outreach Board, so they wanted to integrate Rosehaven and their message into Jesuit because it was kind of ignored besides [in] Christian Service," senior Nikhita Mathur said.
Mathur has been involved in Rosehaven since her sophomore year when she volunteered for the organization for her Christian Service. Since then, Mathur has been a leader of Rosehaven Club and an integral member of the Youth Outreach Board.
"Youth Outreach Board is a group of 15 [to 20] girls from about 10 schools across the Portland Metropolitan Area…We all work together, and meet once a month," Mathur said. "We work on goals throughout the year [such as] fundraising goals, advocacy goals, and outreach goals. We are able to work with our highschools and other members of our community to be a catalyst for change and teach other people about what is going on."
Along with Mathur, junior Lucy Keane is a member of the Youth Outreach Board, and has been a member since the summer following her freshman year. Keane was motivated to bridge the gap between youth and people experiencing homelessnes, so she turned to the Youth Outreach Board and Rosehaven for support.
"We organize youth outreach because…there's a real disconnect between youth and people experiencing homelessness," Keane said. "It's an empowerment issue where you feel like you can't have an affect, but [it is] also an exposure issue where youth, especially youth in positions of privilege, tend to have a fear surrounding people experiencing homelessness. We use our platforms as people who have that exposure from working at Rosehaven to bring that back to our own communities [or] our school communities by running clubs."
Mathur and Keane utilize the resources at Jesuit to promote Rosehaven Club, striving to inspire students to work with people experiencing homelessness. 
"We do club fair, announcements, as well as drives at Jesuit," Mathur said. "When people ask about drives, we let them know about what Rosehaven is. Another big part is [that] we are a part of Christian Service, so people learn about it through that."
 Along with exposure, Keane values the education she has gained from Rosehaven, striving to influence students to address the biases surrounding homelessness.
"By working through this program [you gain] the support and opportunities to educate yourself," Keane said. "The education empowers you to make those [personal] connections…Through Rosehaven, I've learned and addressed those biases that would otherwise make me fearful or encourage me to avoid people experiencing homelessness."
About the Contributor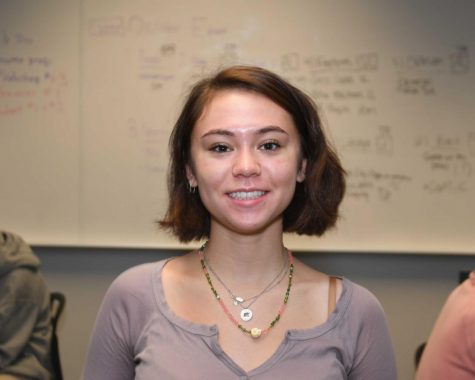 Scout Jacobs, Staff Writer
Scout Jacobs is a managing editor for the Jesuit Chronicles at Jesuit High School. As a senior in high school, this is her third year doing Journalism, and she loves to write. Journalism has been a primary passion of hers throughout highschool, and she hopes to continue this passion through college. Outside of school and writing, Scout enjoys reading, hanging out with friends, and listening to music. She is on the swim team at Jesuit, and has been swimming since she was a freshman. Born and raised in Portland, OR, Scout has an older brother who graduated Jesuit last year, who is now attending Seattle University. In her free time, she is usually watching a movie or spending time with her family at home or at fun destinations around Portland. Her favorite subject in school is English, and she has been taking French throughout her high school career in hopes of becoming fluent in the language. She loves the outdoors, and her favorite activity to do with friends is to go on a hike or go swimming. During the weekends and long breaks, Scout usually visits her family in Seattle, where most of her extended family lives. Both of her parents are architects, and she loves hearing about their work and the creativity they use to feel passionate about their work.