Ignite JHS sparks student-directed talks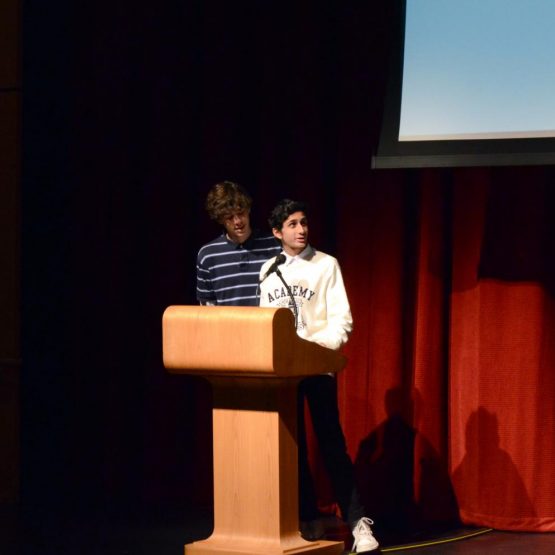 Organizers Rishey Shenoy and Eoin McDonagh
Courtesy of James Martini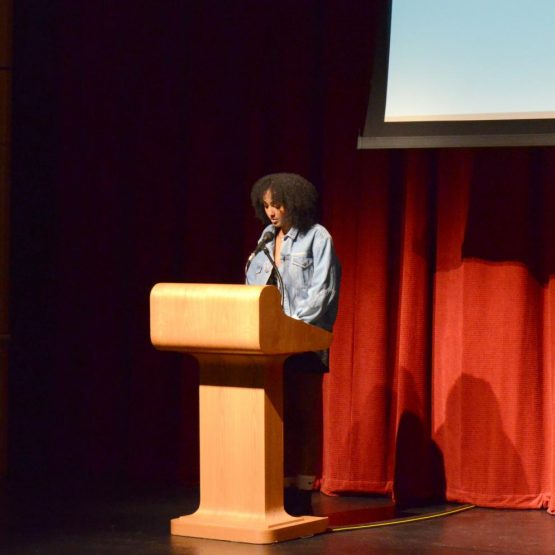 Speaker Yosan Tewelde
Courtesy of James Martini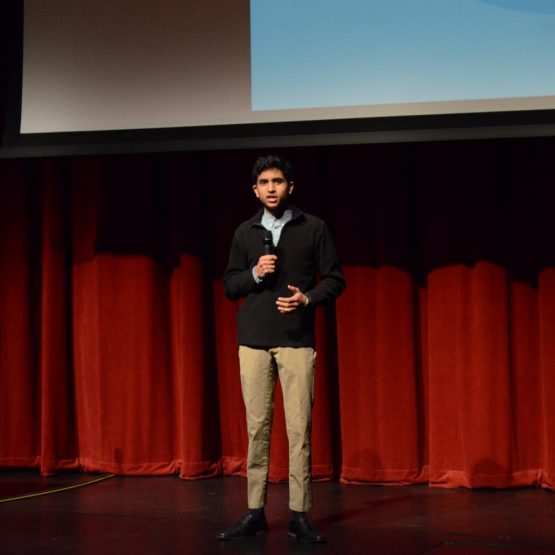 Speaker Akash Bindal
Courtesy of James Martini
Ignite JHS sparks student-directed talks
Written by James Martini, staff writer

You have probably seen the announcements: "[Ignite JHS is] a series of fast-paced 5-minute talks using 20 slides that auto-advance every 15 seconds". Many are likely not aware of what what Ignite events look like in practice, though.
Ignite events are similar TEDx events, but with shorter talks that are all constrained by the limitations of 20 auto-advancing slides. The subjects of the talks have no set parameters and speakers are able to speak about whatever they want to.
Senior Eoin McDonagh and senior Rishey Shenoy organized Ignite JHS, which featured a set of six Jesuit student speakers, all speaking on topics relevant or important to them.
"It's used in a lot of businesses for presentations on different things like new products," McDonagh said.
One of the speakers, senior Yosan Tewelde, wrote in an email, "I wasn't planning on participating in it at all until Eoin, one of the planners, assured me that the presentations could be really open ended and the formality was up to me."
One of the nice things about Ignite that drew in many of the speakers was how freely they were able to talk about their subject.
"[T]here are not many opportunities to present on something we are passionate about that doesn't have to be an argument or debate," Tewelde said.
McDonagh and Shenoy took care to get a wide range of speakers who would help to bring out the unique nature of Ignite.
"We wanted to have interesting speakers and people who have different things to share with the audience," McDonagh said.
Before Ignite at Jesuit, there were no other events that allow students to openly discuss a topic in this lecture format. If students wished to give a speech about something, they would have to go somewhere outside the school, like TEDxYouth or another larger event.
From an audience perspective, Shenoy and McDonagh liked the short form speeches for keeping the audience's attention.
"It was better for the audience to keep up with what was going on," Shenoy said.
The smaller, faster paced talks helped to make the students more comfortable speaking on whatever they wanted without feeling pressured to have a talk relevant to those attending.
"There was such a wide array of topics: from cancer research to playgrounds, from sports replay to bilingualism. It was really cool to see students' personal interests and passions," Tewelde said.
McDonagh and Shenoy said that they hope to host more Ignite events in the future, including possible events next spring and in following years.