Clerical abuse scandal prompts introspection within Catholic community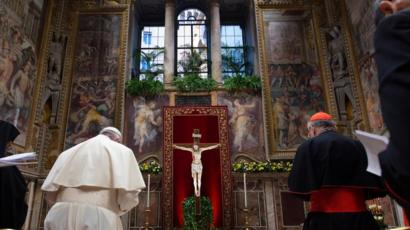 A recent grand jury report detailing over 1,000 documented cases of sexual abuse by Pennsylvania Catholic priests has prompted both introspection and a push for transparency at all levels of the Catholic hierarchy, including Jesuit's own spiritual community.
The findings of the grand jury follow a summer rife with controversies for the Catholic Church, namely the May resignation of Theodore E. McCarrick, the archbishop of Washington, D.C., following allegations of sexual misconduct. Pennsylvania's grand jury report sheds light on a decades-long systemic moral crisis among hundreds of high-ranking Catholic officials, with revelations focused on both the priests committing sexual abuse and the powerful church officials who protected the perpetrators.
Many critics have pointed to the hierarchical organization and the centralization of power as a major enabler of clerical sexual abuse. Bishops, archbishops, and cardinals across the United States, as well as the rest of the world, have little oversight other than the Pope, leaving many major decisions concerning the handling of sexual abuse allegations in the case of a single authority figure with no system of checks and balances.
"The fact that bishops and archbishops and cardinals have essentially unlimited power… means that some of them are going to be really good and effective, and some are going to not be," Principal Paul Hogan said. "I don't think it's reasonable for the Pope to be in a position where he's supposed to oversee thousands of people all over the world and hold accountable that enormous kind of power."
According to the grand jury report, instances of rape by priests were frequently disclosed by Catholic superiors as merely "inappropriate contact", and rather than being removed from the church, accused priests were often reassigned, placed on "sick leave", or investigated by colleagues unfamiliar with sexual abuse (New York Times). The corruption inherent in the sexual abuse scandal has raised questions in all echelons of the Catholic community on how to proceed and improve from such a devastating verdict on the Catholic Church's systemic level of accountability—and morality.
"It makes it difficult to be Catholic," Mr. Hogan said. "For many people, it is a crisis of faith within our church leadership and within the structure of the church itself. We're really trying to wrestle with this and how to lead students and parents through these conversations."
As an involved part of the Catholic community, Jesuit has been impacted as much as any Catholic institution by the news from Pennsylvania. Students and parents must grapple with surfacing questions about how to be responsible, informed citizens while maintaining a relationship with the Church, as well as how to navigate student relationships with priests and clergy while maintaining transparency.
The difficult questions posed by the allegations, however, do offer some empowerment for the Catholic community at large. In moments of institutional disarray, many members of the Catholic Church, from students to local officials to major Catholic authorities, have unique potential to amplify their voices and insist on reform.
"If we can say, 'God is with me, and this is terrible, this reality of abuse is terrible, but God is with me, and with God I'm going to hold people accountable and take responsibility within the Church as a person who can make a real difference… then not only can we remedy this situation, but realize the Church is all of us," Jesuit priest Fr. Calderón said.
The Pope and top U.S. bishops have also begun the first steps to addressing sexual abuse in the Church, meeting Sept. 13 to discuss the moral and institutional shortcomings that engendered such a large-scale crisis (Washington Post). Pope Francis accepted the resignation of a top West Virginia bishop, Michael Branfield, Sept. 13 following accusations of sexual abuse, ordering the archbishop of Baltimore to launch a further investigation into Branfield's conduct. Whether the various bishops and high-ranking church officials accused of covering up sexual abuse will be subject to further church-wide investigation or removal, however, remains undecided.