Oregon gubernatorial race ends in victory for Brown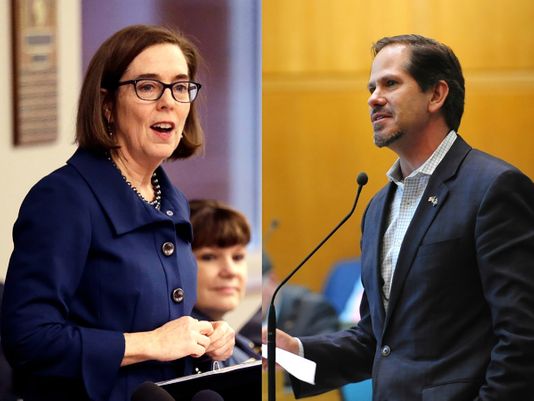 After months of competitive campaigning between incumbent Gov. Kate Brown and her Republican challenger Knute Buehler, Oregon's governor race concluded Nov. 6 with a victory for Brown.
While Oregon typically elects Democrats for statewide office by large margins, Buehler, a state legislator from Bend ran unexpectedly competitively. However, Buehler never gained enough momentum to surpass Brown in polling, maintaining an average of about 6 percentage points behind Brown. In the end, Buehler lost by about the same margin on election night, pulling 44% of the vote to Brown's 50%.
Much of Brown's success is due to Multnomah County, Oregon's largest county that encompasses the city of Portland and parts of its metropolitan area, where 74.2% of voters cast their ballots for Brown over Buehler. In Washington County, the margin between the two candidates was slimmer, though still in favor of Brown, with 55.4% of the electorate voting for Brown and 39.9% voting for Buehler (The New York Times).
Buehler's unlikely competitiveness in the gubernatorial election stemmed from a uniquely moderate platform and campaign style, one that focused on where Brown failed as governor rather than political divisions. Buehler strenuously emphasized his pro-choice credentials in campaign advertising and debates, basing his platform on reforming Oregon's education system, granting more housing to the homeless, and fixing Oregon's notoriously corrupt foster care system.
Buehler also avoided channeling the Republican Party's bombastic rhetoric and distanced himself from President Trump. When asked who he voted for in 2016, Buehler revealed he had written in moderate Ohio governor John Kasich rather than vote for Trump. Even going so far as to call for Kavanaugh to step down, Buehler sought to sway centrist and even left-leaning voters in his favor by rising above partisan rancor.
Brown's counterattack against Buehler, one that alleged his more liberal campaign promises were deceptive and couldn't be trusted, appeared to sway more voters on Election Night. The race was called for Brown shortly after polls closed. Brown will now serve her second and first full term in office until 2022.