Avery Douglas: her life through vlogs
Junior Avery Douglas creates Youtube videos, documenting fun aspects of her life through vlogs.
Prior to starting her Youtube channel the summer before sixth grade, Douglas would film videos on Video Star, an app used to easily create music videos.
"I would make Video Stars and post [them], and then that spurred my channel," Douglas said. "I would make them at sleepovers with all of my friends, so I made them when I moved here."
Living in Minnesota prior to the start of her channel, Douglas used Youtube when she moved to Oregon to connect with others and pass the time. Her channel has evolved since starting it, shifting from music videos with friends to vlogs documenting her everyday life. 
"I tried to do the whole hauls and beauty guru stuff, but I stopped with that because I [thought] that's not me," Douglas said. "Now I do mostly vlogs because I like to keep the memories and post them for my friends [to] look back on. So I like to do a lot of vlogs and montages, add music to it, and play around with not special effects, but different types of… 'artsy' editing because I love looking back on [them]."
Along with changing the content of her channel, Douglas has improved her editing skills and aptitude for filmmaking, upgrading her quality of equipment and tools.
"I taught myself how to edit, or I would go on Youtube and learn different tricks," Douglas said. "I started off on iMovie, [but] you can't do a ton with it, [so] I would learn how to use what I had. I finally saved up and got Final Cut Pro, and you can definitely do a lot more with that."utside of Youtube and school, Douglas is extremely passionate about dance, as she is a part of a close-knit dance team for Elite Dance Studio. Many of her videos consist of her friends from Elite Dance, focusing on dance-related events like practices and recitals. With school, dance, and Youtube, Douglas struggles to find a balance.
"It's definitely a lot," Douglas said. "Second semester I've been a lot better at managing my time; before I wasn't. So [I] try to get my homework done and whatever extra time I [have] I try to edit…If I don't have the time to post a video, I won't push myself to do it."
Douglas also features her friends from Jesuit in her videos, making sure to document fun, school-related events to look back on. Junior Taryn Collier-Burke appears in a number of Douglas' videos and has known about her channel since freshman year.
"I try to be in them whenever I'm with Avery," Collier-Burke said. "I'm in them usually just whenever we hang out or when something's going on like homecoming or Afua's surprise birthday."
With Douglas' channel growing in size, nearing 2,000 subscribers, Collier-Burke is surprised to see herself on a large, growing platform. However, she still enjoys being featured in the videos to look back on in the future. 
"I think it's funny because I can see myself on Youtube," Collier-Burke said. "And she's really good at editing. So when we went to Bend for my birthday, it [was] kind of nice because we can look back on it when we're older and watch the highlights of that trip."
About the Contributor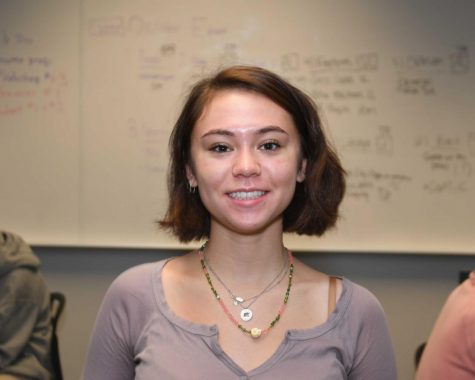 Scout Jacobs, Staff Writer
Scout Jacobs is a managing editor for the Jesuit Chronicles at Jesuit High School. As a senior in high school, this is her third year doing Journalism, and she loves to write. Journalism has been a primary passion of hers throughout highschool, and she hopes to continue this passion through college. Outside of school and writing, Scout enjoys reading, hanging out with friends, and listening to music. She is on the swim team at Jesuit, and has been swimming since she was a freshman. Born and raised in Portland, OR, Scout has an older brother who graduated Jesuit last year, who is now attending Seattle University. In her free time, she is usually watching a movie or spending time with her family at home or at fun destinations around Portland. Her favorite subject in school is English, and she has been taking French throughout her high school career in hopes of becoming fluent in the language. She loves the outdoors, and her favorite activity to do with friends is to go on a hike or go swimming. During the weekends and long breaks, Scout usually visits her family in Seattle, where most of her extended family lives. Both of her parents are architects, and she loves hearing about their work and the creativity they use to feel passionate about their work.