Blind Date: Two juniors hope to strike love
Blind date: Two juniors hope to strike love
In honor of Valentine's Day, the journalism staff surprised two singletons, junior Damon Grim and junior Amanda Kerr with a romantic date in hope for love to spark.
On a crisp January night, Grimm and Kerr met at what the Journalism staff thought was the most romantic place: Big Al's.
Grim decided to go for the classy serious look with a full suit, whereas Kerr opted for the casual and comfy look with sweats and sweater. 
"I like to impress a girl with how I dress," Grim said. "I mean, do you think they are going to be impressed if I wore some sweatpants? I don't know who would ever wear that on a date."
This caused an early awkwardness, but the journalism staff moved them quickly to bowling to ease the tensions.
"It wasn't really a competition, but bowling was super fun," Grim said. "I got to show off my athletic skills."
After an intense game of bowling, the two were hungry for dinner. With the beautiful tones of bowlers and children, it was clear the date was heating up. 
With mozzarella sticks and cheesy fries across the table, the date took a serious turn, where they talked about their interests.
"We have a lot in common through our accomplished athletic careers," Kerr said. "I love to ski every weekend and Damon is a varsity track star."
After their romantic dim lit dinner, both Grim and Kerr looked upstairs and found lots of arcade games.
With Grim blushing cheek to cheek, he took Kerr to play his favorite game: Dance Dance Revolution.
Showing off their dance moves, their undeniable chemistry became evident.
After the few more arcade games, the date was dying down, so the journalism staff decided to sit Grim down and ask how the overall date went.
"So I think the date overall went pretty well," Grim said. "I think in the beginning it was definitely a little awkward, but I mean when it works, it works."
With Grim's confidence of it being an incredible date, this begs the question: What will happen next?
"It was a little awkward in the beginning but I think towards the end, during the dance dance revolution, we really clicked," Kerr said. "I would for sure go on another date with him."
Only time will tell if these love birds decide to soar, but as of now, I think we can all agree they we totally ship Damanda. 
About the Writer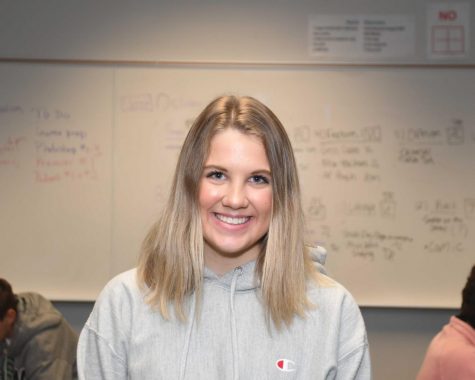 Annie Landgraf, Alumni 2019-2020
Annie Landgraf is a managing editor for journalism. She was born in Lake Oswego, Oregon and went to Lake Oswego schools her whole life before entering Jesuit. She is the youngest out of 3 older siblings who have all graduated from Jesuit. She is a junior and has been apart of the journalism class for a year. Annie's passion for journalism started at a very young age when her older sister was an editor for journalism at Jesuit. She also had another sister who was apart of journalism. Going into high school, Annie wanted to always join journalism and be apart of the newspaper. Annie as a freshman was on the cross country team and as a sophomore she was part of green team and was a jv ambassador. This year as a junior, she is an ambassador and involved in campus ministry. Last year in journalism, Annie would write mostly news, sports, or arts articles. Her favorite part about journalism is being able to get to know the faculty and staff at Jesuit through her interviews for articles. She hopes as an editor she can be a leader in the class and someone that people can go to for help whenever they need it in class.