Kobe Bryant: Killed in Helicopter Accident
On January 26, the basketball world's heart was broken when a helicopter crashed in Calabasas, California and ended the life of Laker Kobe Bryant. Bryant, a five-time NBA champion and 41 year-old father of four, was headed to the Mamba Sports Academy at the time of the tragedy. Bryant truly was a legend. He joined the NBA straight from high school and was immediately seen as a game changing player. Originally drafted to the Charlotte Hornets, Bryant was traded right away to the Lakers in 1996. It was there that Bryant would begin to obtain his Mamba mentality.
From the start of his NBA career, Bryant showed his potential to excel. During his second season as a Laker he was voted to play in the 1998 NBA all star game, being the youngest ever to do so at age of 19.
With star player Shaquille O'Neal, the Lakers swept two NBA championships. Shaq was a force and together they were unstoppable.
Although the Lakers struggled a bit with the loss of star player Shaquille O'Neal in 2004, Bryant was there to pick up the slack. It was clear this was officially his team and he soon proved that. Bryant scored eighty one points against Toronto, the second highest scoring mark in NBA history. He led the league in scoring that year and the next.
Bryant not only led his team to five NBA championships, but was also named MVP in 2008, led the Olympic basketball team to two gold medals, and surpassed NBA verteran all star Micheal Jordan on the NBA scoring list in December 2014.
Bryant's basketball career ended with continuous injuries that became too hard to maintain. He went out with a bang scoring sixty points in his final game in 2016. Kobe Bryant was a great player who never cheated the game nor cheated his fans, played through injuries and has five rings to prove his greatness.
Though Bryant is best known for his basketball success, he was so much more than just a player on a court. Off the court Kobe was a poet, a coach, businessman and most importantly, a husband and father.
Upon retirement, Bryant presented a poem entitled "Dear Basketball" as a tribute to the game. He sought to turn his poem into a short film and with the help of Disney this was achieved. The result was a beautifully rendered 5 minute and 20 second short film that won an Academy Award for Best Animated Short Film in 2018.
It did not matter that Kobe was no longer was a player on the court. He made countless appearances at Laker games where he mentored player like Lebron James who soon became a close personal friend. He also shared his love of the game with his kids and family. Kobe was an amazing coach and he taught his kids and their friends growing up. At first it was just a bit of fun, but soon it became something bigger.
In 2018 Bryant announced his partnership with a multi-sport training facility that he rebranded into Mamba Sports. The goal was to educate and empower the next generation of kids through sports. Kobe loved working with kids and teaching them basketball, especially his 13-year-old daughter Gianna.
Gigi, as her father called her, was a female version of Kobe. They shared a special bond, always attached at the hip. She was Mambasita and he was Mamba.
Gianna would carry on the Bryant basketball legacy. She was a rising star playing for Mamba Sports, she quickly became noticeably one of the best players on the court. Her plan was to continue basketball at Connecticut than eventually the WNBA.
Tragically, Gianna was among the nine passengers who went down on January 26th.
Among Kobe and Gigi were seven other passengers.
The Altobeli's: John (56), Keri (46), and Alyssa(14). Alyssa was a teammate of Giana's and an amazing player. Her father John, head baseball coach for Orange Coast College, and her mother were on their way to see Alyssa play.
Christina Mauser, (38), was the top assistant coach of the Mamba girls basketball team. Mauser was a mother of three.
Ara Zobayan, (50), was Bryant's private pilot. He was the only man Kobe ever trusted to fly him.
And finally, mother and daughter Sarah, (45), and Peyton Chester, (13). Peyton was a teammate of Gianna and Alyssa.
Poor visibility due to fog and the lack of a recommended safety device on the helicopter both played a part in the unfortunate crash. There was nothing anyone could have done to help.
NBA players and fans of Bryant worldwide have given respect to one of the all-time greats that formed the game of basketball as we know it today. During several NBA games, players took a 24-second shot clock violation followed by an eight second backcourt violation in memory of the two numbers that Bryant wore during his career. Fans all over have been wearing their Laker gear, the colors purple and gold, or wearing 24 or 8 to show their respect. Jesuit held a "Kobe" day on February 14, many students helped commemorate Kobe's life by wearing purple and gold and participating in the activities.
The world mourned the death of Kobe, Gianna, and the seven other passengers who were aboard the helicopter. These nine will forever be missed and never forgotten.
About the Writer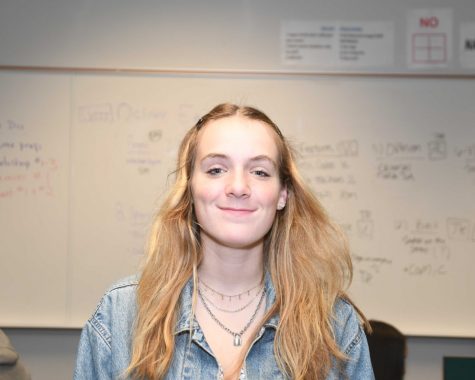 Gwynne Olson, Executive Editor-at-Large and Social Media Executive
Executive Editor-at-Large and Social Media Executive, Gwynne Olson uses writing and social media to inform, educate, and entertain. Beginning by writing mainly sports pieces, Gwynne dives into opinion pieces and news pieces as well as the occasional video,  humour article, and podcast. Gwynne hopes to continue to pursue journalism after graduating from Jesuit, wherever she may land. Though a journalist at heart, she also writes fictional pieces and poetry on the side.