Women's golf swings into the new season
The women's golf team welcomes a new face as English teacher, Ms. Michele Gray, takes the position of head coach. Following the team's two consecutive state title wins, Gray is prepared to bring new energy to this role. 
After graduating five dominant seniors, the young team is looking to make a name for themselves this season and have fun. With an all new coaching staff and only two upperclassmen, the girls are not feeling extreme pressure from their previous performances, but are still looking forward to a successful season.
"My goal for this season is to make it to state as a team," senior captain Mary Scott Wolfe said. "I'm excited to have fun with the girls and just enjoy my last season."
With the help of assistant coach Laurie Wagner, coach Gray is excited for the energy and attitude the duo can bring to the program.
"I think it's really exciting," Gray said. "We are starting a whole new chapter for the program, we're small and we're young."
Unlike most Jesuit sports, golf practices and tournaments take place off campus at Langdon Farms, and the team is not provided a bus. Displaying their dedication to the sport, each day team members drive personal cars to the course. With the lack of upperclassmen, students rely heavily on carpooling and parents for transportation, making practices truly a group effort. 
Each day of practice is essentially a try out. To prepare a varsity team for their upcoming tournament, every practice the girls play 9 holes while the coaches record their scores. The players with the top scores will make up the varsity team for that week's tournament.
While this method may increase stress, it also ensures that the players remain at the top of their game throughout the entire season. It allows players to grow mentally and learn how to react to the challenge of the sport. 
With the Metro League being extremely competitive, these practices help prepare the team for the challenging tournaments they face each week and the metro and state competitions to finish the season. 
"Our competition in the Metro League will likely be as challenging as the state competition in May," Gray said. 
Golf is an extremely independent and mentally demanding sport. Recognizing the sport can produce increased stress, Gray hopes that this year the girls can focus on having fun and improving their game. 
"Golf by its nature is a pretty pressure filled sport, it's very individual, in basketball if you make a bad shot you can just run down the court, in golf if you make a bad shot you have to make another shot," Gray said. "So I think my personal goal is to take a little bit of the pressure off the girls and say 'let's have fun, let's play, and let's get to know each other.'" 
Interested in watching the ladies on the links in person, keep an eye out for their schedule on jesuitportland.org. 
About the Contributor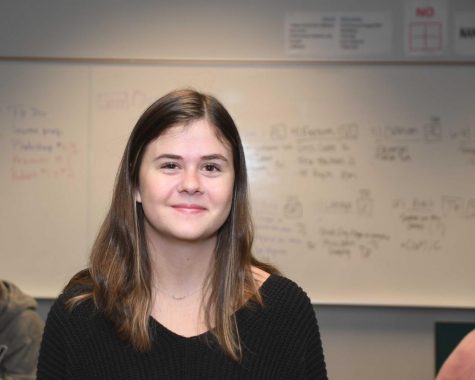 Virginia Larner, Alumni 2017-2020
Virginia Larner is a senior at Jesuit. She has been on the journalism staff for the last three years, and the editorial board for the last two. Each year she looks forward to the class and having new opportunities to explore journalism further as well as working collaboratively with other journalists in crafting the newspaper. Last year, as the Online and Social Media Content Editor, she assisted in the operation of the Jesuit news Instagram account and website. In her free time she enjoys spending time with friends and family, working out, and playing with her two dogs. She has been a member of the women's tennis team all four of her years at Jesuit, and participates with Jesuit's Green Team. Virginia enjoys writing about current events including sometimes controversial topics and how they impact the Jesuit community. She loves the creative aspects of journalism such as creating and editing pages, as well as coming up with interesting story ideas. Through the journalism class, Virginia has interacted with many intriguing people on campus, and explored various stories and aspects of Jesuit. One of her favorite parts of journalism is conducting interviews and gaining insight into various perspectives on her stories.