Don't Eat That!
Grace Kurilo is like any other junior girl: passionate about music, hard-working, texts her friends on a regular basis, and loves her family and her dog. But like 32 million people living in America (foodallergy.org), Kurilo lives with a food allergy.
"I have to check nutrition labels to make sure there are no nuts, but I'm okay with 'processed in a facility with nuts.' Kurilo said. "I'm lucky I don't have a severe allergy."
Dietary restrictions—including allergies and intolerance—can make eating out with friends and family, or even grabbing a snack from your pantry, challenging. They used to fly under the radar, but now it seems more and more people are claiming to be gluten free, grain free, or even vegan.
Restaurants are recognizing the influx of people with food intolerance, and responding with increased amounts of gluten free and/or dairy-free products. For example, restaurants, such as Harlow in Southeast Portland, boast a 100 percent vegetarian and gluten-free menu, and even notable ice-creameries, such as Salt-and-Straw, now offer customers dairy-free scoops.
But even with the seemingly increased amount of allergen-free food, many restaurants, especially prominent chain restaurants which seem to be around every corner, don't provide much in terms of nutritional value.
In my interview with Director of Food Services Cynthia Clauson, it was evident that the JHS cafeteria is not funded adequately for premium nutrition. 
"The cafeteria did not evolve alongside the rest of the school, but [my team and I] do really well with what we can," Clauson said. However, she is able to provide some of the meals she wants to students.
Clauson assumed the position of Director of Food Services three years ago. A lover of food, Clauson wants to swap out some of the less nutritional items on the menu, but she says that it is ultimately up to the students to make a healthy choice.
"We have a binder full of all the nutritional labels, so if someone with an allergy needs to know what is in a certain menu item, all they have to do is look in the binder," says Clauson. "Usually, though, we only have a couple students who have allergies. If you have a severe allergy, we recommend you bring your own lunch."
Jesuit should focus more on student wellness than it does. One of the most important parts of the day is a healthy meal.
"Your blood sugar decreases, which causes interruption in your ability to think straight," says Haley Robinson, a Piedmont Healthcare clinical dietitian, on skipping a meal. "The brain uses glucose to run efficiently and if there is not enough glucose for the brain to use, your body does not function at 100 percent."
Without the ability to focus, students do not learn, and thus are unable to achieve their full potential.
At Fayston Elementary School in Vermont, school lunches are what they call "farm to school," a phrase used to describe sourcing food from local farmers to provide the freshest ingredients.
"Every other Tuesday, two cases of lettuce arrive from hydroponic greenhouses in the next-over town of Waitsfield," said Cheryl Joslin, Fayston's chef and food service program manager. "Weekly, a teacher who raises chickens brings in eggs, and she also supplies her family's locally tapped maple syrup. [I] often substitute it for sugar in recipes" (Washington Post).
This "farm to school" movement has helped students to stay full during the day. According to an article written by the Harvard School of Public Health, "Children who eat healthier foods learn better and have fewer disciplinary issues." 
I believe that in order for maximum student wellness and nutrition to be achieved, the cafeteria must evolve alongside the rest of the school, not just for the sake of those with dietary restrictions, but for the sake of all students who need a healthy meal to power their learning.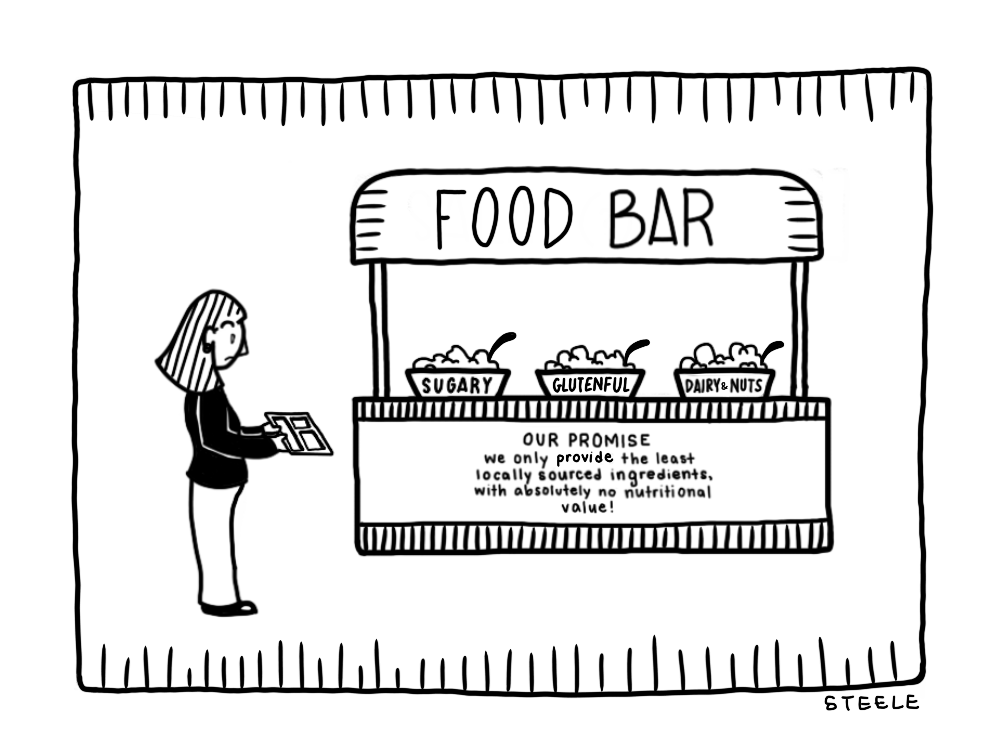 About the Contributor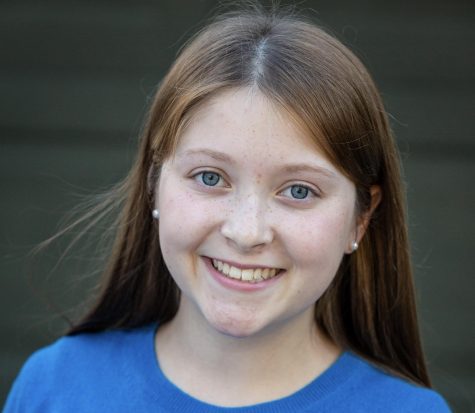 Steele Clevenger, Editor-in-Chief and Creative Director
Sarcastic. Artistic. Enthusiastic. These are three words Steele Clevenger would use to describe herself. A senior at Jesuit High School and a veteran journalism student, Steele loves to write about people and topical issues facing our local and global communities, draw comics, and educate through news. From a young age,
Steele has been interested in journalism, spending many an hour listening to her mom type articles for the OHSU "
Cementum
" on her com
puter, and being dragged to interviews with dental students.
When she was in eighth grade, Steele attended a once-weekly journalism class, running around the school on Friday afternoons to interview teachers and students. Using her experience in journalism and her passion for communication, Steele hopes to be a voice of positivity and curi
osity for Jesuit students during such unprecedented and uncertain times. In addition to writing, Steele enjoys badminton, knitting, cooking, and creating art. Visit her website at www.steelescomics.wordpress.com.