Natalie Tan displays her musical talents on 89.9AllClassical
Senior Natalie Tan is involved as a "young artist in residence" for 89.9 AllClassical, displaying her talent for piano to the world through the radio station. 
The term "young artist in residence" refers to a "support system" at the station, or an outlet for Tan to present her musical talents and meet other Portland youth with an affinity for classical music. While the program differs from a "professional artist in residence," Tan performs other tasks for the station such as interviews and blog posts. 
"I am under a contract as the young artist in residence, but it is certainly not an everyday 9 to 5 job," Tan said.
The "artist on residence" program, launched in 2019, was created to help local musicians reach a broader audience and foster their creativity. Tan became involved in the program through a competition.
"There is a competition held annually called the Young Artists' Debut! Van Buren Concerto Competition, held by MetroArts Inc., which is changing its name next year to Cognizart," Tan said. "This organization was founded by the current principal percussionist for the Oregon Symphony and the conductor for the Oregon Ballet Theatre, Niel DePonte. For the 2020 year, six winners were chosen for the Concerto Competition, and the winners were screened and interviewed again in a second round, but this time with judges from 89.9 AllClassical."
Along with her time at 89.9 AllClassical, Tan was also involved in the Portland Youth Philharmonic and MetroArts. 
"Through my musical pursuits I have gained a lot of different connections and I am incredibly grateful to be given the opportunity to be treated as a professional alongside these people," Tan said. "I won't name all the people that I have met, but I am especially grateful to perform alongside the hosts of AllClassical, as I have grown up with their voices in the car, in my house, and narrating my way through life in general."
Tan began playing piano at the age of 5, continuing to pursue her passion throughout her childhood. While none of her family members have a keen interest in music, Tan's parents started her on her music track, fostering a 13-year passion. 
"I fell in love with music rapidly, but it has been a relationship that has required so much more than the initial love," Tan said. "It is never easy; it tears me down almost just as much as it empowers me, but I have become a better person for it."
Along with the "young artist in residence" program at 89.9 AllClassical, Tan attended numerous camps and classes throughout her musical career. These opportunities pushed her out of her comfort zone, introducing her to a whole community of musical artists. 
"Another distinct memory I have was going to Indiana University for the Jacob's School of Music's Piano Academy, which gave me some of my lifelong friends who challenged me and pushed me to improve everyday," Tan said. "These are some of the bigger moments that continue to spark the passion I have. However, honestly, the beauty of music and its potential to make me laugh or cry or feel at peace brings me back to it over and over again."
Tan's love for music helped her to grow outside of just her musical skills, pushing her to overcome her childhood shyness. Her intense passion for music helped her to bond closely with many peers, influencing the ways in which she communicates. 
"Music is a language and a form of expression that nearly everyone can connect to. I used to be the shyest person when I was growing up; I literally could not speak or connect to people without incredible difficulty," Tan said. "Music was the thing that pushed me to learn how to step beyond my boundaries and connect very intimately and emotionally with people. As I have grown, music has also taught me to be incredibly deliberate with how I communicate and express my thoughts. I am incredibly fortunate to learn precisely this flexibility within discipline, and it has encouraged me to become thoughtful about everything that I choose to do."
About the Contributor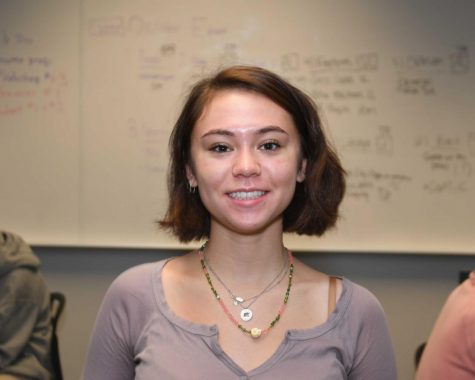 Scout Jacobs, Staff Writer
Scout Jacobs is a managing editor for the Jesuit Chronicles at Jesuit High School. As a senior in high school, this is her third year doing Journalism, and she loves to write. Journalism has been a primary passion of hers throughout highschool, and she hopes to continue this passion through college. Outside of school and writing, Scout enjoys reading, hanging out with friends, and listening to music. She is on the swim team at Jesuit, and has been swimming since she was a freshman. Born and raised in Portland, OR, Scout has an older brother who graduated Jesuit last year, who is now attending Seattle University. In her free time, she is usually watching a movie or spending time with her family at home or at fun destinations around Portland. Her favorite subject in school is English, and she has been taking French throughout her high school career in hopes of becoming fluent in the language. She loves the outdoors, and her favorite activity to do with friends is to go on a hike or go swimming. During the weekends and long breaks, Scout usually visits her family in Seattle, where most of her extended family lives. Both of her parents are architects, and she loves hearing about their work and the creativity they use to feel passionate about their work.