Chloe Foerster races to the top to win titles in Cross Country and Track & Field
Chloe Foerster races to the top to win titles in
cross country and track & field
As track season starts up again, sophomore Chloe Foerster has already proven her varsity position with many titles for Cross Country and Track & Field.
  In her freshman season, Foerster earned 3rd in districts and 7th in State for Cross Country and won state in the 800m and 4 by 4 for Track & Field.
"A big goal last year for me was to get a state title," Foerster said. "I worked really hard and I achieved that, so I was really proud of myself."
Foerster has enjoyed running since 6th grade and was on the varsity cross country team as early as the summer before her freshman year.
"I went on beach trips during the summer and those trips have been one of my most favorite memories in cross country," Foerster said.
This year, Foerster won cross country districts, earned 4th in State, and placed 6th place at Regionals.
"Placing individually in state for Cross Country is something that I have always wanted to do, and it was something that was a goal of mine," Foerster said.
Foerster has high hopes for this Track & Field season and big ambitions.
"I hope that I can win state again in the 800m and 4 by 4," Foerster said. "Also I want to continue to get faster and stronger each season and get a P.R." 
Despite her running accomplishments, it hasn't been easy as  she has had to deal with injury struggles . 
"Last year during track season, I was also playing soccer so I got a bunch of injuries including my ankle but towards the end I recovered and it was good," Foerster said. "This year during cross country, I couldn't run for  a month or so because I had a knee injury."
Foerster has been able to get through these hurdles and continue to be a strong athlete and teammate. 
"She works harder than anyone else,"  said junior Olivia Silenzi, who is also on the varsity Cross Country and Track and Field team.
"She will never take an easy day. If she doesn't feel good or if she just wants to go easy she will always push through that and go hard that day. She is very driven and it pays off."
"She is very driven and competitive," Silenzi said . "She is very positive and encouraging. She is never negative and she is very funny. We are always usually laughing about something."
About the Contributor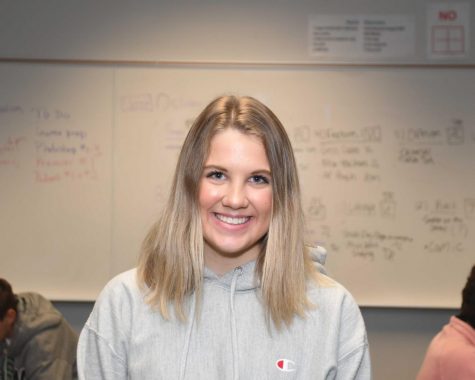 Annie Landgraf, Alumni 2019-2020
Annie Landgraf is a managing editor for journalism. She was born in Lake Oswego, Oregon and went to Lake Oswego schools her whole life before entering Jesuit. She is the youngest out of 3 older siblings who have all graduated from Jesuit. She is a junior and has been apart of the journalism class for a year. Annie's passion for journalism started at a very young age when her older sister was an editor for journalism at Jesuit. She also had another sister who was apart of journalism. Going into high school, Annie wanted to always join journalism and be apart of the newspaper. Annie as a freshman was on the cross country team and as a sophomore she was part of green team and was a jv ambassador. This year as a junior, she is an ambassador and involved in campus ministry. Last year in journalism, Annie would write mostly news, sports, or arts articles. Her favorite part about journalism is being able to get to know the faculty and staff at Jesuit through her interviews for articles. She hopes as an editor she can be a leader in the class and someone that people can go to for help whenever they need it in class.