Mock trial competes in state competition
Recently the mock trial team competed in the state competition. 
Jesuit has a strong mock trial team consisting of almost all seniors and two juniors. Tryouts were held in November and students were placed on one of four different teams. The top team, or gold team, was confident they would have a good season. 
"I was confident that we would have two really strong teams that could compete well this year and that is what we had," coach Dr. Exley said. "We had a really strong and experienced gold team and our black team, the second team, was also pretty strong and had potential to make it to state." 
In a mock trial competition, each team is issued the same case and has months to prepare an argument for either side. Three witness statements are given each side and the case is supposedly written so each side has an equal chance of winning. Witnesses must memorize the information in their statements, lawyers must figure out ways to get in evidence complying with the Federal Rules of evidence, and openers and closers must memorize five minute long statements proving their argument. 
When competition day arrives, all teams assemble at a courthouse and are given their matchup there. Teams go head on and are scored both individually out of ten and by ballots.
"So how ballots work is in each trial there are 3 judges: the presiding judge, someone who judges the attorneys, and someone who judges the witnesses," senior Grace Hershey explained. "The witness and attorney's judges sit in the jury box. Each of the three judges have a ballot that they fill out and it's basically a vote for one of the teams," 
Ballots are given to the teams who have the best witnesses, lawyers, and overall court preparation. In the end the team with the most ballots wins the case. Individual points generally decide tiebreakers. 
Mock trial had a very successful regional competition taking eight ballots out of nine ballots securing their place at State. The black team just barely missed state losing by ten points in a three way tie. 
There was not a lot of time between regionals and state so the team put in many hours in preparation for the competition. 
"For the last 5 weeks of the season, we did daily doubles practices in preparation for regionals and state, and that hard work definitely paid off," Hershey explained. "We went against some pretty tough teams, but we held our own. Overall I am really proud of how my team did this season." 
About the Contributor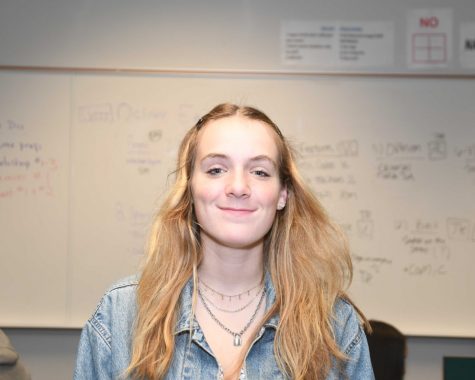 Gwynne Olson, Executive Editor-at-Large and Social Media Executive
Executive Editor-at-Large and Social Media Executive, Gwynne Olson uses writing and social media to inform, educate, and entertain. Beginning by writing mainly sports pieces, Gwynne dives into opinion pieces and news pieces as well as the occasional video,  humour article, and podcast. Gwynne hopes to continue to pursue journalism after graduating from Jesuit, wherever she may land. Though a journalist at heart, she also writes fictional pieces and poetry on the side.