Multicultural Week places spotlight on racism and microaggressions
During this year's Multicultural Week awareness assembly, student speakers shared their experiences as people of color and identified a broad array of racial aggressions and fears, many of which related to subtle experiences of ostracization and judgment.  
Senior Arleth Rodriguez and sophomore Melanie Elizarazazz addressed the lingering shame and sense of inadequacy that have at times accompanied their immigrant families and the color of their skin. Senior Daniela Rosas shared the horrific, heartrending story of her mother's deportation and its unseen ramifications. Junior Noah Lyman delivered a powerful poem on the systemic persecution of native Hawaiian people. 
In all of their talks, these students communicated present, raw anger amid their racial experience. Within that enduring sense of anger, a few students' speeches contained a pointed reference to an experience at Jesuit that had contributed to their sense of cultural alienation. Most of these anecdotes involved routine, offhanded, unintentionally racist remarks that went seemingly unnoticed or unaddressed—except, of course, by the students of color affected by those remarks.
There is a term for these casual and unintentional instances of racism that has increasingly gained traction in conversations on race and identity: microaggressions.
Psychology Today describes microaggressions as the "everyday verbal, nonverbal, and environmental slights… [that] communicate hostile, derogatory, or negative messages to target persons based solely upon their marginalized group membership." Microaggressions often assume the form of a passing comment or even subconscious behavior, but they cause pervasive and resounding discomfort for the person impacted by the microaggression. Other forms of microaggressions include racist remarks passed off as jokes or satire.
As widespread fear over the COVID-19 pandemic takes root in American culture, unfounded xenophobia and racism against Asian-Americans has become increasingly commonplace. Sophomore Jenny Duan notes that Asian-American students at Jesuit have had to contend with discomforting racist jokes and harassment due to the outbreak, on top of other offensive Asian stereotypes and jokes.
"Especially right now, with the prevalence of the Coronavirus, there are a lot of jokes about Asian people having the Coronavirus," Duan said. "Another example for me is that in freshman history class, during our unit on ancient China, someone made their Kahoot name in Chinese characters 'yellow people eat dogs.' I think that in certain situations there are moments where I do feel uncomfortable. People need to understand that jokes about race, especially when they're directed at a person, they become a personal attack rather than a joke."
Various types of microaggressions
Deeply hurtful jokes and attributions of disease against East Asian students amid the COVID-19 outbreak represent one type of microaggression: explicit racism protected under the guise of sarcasm or comedy. Racist jokes are often portrayed as the most intentional, most problematic, and most obvious form of microaggression. 
Senior Ana Pacheco, sophomore Sara Tapia, and junior Kassandra Gomez all observe, however, that more implicit incidents, such as insensitive questions, assumptions, and double standards, represent the vast majority of microaggressions they've encountered at Jesuit.
"One example [of a microaggression] is people will be talking in class and they'll try to say something in Spanish, and then they always look at me, asking 'oh, did I do it right?'" Pacheco said.
Tapia adds that this type of interaction, while presumably innocent and lacking in racist intent, makes Hispanic students feel singled out.
"They try to justify their actions by asking us if it's okay, and it's awkward if we say no," Tapia said.
Gomez also claims that when it comes to speaking Spanish, or speaking in a certain vernacular, Hispanic students are received much differently for embracing their own culture than white students who attempt to appropriate or make light of it.
"The way we speak, they want to speak like us," Gomez said. "When we say it, it's 'oh she's kinda ghetto,' but when they say it, it's funny."
Pacheco and junior Amen Zelalem emphasize that white students asking questions, even ones that brush against cultural sensitivities, furthers racial discourse and isn't necessarily a problem. However, they also observe that more often than not, students frame questions in a way that leads with racially biased assumptions.
"If they ask about a tattoo, 'is that a gang sign?' then that's uncomfortable. But if they ask, 'what does that mean to you?' there's a difference to that," Pacheco said. 
Zelalem suggests that a spirit of open-mindedness in how non-minority students ask questions can help reframe how students of color receive them. 
"If you're open minded, that's the best way to ask," Zelalem said. "Don't assume 'this means this, right?' People have to be open to being taught and being wrong. You can't just get all defensive when somebody tells you [microaggressions you perpetuate] are not okay."
Even more covert than misguided questions or assumptions, subconscious behaviors among students can also make students of color feel ostracized, particularly during conversations about racism or racial atrocities.
"When people start talking about slavery in class, people either are all not looking at you or all looking at you," Zelalem said.
Teachers can also perpetuate microaggressions 
Beyond ignorance perpetuated by students at Jesuit, certain teachers and faculty have also been culpable of perpetuating microaggressions in their instruction or in classroom conversations, say Pacheco and Zelalem. With teachers, it becomes more difficult for students who do pick up on their microaggressions to feel safe calling them out or correcting the narrative.
"Teachers will be telling a story or making a comment, and I'll be like, 'was that okay to say? Was that racist?' Zelalem said. "They're a teacher, so I'm not going to stop the class and say, 'hold on, I don't think that was cool.' I feel like I don't have the right to speak up in class because I think, 'well, no one else is speaking up, so I'm not going to.' And other times I worry, 'oh, I'm just overreacting.'"
Pacheco remarks that the overall lack of students of color at Jesuit makes it all the more difficult to stand up against teachers who foster an uncomfortable or unsafe racial environment, as she doesn't always expect support or solidarity from her classmates.
"A time when I feel a little unsafe is the first day of school when I walk into a classroom and I realize I'm one of only about two people of color," Pacheco said. "People don't think it makes that big of a difference, but it does, especially in classes like English if a teacher makes you [read aloud] the n-word. It's really uncomfortable to be in that situation, to have to stand up for everyone because [my white peers] don't realize what it's like."
Safe Places
While microaggressions represent a daily struggle for students of color at Jesuit and come from a broad swath of people with varying degrees of authority, there remain ongoing and future opportunities to create safe spaces for students of color and to more intentionally combat microaggressions as an institution.
In particular, Pacheco, Gomez, Zelalem, and Elizarazazz all praise the Diversity Office as the place they feel safest and most supported at Jesuit.
"In the Diversity Office, we can say whatever we want, we can talk to Ms. Lowery or Mr. Kato or whatever teacher is in here," Elizarazazz said. "It's mainly this room, and it's the teachers that make it safe."
Moreover, the Awareness Assembly this year made important progress in how Jesuit approaches race. The fact that many speeches didn't wrap up with a neat, satisfying conclusion and some students, like Rodriguez, had the latitude to call out peers who weren't listening resulted in a more accurate representation of racial identity than assemblies past. 
"If I were to talk in front of Jesuit, I always felt that I would have to say, 'I've learned to accept myself and love myself even though I'm Asian,' but that's not really the reality, and I know that's not the reality for my friends of color," senior Kaylee Jeong said. "People need to know that we're upset and things aren't changing and not everything is going to resolve in a happy, loving way. The battle with your race is something that happens throughout the course of your life and it's something that's so much deeper than 'okay, I've learned to love myself now.' It's so much more difficult." 
The willingness among the speakers to candidly convey the bitter parts of their experiences as people of color also helped attach a human face to common racial injustices and individualized racist behaviors. In particular, Pacheco notes that Rosas' commentary on her mother's deportation illustrated fears that many members of Jesuit's Hispanic community grapple with.
"A lot of people with immigrant families, they know from a very young age what to do if mom and dad don't come home," Pacheco said. "They know who to call, they know who they're going to stay with, they know where the cash is if they need it. For [Daniela] to say that, it makes a lot of people see what we go through."
Finally, future efforts to embed race education into a four-year curriculum at Jesuit represents perhaps the most comprehensive tool to combat microaggressions. Because microaggressions are often implicit, nuanced, difficult to understand, and intermingled with more systemic racial issues, they require significant instruction for students to fully understand them. Indeed, finding a way to communicate the consequences of racial microaggressions may be Jesuit's biggest challenge as it ponders how to become more culturally responsive.
"My big thing about my experience at Jesuit is that we say, 'yeah, racism is bad,' and everyone knows that, but when someone says 'why did you get a C on that test, shouldn't you be doing better, won't your parents get mad because you're Asian,' it's hard to say anything and it's hard to explain why that's racist," Jeong said. "It's very obvious in a larger context, with bigger, more tangible issues, but the little stuff is what piles up and really gets to you."
About the Contributor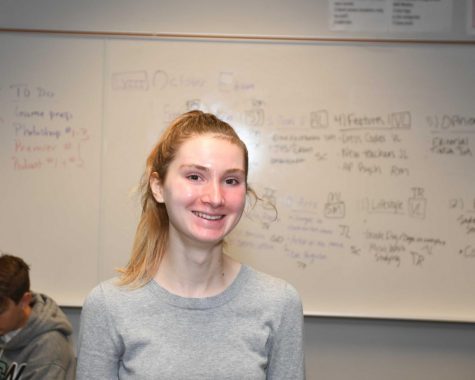 Shawna Muckle, Alumni 2017-2020
Shawna Muckle, 17, is a senior at Jesuit High School. She has been a member of the Chronicle staff for three years in various capacities, and she is currently one of its chief editors. Shawna is fascinated by politics and government, and she enjoys writing articles for the Chronicle pertaining to local and national political developments, alongside issues tied to social justice and personal identity. Some of her favorite pieces she's written include a feature on Jesuit students' experience with microaggressions, a recap of the 2018 midterm elections, and an article discussing last year's clerical abuse scandal within the Catholic Church. Outside of journalism, Shawna is the leader of Jesuit's Model United Nations club and a member of her school's Ethics Bowl team, which was a 2019 national champion. Shawna is also a Precinct Committee Person for the Washington County Democrats. In her free time, Shawna can be found aggressively running up hills, drinking boba, and yeeting off on road trips to Seattle (for unspecified reasons). Ask her about her opinions on Congress, specifically a) Republicans and b) the crisis with the federal deficit. In the future, Shawna hopes to pursue journalism in college and, later on, as a congressional reporter in DC.