Class of 2020 faces elevated uncertainty in the college selection process
The Class of 2020 is entering the final stretch of the college discernment process as the majority of schools maintain their May 1 enrollment deadlines. Many students are facing the unique, pandemic-driven reality that visiting campuses, some of which are thousands of miles away, will be impossible before decision day. 
Alongside many missed "lasts" of our high school careers, some of the pivotal "firsts" of seniors' college experience, including scholarship competitions, admitted student meet-ups, and post-admission campus visits, have been either cancelled or postponed. Many colleges and universities, conscious of the difference that seeing a school makes in students' decision processes, have expanded digital content and interactive experiences for prospective students through virtual tours, lectures, and informational Zoom meetings.
While comprehensive virtual content is a must-have for prospective freshmen still weighing their options or preparing to attend a school they've never visited, it doesn't perfectly replicate the experience of seeing a school live, says senior Danny Murphy. 
"Being [on campus] physically, it's really easy to get a read on the campus, and just know if it's going to be a good place where you're going to be happy spending four years of your life," Murphy said. "I think on paper a college can look great, but actually going and physically being there is really different and plays a big role in making a decision. Not visiting just adds another element of uncertainty that I would rather not have." 
Senior Serena Trika also observes that not all virtual content is made equally. While many schools provide imagery of buildings on campus, some don't offer visual access to the inside of their facilities or their classrooms. 
"Past campus visits made me like the school more because I get to see all of the facilities and opportunities that they have," Trika said. "Virtual tours don't really show you inside every building, especially the ones I might primarily be in, so it's hard to get an idea of where I will be everyday and what classrooms look like exactly."
Right now, inadequate virtual exposure to campus life is a problem for students everywhere and for universities everywhere, creating a major incentive for institutions to enhance at light speed what were once relatively paltry digital resources for admitted students. Being able to schedule visits to campuses in the roughly four to six weeks after acceptance, however, has always been reserved for the financially privileged, whose families can afford time off from work, hotel expenses, and last-minute plane tickets. In that vein, the coronavirus's role in pushing schools to better simulate academic and student life online is perhaps a welcome first step towards equity and access for low-to-moderate income  admits.
Several schools have also gone so far as to extend the traditional May 1 deadline for students to pay their enrollment deposits to June 1 and beyond. Some common colleges for Jesuit students that have delayed their enrollment deadlines by a month include Gonzaga University, Oregon State University (as well as its Cascades campus), Seattle University, and University of Portland. 
Most schools across the country, however, are maintaining their May 1 enrollment deadline, citing a desire to plan effectively for their incoming class at a time when yield rates, or the percentage of accepted students who ultimately choose to attend, are in flux.
"Most colleges are sticking with the May 1 deadline not to be pernicious, but to help with their own planning," college counselor Mr. Johnson said. "The earlier that they know what kind of class they have coming in, the more productive they can be to plan for what fall of 2020 is going to look like in terms of enrollment, orientation, waitlist activity, that kind of thing. From the student perspective, with colleges having varying deadlines, it does give them a bit more time to seek reconsideration for financial aid, for example, which is not a quick process."
Given the increasingly disastrous predicted outcome of prematurely lifting social distancing guidelines, shifting enrollment deadlines is unlikely to enable students to visit campuses in May. According to a model designed by the U.S. Department of Homeland Security and Health and Human Services, if governors choose to lift statewide shelter-in-place orders 30 days after ordering them, or in roughly mid-to-late April, the U.S. will likely see a deadly resurgence of the pandemic in mid-summer. Irrespective of whether states remain in lockdown by May, it's unlikely that travel restrictions will be lifted or college campuses will be open for tours and visits.
Ultimately, the lack of alternatives for campus visits means the Class of 2020 will have to make college decisions based on more distant assumptions and information sources. With a critical aspect of the discernment process rendered inaccessible, seniors will also need more flexibility and willingness to adapt if they discover after arriving on campus next fall—or later—that the school they chose isn't quite what they envisioned. 
"The class of 2020 will need to be a little more hearty in terms of making do," Mr. Johnson said. "They may arrive at a campus that doesn't meet all of their needs simply because they weren't able to discern in the way that they would have liked, but I think that our students are stalwart enough to be able to see that through. Seek the services that are available at their future college, reach out, build relationships, meet faculty, and really give it the best shot that they can."
Colleges and universities, too, are facing various elements of uncertainty, some of them perilous, when it comes to building their incoming class. Geographic distance may now be a much bigger consideration for seniors and their families, particularly for students that previously planned to enroll at colleges in the epicenter of the outbreak, such as New York City universities, says Mr. Johnson. In order to build a geographically diverse class, universities may need to incentivize student enrollment from distant regions of the country with increased financial aid packages.
While colleges wrestle with concerns about under-enrollment and a loss of diversity, they also may be contending with grim financial realities. In the 2008 global financial crisis, the endowments of both Harvard and Yale University, two of the most financially sound collegiate institutions in the country, shrunk by approximately 30%. It's difficult to imagine that any school will exit this combined economic and public health crisis with a better financial situation than it had coming in. 
What this means is that while many students now weigh affordability more heavily due to the economic fallout of the epidemic, schools may be less able to dole out generous need-based and merit-based financial aid. According to the Washington Post, this may result in over-enrollment among in-state students at public universities, while private and out-of state enrollment shrinks. 
Even ongoing scholarship competitions have been heavily downsized in the past few weeks. Schools such as Loyola University Chicago, Syracuse University, and Duke University cancelled major on-campus finalist events. 
"I was supposed to have an interview for a big scholarship that just got canceled completely," Murphy said. "I think that an interview would have helped my chances of getting the scholarship, so that wasn't happy at all."
Despite financial uncertainty, Mr. Johnson assures students that schools will most likely not revoke the current awards they have issued, and some institutions may be willing to engage with merit scholarship reconsideration in spite of financial contraction to increase yield rates.
"I have not seen colleges pulling back from existing commitments they have made via certain need-based aid or certain merit scholarship programs," Mr. Johnson said. "Will discount rates increase at colleges for the class of 2020 in order to fill their class? I think it just depends on how healthy the institution is. All of higher education is at a pivotal point where there are colleges that are financially healthy and sound and will sustain themselves through this, and there will be other colleges that will be challenged financially."
About the Contributor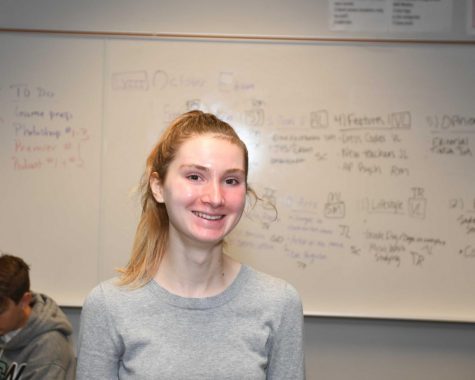 Shawna Muckle, Alumni 2017-2020
Shawna Muckle, 17, is a senior at Jesuit High School. She has been a member of the Chronicle staff for three years in various capacities, and she is currently one of its chief editors. Shawna is fascinated by politics and government, and she enjoys writing articles for the Chronicle pertaining to local and national political developments, alongside issues tied to social justice and personal identity. Some of her favorite pieces she's written include a feature on Jesuit students' experience with microaggressions, a recap of the 2018 midterm elections, and an article discussing last year's clerical abuse scandal within the Catholic Church. Outside of journalism, Shawna is the leader of Jesuit's Model United Nations club and a member of her school's Ethics Bowl team, which was a 2019 national champion. Shawna is also a Precinct Committee Person for the Washington County Democrats. In her free time, Shawna can be found aggressively running up hills, drinking boba, and yeeting off on road trips to Seattle (for unspecified reasons). Ask her about her opinions on Congress, specifically a) Republicans and b) the crisis with the federal deficit. In the future, Shawna hopes to pursue journalism in college and, later on, as a congressional reporter in DC.