Requirements for mandatory Zoom meetings draw mixed reactions from student body
Citing a desire for more face time with students, the administration implemented a requirement beginning May 5 that each class must schedule a mandatory, graded Zoom session at least once per week. Teachers have two time slots available in the week to schedule meetings with each period. All time slots occur within the hours of 10 a.m. to 3 p.m., with three blocks per day: 10:00-11:00 a.m., 12:30-1:30 p.m., and 2:00-3:00 p.m.
Zoom class meetings can last anywhere from 15 minutes to a full hour, with the average meeting, according to students interviewed, lasting approximately 30 minutes. Since most Jesuit students are required to take six or seven classes per day, Zoom meetings can now be anticipated to occupy three to four hours of students' weekly coursework, a significant increase in time spent in live class meetings compared to previous Zoom policies. 
Prior to the policy shift, teachers had relatively wide latitude in whether to make Zoom meetings mandatory or optional, with many choosing an optional weekly Zoom meeting in an effort to avoid burdening or overscheduling students. Some teachers opted to avoid Zoom meetings altogether. 
Principal Paul Hogan says that the extended lack of face time—and the resulting disconnect between teachers and classmates—between Mar. 13 and late April for some classes prompted the administration to implement more stringent class meeting requirements.
"Students have not seen their classmates, nor been able to hear the teacher explain the material nor ask questions," Mr. Hogan said. "We are a face-to-face community. We believe that in-person teaching is crucial to deeper understanding and building the kinds of relationships that lead to real communication."
While a more regimented Zoom schedule and requirements for mandatory Zoom meetings virtually ensures that students will receive more direct interaction with their classmates and teachers, some students fear that the lack of flexibility associated with synchronous Zoom meetings will make completing coursework more difficult. 
In particular, students with jobs and pressing financial obligations to their families that have been amplified by the economic fallout of the pandemic may not have the freedom to simply reduce hours or abruptly shift their schedules to accommodate Zoom meetings. 
"Since I work, I'm constantly trying to find ways to either work around my schedule last minute or make up Zoom meetings for credit, which adds on homework at the end of my day," senior Kaylee Jeong said. "I don't rely on my job, but I can imagine students who actually need to work to support their family during a huge financial crisis are far more stressed out. It's unfair to assume that during a time where so many families are financially unstable, students can just go about their day like normal."
Though the students dependent on jobs in order to supplement their family's income may comprise a small minority at Jesuit, an intensive schedule of Zoom meetings nevertheless presumes a level of financial privilege and scheduling flexibility that already vulnerable students lack. And despite the fact that such students can work around mandatory Zoom meetings by contacting teachers, constantly soliciting accommodations and make-up opportunities magnifies stress, says Jeong.
Students without stable Internet access face a similar hurdle. In order to excuse themselves from or to secure access to Zoom meetings, they must contact IT for accommodations, an additional burden that increases daily obligations.
Senior Nina Velu also expresses concern that teachers often don't provide enough notice for when Zoom meetings are scheduled, as having two potential time slots for each period per week creates uncertainty around when classes meet. Velu emphasizes that after spending the past six weeks crafting her own schedule, the abrupt transition towards synchronous Zoom meetings has been confusing and disruptive. 
"I usually sleep in until 12, and that was what I got used to during digital learning days for a long time," Velu said. "When a class schedules a meeting for 10 a.m., I can wake up, but it's hard because usually teachers send out notifications maybe ten minutes before the meeting starts, and they don't make any reminders super clear in our weekly schedule. It's been disorienting."
The administration says that it derived the mandatory Zoom meeting policy from comments offered by parents, teachers, and students. According to a schoolwide survey conducted by the administration, 28.9% of the 291 respondents placed their daily workload between 4 and 5 hours, while at least 81.2% of respondents said they completed their coursework in under 7 hours on average. Since the majority of respondents dedicated significantly less time to school-related activities than they would during normal operations, the administration felt comfortable replacing traditional homework with once-weekly Zoom meetings. 
"The typical JHS student would spend 10+ hours either at school or on homework in 'normal' times," Mr. Hogan said. "I do not want to minimize the large amount of work students are now doing… But having 6 or 7 classes per week, which averages 1.4 classes per day, in an environment where students do not have a commute, should still allow students to get their work done and still get exercise and have time with their families."
Sophomore Elina Deshpande appreciates all-class Zoom meetings as a way to reduce the tedium that accompanies endless homework assignments. "Zoom meetings are really refreshing to break up your routine and to see all the people that you truly miss the most," she said.
However, thus far, Deshpande notices that some teachers use their allotted Zoom times as an aimless check-in rather than as a space for lectures or class discussions, which she feels is a waste of time. 
Jeong suggests that if teachers want to use Zoom simply to maintain contact with students and secure personal interaction, they can instead require some sort of check-in that can occur either over Zoom or email, allowing students to continue working under flexible conditions. 
"I think Zoom meetings are a good idea, but making them mandatory wasn't," Jeong said. "If the purpose is to encourage closeness between a student and teacher, I think being asked to just keep in touch with a teacher in some way works fine."
About the Contributor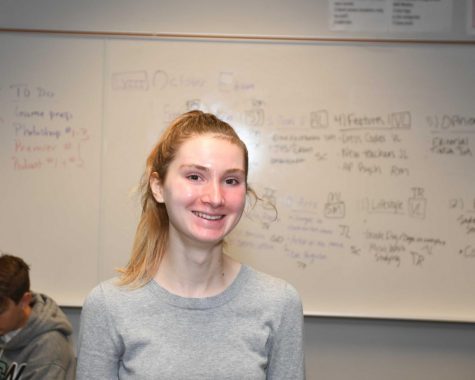 Shawna Muckle, Alumni 2017-2020
Shawna Muckle, 17, is a senior at Jesuit High School. She has been a member of the Chronicle staff for three years in various capacities, and she is currently one of its chief editors. Shawna is fascinated by politics and government, and she enjoys writing articles for the Chronicle pertaining to local and national political developments, alongside issues tied to social justice and personal identity. Some of her favorite pieces she's written include a feature on Jesuit students' experience with microaggressions, a recap of the 2018 midterm elections, and an article discussing last year's clerical abuse scandal within the Catholic Church. Outside of journalism, Shawna is the leader of Jesuit's Model United Nations club and a member of her school's Ethics Bowl team, which was a 2019 national champion. Shawna is also a Precinct Committee Person for the Washington County Democrats. In her free time, Shawna can be found aggressively running up hills, drinking boba, and yeeting off on road trips to Seattle (for unspecified reasons). Ask her about her opinions on Congress, specifically a) Republicans and b) the crisis with the federal deficit. In the future, Shawna hopes to pursue journalism in college and, later on, as a congressional reporter in DC.