Jack Ensminger: Bringing Students Together in a Time of Distance
As Jesuit High School embarks on their first semester in a fully virtual school setting, senior Jack Ensminger is taking on the difficult task of representing the Jesuit student body as ASB President… without actually being at Jesuit.
Jack Ensminger, who has been enthusiastically involved in track, mock trial and CCA, was elected ASB President for the 2020-21 school year back in May.
    "[Jack] is very personable," said senior Ellen Haney, who has worked with Jack in student government for three years. "He's very enthusiastic about wanting to help the students." 
    Jack has been a devoted member of Jesuit's student government, led by Dr. Exley, for the last three years.
    "Jack does a good job speaking up for the students in a way that can get his voice across, but also be respectful of faculty and staff," said Dr. Exley. "That's something I really respect about him."
    An ASB President is normally responsible for representing the voices of both the staff and the students of Jesuit High School, as well as presenting to a diverse population of students with different interests, hobbies, backgrounds, etc. As Jesuit transitions to an online format, the normal responsibilities of an ASB President begin to shift.
"A big part of [Jack's] job is showing students how they can 'buy in' to a virtual community, and how they can 'buy in' to what we're trying to get done here at Jesuit," said Dr. Exley. "When a leader buys in, that gives other people the permission to buy in."
Although Jack expressed feelings of nervousness at the prospect of representing a virtual community, he is looking forward to new opportunities that the online format may present.
"This year is really different, so I'm excited to see how we can push ourselves as a community to try new things and go to fun new events." said Jack.
    At a time when things seem more distant than ever, Jack Ensminger is looking for ways to bring the Jesuit community together. In Jack's original platform for ASB Elections, he stated that he "hopes to make Jesuit a place where people are excited to go to school every day!", which may prove challenging in a time where a students' day consists of multiple 80-minute Zoom meetings.
    "Being online makes being excited about going to school a lot harder," said Jack. "I think by making class manageable and getting kids excited about learning, we can make school more manageable and fun." 
As a student, Jack understands the struggle of online learning and zoom fatigue, but he hopes that he can find ways to help students "buy in" to the Jesuit community and make the most of their school year.
"Although I know it's hard, try to put yourself out there and have an open mind," said Jack. "Little things do matter, like talking in breakout rooms or joining a call. Try to push yourself!"
An excellent representative of Jesuit High School, Jack's leadership will be demonstrated throughout the school year as he works on uniting the Jesuit community, even in unexpected circumstances.
About the Contributor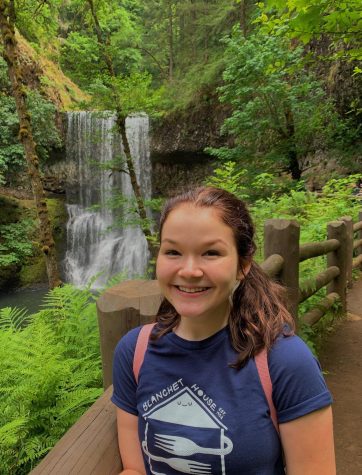 Chase Kerman, Staff Writer
Chase Kerman, a junior at Jesuit High School, is excited to explore Journalism and grow as a writer in her first year taking the class. At Jesuit, Chase is very involved in the drama program, the Jesuit Ambassadors and is also a representative for Student Government. In addition to performing at Jesuit, Chase spends time volunteering as a Student Ambassador at Blanchet House or goofing around at Northwest Children's Theater (her favorite place!) as an actor and member of the Interns NW program. She is very passionate about politics on a national and local level, social justice, and government. Chase hopes to shed some light on more controversial topics at Jesuit, and to inspire her peers to learn about current events because politics are cool!