Administrators update parents on COVID-19
Parents were invited to attend an online webinar, during which Jesuit Principal Paul Hogan and President Tom Arndorfer discussed updates on the coronavirus pandemic, and how it affects the Jesuit High School community.
Hogan and Arndorfer began with a prayer for veterans, thanking them for their service. Following the prayer, Hogan and Arndorfer discussed the school's plans regarding the coronavirus.
Arndorfer said he wishes that students were back on campus, as he feels that the social, academic, and emotional aspects Jesuit provides are best served in person. However, he said that the school will continue to make appropriate accommodations for those who wish to stay home or come to campus for extracurriculars.
For students to return to school, two measures, put in place by Oregon Governor Kate Brown, must be met. The first measure states that in Washington County there must only be 50 or less new COVID cases per day per 100,000 people in a two week period for students to return to school. Currently, that number is 190 new COVID cases per day per 100,000 people.
The second measure is the test positivity rate. Currently, in Washington County, the test positivity rate is 10.2 percent more than twice as high as the necessary percentage to return to school, which is five percent over a 14-day period.
According to Arndorfer, students and most teachers will be staying at home through semester one. Hogan reminded parents to keep their teens at home to protect those with underlying conditions.
Hogan and Arndorfer encouraged parents to ask questions during the webinar. One parent asked if there were any creative ways to bring the students back to campus.
Hogan said that although students will need to stay home for the next few weeks by order of the Governor, he says he hopes to move into a hybrid schedule later in the school year. As part of a hybrid schedule, half of the student body would attend school in person on certain days, and the other portion of the student body would attend school alternate days.
One parent asked: what is the administration planning for the senior class? The administration plans to offer the PSAT, ACT, and SAT tests for current juniors in semester two. Additionally, Hogan announced that seniors were working with Jesuit's college advisors, and that those advisors would reach out to juniors beginning January 2021.
Semester exams, which are usually given in the final week of each semester, will occur during regular 80-minute class meetings. Teachers have been encouraged to develop a range of cumulative semester assessments that students can take remotely.
If students were to come back to campus, one parent asked, what would lunchtime look like? Hogan says that because students will need to remove their masks to eat, they may be spread out into large areas, such as Gedrose Center, and locations outside.
"We hope to face the problem of finding places for students to eat, as that would mean our students are back on campus where they belong," Hogan said.
Regarding the Food Drive, the annual holiday event where the Jesuit community collects food for underprivileged families, faculty, staff, and students plan to meet on December 7 to drop off food. This will be one of a few drop-off dates, as the number of people on campus will be limited. The alumni food drive will also proceed this year, though food drop-off dates are still pending.
Sports are still taking place on the Jesuit campus, though Hogan and Arndorfer both believe academics are a higher priority. They hope that events, including sports, will take place in large-open spaces off campus or through a virtual setting.
To be on campus, students have their temperatures taken upon arrival to ensure that they are not sick. A new piece of technology called Capscann will assess the health of each student, evaluating any symptoms they may have, replacing the thermometer that is placed in front of a person's forehead to gauge their temperature.
Sports allow for students to connect with one another without looking at a screen, but parents are still hoping to have their children back on campus. Some parents are signing a petition to bring kids back to school. They plan to send the petition to Governor Kate Brown. Hogan and Arndorfer encouraged parents to continue to try to influence politics, contact representatives, and let their voices be heard.
The two administrators recognize that keeping students out of school affects their mental health, and advocate for bringing students back to school as soon as it is safe. Administrators will continue to send out surveys to parents regarding concerns they have about school policies and what they would like to see in the coming months.
Both Hogan and Arndorfer stressed throughout their presentation the importance of following Centers for Disease Control and a Prevention guidelines, spending time connecting with those around them, and giving thanks for the teachers, faculty, and staff of Jesuit for their hard work during these difficult times.
For more information on COVID metrics, visit https://www.oregon.gov/ode/students-and-family/healthsafety/Pages/COVID19.aspx.
About the Writer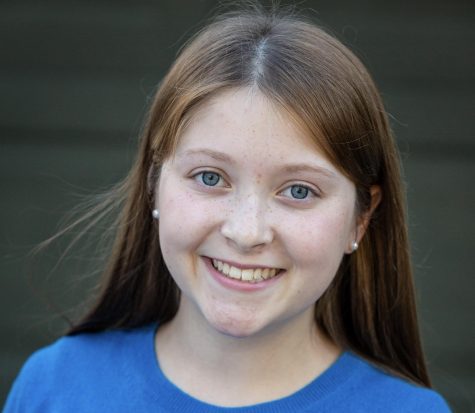 Steele Clevenger, Editor-in-Chief and Creative Director
Sarcastic. Artistic. Enthusiastic. These are three words Steele Clevenger would use to describe herself. A senior at Jesuit High School and a veteran journalism...
New Fall Workout Guidelines
The Jesuit announced in an email on September 13 that all student athletes must have followed CDC guidelines regarding physical distancing and wearing masks prior to attending campus for scheduled fall workouts. Jesuit student athletes cannot participate in fall workouts if they have failed to follow CDC guidelines 14 days prior to entering campus.
"The main purpose of these fall workouts is social and emotional health. Practicing once or twice a week for 4-5 weeks is not going to move the needle on our next league title or state ranking. The focus will be fitness, community building and fun," athletic director Mr. Mike Hughes said.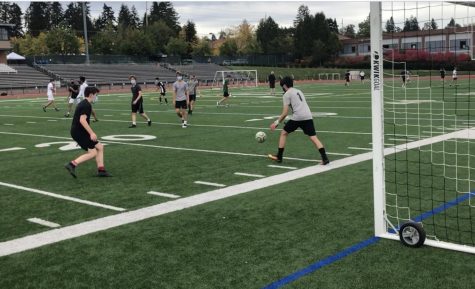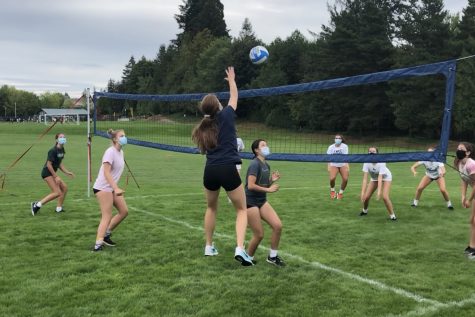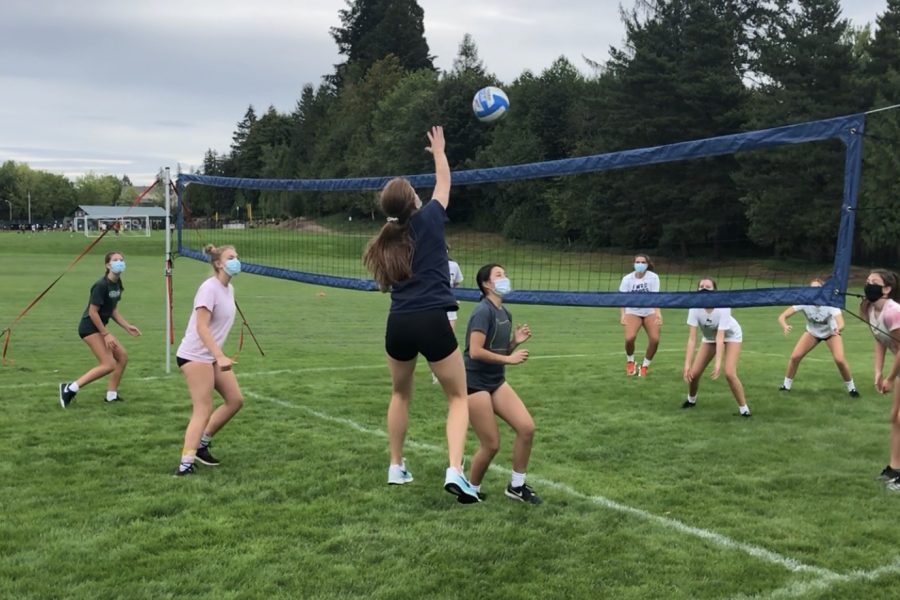 For senior cross country runner, Oliva Silenzi, fall workouts mean just that: fun.
 "When first hearing about the workouts I was super excited just to be able to go to campus. That was what I was most looking forward to honestly, just being able to go and run again at Jesuit," Silenzi said. 
Jesuit then followed up with a second email that announced new guidelines for athletes and coaches who will enter campus. Athletes will be asked a number of health screening questions before practice: "In the past two weeks, have you followed all CDC guidelines, including maintaining six feet of distance and wearing masks when with people not in your family/not in your family's designated safe pod?" Students who cannot answer yes to all these questions will not be allowed on campus. If a student is untruthful in their response, the student may face disciplinary consequences. 
"We are concerned that some students may unknowingly bring COVID-19 onto our campus…" Hughes said. "If students are acting in irresponsible ways such as attending indoor social gatherings outside their immediate families, especially without wearing masks, or participating in club sports that do not require masks when indoors or when closer than 6 feet, then we are concerned. Students need to know that this type of risky behavior not only puts themselves at risk, but it potentially exposes our athletes, coaches, the families of other athletes and the general community to COVID-19 spread."
Jesuit established that players must wear masks at all times, games and scrimmages will not be allowed, and no drill will involve contact between players.
"[The players] are missing out on the actual game play so we are trying to find a balance of fun and overall football development… Just being around each other is a huge win," football coach Kyle Carter said. "I think mental health is the number one thing we need to be aware of and focus on. This is a great way to get people out and be around their friends, classmates, coaches and teachers. Just to get out whatever was bottled up inside them during these past six months of Covid."
Jesuit plans that the new guidelines will provide a safe environment for athletes to workout while finally being able to rejoin their teammates and coaches on campus.
About the Writer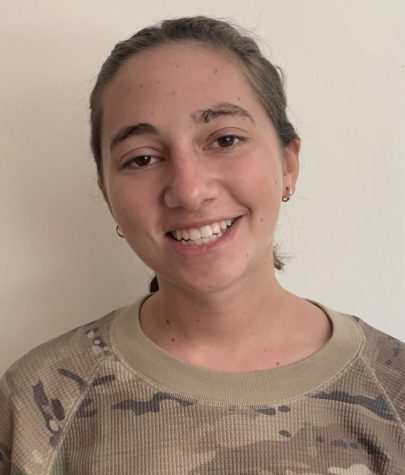 Lucy Menendez, Staff Writer
Lucy Menendez is a senior at Jesuit High School and first time journalism student. Lucy plays basketball at Jesuit and is involved in multiple clubs. Her...