Why Is Tik Tok So Addictive?
Tik Tok was created in 2016 and has grown massively popular in America.  Despite its popularity it does have drawbacks.  Tik tok is very addictive and can waste a person's time very easily. Most parents probably understand this because they see their kids glued to the app, the average person spends around 52 minutes on Tik Tok everyday per Oberlo blog.
 One reason why it's so addictive is because Tik Toks are short 15 to 60 second videos. If you watch a 10 minute long video on Youtube, an individual can get very bored if it's not something they like, but if a person saw a Tik Tok a person doesn't like they, can just wait out the time or skip it with a swipe of a finger.  For Junior Dylan Mills Tik Tok is easily accessible. 
    "It doesn't matter how long you have, you can always watch a 15 second Tik Tok It doesn't matter if you only have a minute or two." Junior Mills said
    Another reason why Tik Tok is so addictive is because a users For You Page which is their feed where the videos on their screen are personalized to them. The first time a user goes on Tik Tok, it is taking notes on which videos a user interacted with -like, comment or share and will give an individual more videos like that. For example, if someone only interacts with sports posts there For You Page would be mostly sports-related. Junior John Holman is among the teenagers experiencing the personalization of content on Tik Tok
"I feel like every time I open the app, it has something that I like. Honestly it's kinda scary." Junior Holman said
The app does not take long to suck the user in once they open it. In other social media platforms an individual has to open the app and press a few buttons to find the content. On Tik Tok,  the videos start playing as soon as the user clicks on the app. 
A use can scroll for hours and nothing would change, just more videos popping up. There are more than one million Tik Tok viewed a day all around the nation per Oberlo blog. There's also no loading time for a new video, so a new one just starts playing with a swipe of a finger. 
Another part of Tik Tok that is addicting is making and creating the videos. There are so many fun features and filters to play with and make videos more exciting. There have been so many people who blow up and get famous on Tik Tok just for making one video.  For example a user that goes by the name @AngryReactions has 8.3 Million followers just for reacting to videos with an angry face. 
About the Writer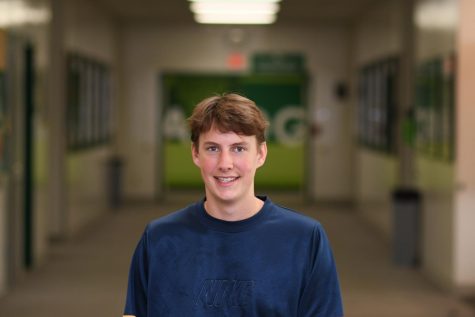 JJ Gray, Managing Editor
JJ Gray is a senior and this will be his third year as  journalism student. He is excited to be in the class and have a great time. In JJ's free time, he reads about sports and listens to many different sports podcasts and radio shows. JJ loves listening to the Ringer Podcast Network every night. He also enjoys talking about and debating sports topics with his family and friends. JJ plays football and he skis at Jesuit high school. JJ is also very into the sneaker and shoe world. He loves to hike and be in the outdoors in his free time. JJ has a cat named Kendrick Lamar and a dog named Reggie and he loves to play with them. JJ has an older sister who graduated from high school last year and was in the journalism class at Jesuit. One of JJ's favorite things to do is travel, his favorite place he ever visited is Amsterdam. JJ loves to read, write and listen to podcasts because they help him take his mind off other things.