NBA Draft Predictions
The NBA Draft is coming up quick and will be very interesting this year because of the Coronavirus. The Draft was supposed to be held at The Barclays Center in Brooklyn but now will be held at the ESPN headquarters in Connecticut. All the players will be connected through online video conferences. This is the first draft in 45 years that has not been held in June. 
Another reason that this year's draft will be interesting is that this year's draft will be hard on the teams drafting because the college basketball season was cut short last year. During March Madness prospects emerge but last year it was canceled. 
This article will go over my Mock draft for this year's top five picks. 
    With the first pick in the NBA Draft, the Minnesota Timberwolves select Anothony Edwards from the University of Georgia. 
    Edwards is a 6-foot-5-inch, 225 pound guard that played very well in Georgia and improved his draft stock by showing off his skills on social media. The Timberwolves already have a star point guard and center in D'Angelo Russel and Karl- Anthony Towns, so they do not need James Wieman or LaMelo Ball. Edwards does not need the ball all time and can play off-ball with Russel being ball dominant. Edwards is a strong and very quick player that reminds me of Dwayne Wade. 
    With the second pick in the NBA Draft, the Golden State Warriors select James Wiseman out of Memphis University. 
    Wiseman is a 7-foot-1-inch, 240 pound center that had a good season at Memphis, but was involved in some controversy and had to leave Memphis early. The Warriors are a very good team that had an injury-ridden season last year, which led to them getting a high pick. I think Wiseman is a player that can help The Warriors return to being championship contenders. Wiseman getting rebounds for Steph and Clay would make the team unstoppable. 
    With the third pick in the NBA Draft the Charlotte Hornets select Deni Avdija from the Euroleague.
    Avdija is a 6-foot-9-inch, 215 pound forward that has played great in the Euroleague. Players coming out of Europe are always very interesting because they have not grown up in the AAU system like most of the other players, so he hasn't been seen as much. The Hornets are a horrible team that needs help almost everywhere. Avdija has great handles for his size and if his shot continues to develop, he will be a great player. 
    With the fourth pick in the NBA Draft, the Chicago Bulls select LaMelo Ball from the Illawarra Hawks. 
    Ball is a 6-foot-6-inch, 180 pound guard that has bounced around from different countries and teams for the past several years. He has been in the media spotlight for a while now because of his famous dad, Lavar Ball and his older brothers Liangelo and Lonzo Ball. LaMello is a great passer and a good shooter, but lacks on defense. I think LaMelo would pair well with Bulls players Coby White and Zach Levine because of his great passing. 
    With the fifth pick in the NBA Draft the Cleveland Cavaliers select Obi Toppin from Dayton University.  
    Toppin is a 6-foot-9-inch, 220 pound power forward that took the world by storm at Dayton. The Cavaliers have been struggling since Lebron left, but have good young players like Collin Sexton and Darius Garland. I think Obi can grow and improve his game to become a great player and mesh with the Cavalier's roster. 
About the Contributor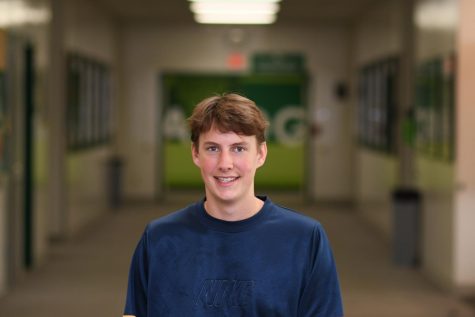 JJ Gray, Managing Editor
JJ Gray is a senior and this will be his third year as  journalism student. He is excited to be in the class and have a great time. In JJ's free time, he reads about sports and listens to many different sports podcasts and radio shows. JJ loves listening to the Ringer Podcast Network every night. He also enjoys talking about and debating sports topics with his family and friends. JJ plays football and he skis at Jesuit high school. JJ is also very into the sneaker and shoe world. He loves to hike and be in the outdoors in his free time. JJ has a cat named Kendrick Lamar and a dog named Reggie and he loves to play with them. JJ has an older sister who graduated from high school last year and was in the journalism class at Jesuit. One of JJ's favorite things to do is travel, his favorite place he ever visited is Amsterdam. JJ loves to read, write and listen to podcasts because they help him take his mind off other things.