The Desi Project Inspires South Asian Youth to Embrace Culture
The Desi Project, a nonprofit organization dedicated to empowering South Asian teenagers in America, recently worked with the city of Beaverton to proclaim August 8th as South Asian Legacy day. 
The Desi Project was created by seniors Nysa Gohil, Rishabh Sharma, Shreya Kaushik, and Dev Udata during the end of their sophomore year. 
The mission statement of the Desi Project is to empower South Asian teenagers in America by helping them become more confident with their culture and providing them with a platform to share their stories and culture with the community.
The Desi Project was inspired during the pandemic when many graduating students of the class of 2020 posted stories on instagram, describing how they felt misrepresented and faced microaggressions during their time at Jesuit. 
While the graduating seniors certainly made a statement, their future absence led the way for the Desi Project to come together and follow in their footsteps. 
While the Desi Project does some work similar to that of a school club, they chose to be a nonprofit organization in order to spread their influence beyond Jesuit and to affect the community on a deeper level. The non-profit title also allows them to receive donations that help organizations and give back to the community. 
Desi Project member Rishabh Sharma spoke on the goals of the Desi Project. 
"The goal of the Desi Project is to empower South Asians to take pride in their culture and to educate the greater community about the evident stereotypes and misrepresentations facing many Asians". 
The Desi Project works in many different forms which can all be viewed on their website. The website also runs a blog where South Asian teenagers can post their experiences of discrimination and microaggressions, an efficient method for teenagers to interact and connect with each other. The Desi Project also has an instagram, @thedesiprojectpdx, and a YouTube channel where they create informational videos about South Asian culture to educate the greater community. The Desi Project also gives back to the marginalized in their community by working with organizations such as the Blanchet House. While working with the Blanchet House, the Desi Project  served food to the homeless and also organized a sack lunch drive, collecting and donating over 250 traditional South Asian sack lunches. 
"I think that the Desi project is definitely helping represent South Asian teenagers and the community as a whole in a new light," senior Yohan Pandya said. "As an Indian American myself, I often find myself frustrated with the way that people like me are represented in the media. It seems like our identities are predetermined and hard for us to redefine. The Desi project has done a lot to bring awareness to this misrepresentation and is definitely an insuring agent of change in the Jesuit high school community as well and the Portland community as a whole."
Recently, the Desi Project worked with the mayor of Beaverton, Lacey Beaty, to certify August 8th as South Asian Legacy day. This achievement came together when the Desi Project was looking for ways to expand and grow their organization. After contacting the city of Beaverton and participating in a community week showcasing their culture, the Desi Project asked if they could establish a special day  commemorating all South Asians. To their surprise, Beaty signed off and the rest was history. 
"I think that it is incredible that their work led to creating South Asian Legacy Day," senior Elina Deshpande said. "Us South Asians are truly cut from the same cloth, and I see it as a day that South Asians in our community can come together and celebrate our similarities, traditions, cultures and unite as one big family, which is amazing."
To get more involved with the Desi Project, you can check out their website for all information regarding upcoming events, new blog pieces, and also find links to donations. You can also check out their instagram page @thedesiprojectpdx to keep up to date with events hosted by the Desi Project and volunteering opportunities. 
"If you are a South Asian teenager wishing to be a part of the Desi Project, we would love to hear your stories and experiences," Sharma said. "You can definitely expect more events similar to volunteering at the Blanchet house and we are always looking for volunteers to help".
About the Contributor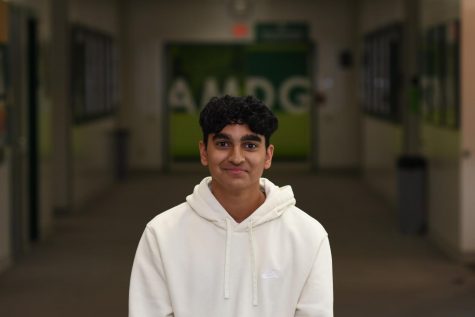 Kavish Siddhartha, Associate Editor-in-Chief
Kavish Siddhartha is a staff writer for the Jesuit Chronicle. Kavish is a junior at Jesuit High School and has been interested in journalism since a young age. Even though this is Kavish's first year writing for the Jesuit Chronicle, he took Broadcast Journalism during his sophomore year, where he found an interest in announcing for JCTV and creating videos. To further improve and expand his storytelling abilities, Kavish took a online summer class at Syracuse university where he learned to write and film stories. Kavish wanted to join the Journalism class because in addition to the news telling he learned in broadcast Journalism, he also wanted to develop his writing. Kavish is also an avid sports fan who is interested in writing about sports storylines in the world, and also covering Jesuit athletics. Besides sports, Kavish is also interested in writing about music, current events, business, and education. In his free time, Kavish enjoys playing basketball, tennis, running, watching movies, and spending time with his friends and family.