Indoor Mass: How Has Mass Changed Over the Past Year?
When the pandemic ravaged communities worldwide, everyone went into what seemed like a never-ending lockdown. Strict protocols destroyed the probability for Jesuit students and faculty to return to school. With these changes in place, one question remained. What would happen to Mass that is held every Friday? 
It all started when the pandemic hit in early March 2020 and students were notified that they would have an extra week off of school. While most students saw this as a two-week spring break, Jesuit began to improvise and prepare for a possible lockdown. As the pandemic worsened, it was clear that students were to be kept home for an extended period of time and Jesuit would have to make changes to the usual routine, including a change to the way Mass is practiced.
Initially, Jesuit tried to find alternatives to having Mass, since it was nearly impossible to hold one at school. They began sending out links every Friday to other online Masses that students could watch, as opposed to having an in-school Mass. This continued until the end of the '19-'20 school year. 
Beginning the '20-'21 school year, it was obvious Jesuit would try and find a true alternative to having Mass at school. Every Friday, they began having a Mass that was broadcasted to JCTV, Jesuit's broadcasting YouTube channel. The procession was held in the Chapel, with limited students and faculty present. Jesuit was careful to follow all the guidelines in place, by using social distancing and regular sanitizing.
As the year continued, online Mass became a regular part of the Jesuit community. Mr. Clarke, Jesuit's campus minister, mentioned how there were fewer students watching Mass as the year progressed. 
"The tougher thing last year was that Mass was scheduled at the same time lunch was," Mr. Clarke said. "With online Mass, where we usually had Mass with several hundred students, we were limited to about 25 to 40 people. They had to sit two chairs apart, so there were a lot fewer people."
This school year, Jesuit students were happy to find out that in-person Mass was available to anyone who wanted to go. It first started on Cronin Field, to ensure safety and social distance. 
"Mass on Cronin Field still maintained our communal environment because we were next to each other, and we could talk and interact," junior Shubu Aryal said.  
As the weather got colder, Jesuit prepared to move inside to the Knight Gym. On October 15, the first indoor Mass was held since March 2020. Mr. Clarke emphasized the importance of having students back and together as a community.
"You can see more people," Mr. Clarke said. "When it was outside, everyone was facing forward toward the altar. Now people are facing towards the altar and also toward each other."
Shubu Aryal also stated the positives of having Mass indoors. 
"Having it in person, there is a bigger connection and you can talk to your friends," Aryal said. 
Yet, even with these improvements, Covid protocols still make a difference at Mass, as the school must ensure everyone's safe.
"The Priest and Eucharistic ministers are sanitizing their hands," Mr. Clarke said. "We try to keep people spaced out, and during the Our Father, instead of holding hands, we link arms."
Senior Nikola Zupcic mentioned how he feels about the differences of having Mass in this fashion, noting a dramatic change from previous years.
"The protocols definitely interfere with Mass, we can't really sit too close to each other anymore," Zupcic said. 
Nevertheless, these changes are still welcomed by the Jesuit community. It is unknown whether we may move back to the Smith Gym in the distant future, but it is now certain that students will still be able to go to in-person Mass every Friday.
About the Writer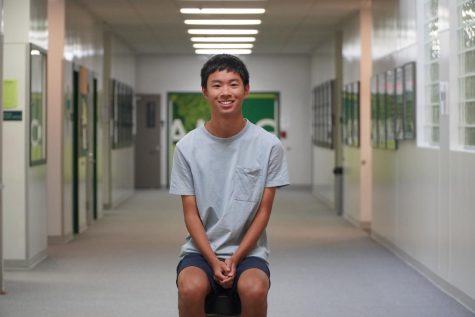 Justin Bian, Sports Executive & Editorial Board Member
Justin Bian is a senior at Jesuit High School and the Sports Executive for the Jesuit Chronicle. He has played soccer for eleven years, and piano for ten. Along with those hobbies, he likes to visit new places around Portland with his family on the weekends. Justin got interested in Journalism because of his older sister, Andrea, who was a staff writer a few years ago. Although his older sister's experience was a great motivator, the main reason he decided to join Journalism was because of his passion for sports. This year, he hopes to cover a variety of sports and write short stories about the games. He also looks to interview players, coaches, and fans, so that the Jesuit community can get insights on the sports teams. Justin would also like to pursue other forms of media, such as broadcasting and podcasts. He aims to bring relevant news around the Jesuit community based on current events on and off campus. At the end of the year, he hopes to have published many articles and have created lasting relationships with classmates and teachers.