Why Taylor Swift is Re-Recording Her Albums
Taylor Swift is re-recording her first six studio albums because of disputes with Big Machine regarding the use and sale of her music. This dispute started the conversation around the rights of record labels with young artists
Taylor swift, at the age of 15, signed a contract with Big Machine Records, which gave the label the rights to her music, imagery, and the ability to use the media in any way they wished. This process effectively stripped Swift of her control over her media (Firstpost).
Such negotiations are not uncommon as many young artists sign away their ownership of their masters to a label in exchange for financial support and resources from the record labels. 
Big Machine owns Swift's masters, which means that the label owns the rights to the original recordings of the songs, and they can use the recordings however they want, since they financed the record and, therefore, own the rights (Popsugar). 
Her six first albums were under contract by Big Machine and which means Swift doesn't own the masters, so  she is planning to re-record Taylor Swift, Fearless, Speak Now, Red, 1989, and Reputation. 
In 2019, Swift's former label, Big Machine Records, was sold to Ithaca Holdings, which is owned by Scooter Braun, an American record executive. Scooter Braun, after acquiring the rights to her masters, sold them for $300 million to Shamrock Holdings, without Swift's knowledge(Time). 
Taylor Swift demonstrates a unique case in which the artist writes and performs their songs. Having written her songs, it gives her "sync-rights," which means that Swift must approve a song to be used in tandem with images. And therefore, Taylor is able to block such efforts (Firstpost). 
Although Swift has the right to block some use, Ithaca Holdings continues to profit off of her work through streaming apps. Re-recording her music will give her new masters, and grant her the full rights to her re-recorded music to use them anyway she wants. 
Stemming from her own experience, Swift has advocated for young and new artists to own their work. 
"Artists should own their own work for so many reasons," Swift said on Instagram. 
Inspired by Swift, Olivia Rodrigo, the 18-year-old actress and singer negotiated a contract that gives her the rights to her masters, Laura Snapes wrote in The Guardian.
Rodrigo has retained control of her master recordings," Snapes said. 
Her advocacy for artist's owning their work instigated discussions with newer artists and older artists alike. Swift is now working with Republic Records and owns the masters of her re-recordings and newer albums such as Lover, Folklore, and Evermore (Insider). 
Curious about what Red re-release song you are? Take Astrid Foster's Quiz
About the Contributor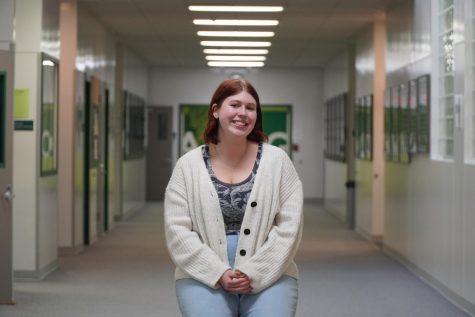 Allie Ruden, Editor in Chief
Allie Ruden is a senior at Jesuit High School and a second-year journalism student. Allie was born in Portland, Oregon, and is an only child. She has a labradoodle named Daisy who loves to nap and sunbathe.  In Allie's free time she loves to read, cook, and listen to all kinds of music. She loves to explore Portland with her friends. Her favorite places to eat in Portland are Bamboo Sushi, JoLa Cafe, and Grassa (highly recommended). Allie enjoys going to the beach, especially Manzanita and Lincoln City, and traveling all around Bend.  She loves writing and her favorite subjects in school are Journalism, English, and Spanish. Allie is interested in writing articles about music, pop culture, and the students and issues of the Jesuit community. She is excited to be able to write about what she is passionate about and delve into issues important to her. Allie is thrilled to be writing for
The Jesuit Chronicle
this year and is hoping to meet some new faces!