Inclusion in College Finances
For many students, the cost of college is a top concern for their undergraduate degree. Though there are many different ways to get financial support for college, tuition and additional fees are often still too expensive for many students. 
"My top consideration while applying to college has been money," senior Diya Balakrishnan said. "I've been thinking a lot about which schools financially make the most sense."
An aid package is made up of many different parts, including need-based financial aid, merit scholarships, student loans, work-study, and grants. 
One way for students to get financial aid is through the United States government by filling out the FAFSA, or the Free Application for Federal Student Aid. 
By inputting financial information into the FAFSA, the government decides how much financial need a family demonstrates. This need is then filled by the federal government, states, or individual schools.
Mr. Johnson, a college advisor at Jesuit High School, informs students about the FAFSA each year. 
"The FAFSA is a government form from the Department of Education that uses a federal formula to help colleges determine the amount of need-based aid a student may be eligible for," Mr. Johnson said. "It takes into consideration a variety of factors, like the number of college students in the family, the age of the parents, what kind of assets a family has and, for the class of 2022, the income information in the family's 2020 taxes."
Though the FAFSA is very helpful to low income families who demonstrate a lot of financial need, many families find themselves somewhere in the middle, needing more aid than they technically demonstrate. 
"I'm going to apply for need-based financial aid, but I don't know if I'll get any," senior Oliver Chapin said. "My family is in a place where we probably don't demonstrate a lot of need for financial aid, but college is so expensive that we still want to get some."
For students who seek additional financial assistance, merit scholarships can help pay for the cost of college. 
"I'll probably apply for merit aid," Chapin said. "Why not? I might get a scholarship."
Merit scholarships are generally based on GPAs and test scores, and they are provided by individual schools and independent organizations. 
With many schools becoming test optional, Mr. Johnson provides clarity on how merit-scholarships are generally determined now. 
"The majority of college-based scholarships have eliminated incorporating standardized test scores to determine merit scholarships," Mr. Johnson said. "Now, they mostly use GPA, and in a few rare instances, the academic rigor of a student's classes."
Furthermore, school tuition isn't the only expense that seniors applying to college have to take into consideration. Many schools have additional fees for applying or sending test scores. 
However, Jesuit students have noticed that application fee waivers are increasingly common and available, reducing the burden of extra expenses around application season.
"I'm applying to a lot of Catholic schools that have application fee waivers for students that go to a Catholic high school," senior Sadie Nanson said. 
Some schools have even reduced tuition altogether. 
For the 2021–2022 school year, Seattle Pacific University, a private institution, lowered its tuition 25% (to $35,100) in an effort to make attendance at Seattle Pacific University more realistic for students with varied financial needs. 
By lowering their tuition, Seattle Pacific University made a private undergraduate education much more accessible. While $35,100 is still a huge sum of money to pay for college, merit scholarships and need-based aid can often do the rest of the work to accommodate students who need to pay less than the sticker price. 
Some of Oregon's public universities also have programs to help make college affordable for those who need the most assistance. 
Through PathwayOregon at the University of Oregon, select Oregon state residents who demonstrate enough need for financial aid will have their tuition paid for by a combination of federal, state, and school funds. 
PathwayOregon only covers tuition though, not living expenses. Mr. Johnson points out how that can still be difficult.
"The challenge with programs that make tuition free for those with financial need is that there is still a cost for things like housing and food, and those often aren't covered by programs like these," Mr. Johnson said. "When we talk about affordability for college, it's not just tuition, but it's also the ability to have a place to live."  
Whatever their situation, Jesuit seniors should know that their demonstrated financial need will more than likely not have an impact on their admissions decision. Mr. Johnson describes how financial need might impact an acceptance. 
"There may be situations, especially in a binding early-decision application, where a school is not need blind, and they take into consideration whether a family can afford to send their student to that school," Mr. Johnson said. "That is certainly not a common occurrence though."
About the Contributor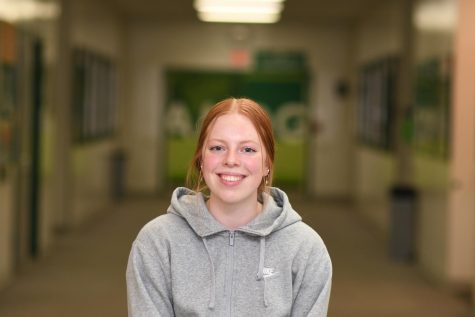 Sophie Schmidt, Staff Writer
As a first-year journalist, Sophie Schmidt is excited to learn about all things interviewing, investigating, and writing. She hopes the lessons that she learned in her fifth grade newspaper elective (in which they printed the school 'newspaper' on bright white printer paper) will contribute to her journalistic success this year. A senior at Jesuit high school, Sophie is passionate about social justice issues, primarily climate justice. This fuels her role as a Green Team leader at Jesuit. She hopes to continue her learning and activism about social justice at the Jesuit Chronicle. Sophie spends most of her time rowing on the Willamette river with her club team which gives her a special appreciation for the days she uses to binge-watch Netflix. She also loves to read and spend time in the beautiful Oregon outdoors, especially if she's next to a body of water. An avid traveler and tryer of new things, Sophie hopes these qualities will help her in seeking out the best stories for the Jesuit community. While she writes her articles this year, you can expect that Sophie will simultaneously be trying to get her one year-old dog to curl up in her lap.