Athlete Spotlight: Matthias Kreutzer
The Jesuit Swim season is starting soon and the men's swim team wants to continue their dominance after winning 6 straight state championships. Senior Matthias Kreutzer has been on varsity since his freshman year and is ready to compete again this year.  
Matthias was raised in a swimming family with both his older sisters swimming at jesuit. Matthias started swimming at 2-years-old and started club swimming at the Multnomah Athletic Club when he was six-years-old. 
"I've known him (Matthias) since kindergarten and remember him always swimming before and after school" Senior John Holman said
During sophomore year, Matthias won the individual State Championship in the 100 meter freestyle and contributed to the team's last State Championship. Matthias has big goals for himself and the team this year. 
"I am looking to win the individual state championship in the 50 and 100 freestyle and a state win as a team obviously," Kreutzer said.
Matthias's older sister Elise was a very good swimmer at Jesuit a few years back and has the individual Oregon record for the 50 freestyle. Matthias wants to win a record this year as well. 
"My older sister Elise broke the Oregon record in the 50 freestyle and I am looking to do the same, so our names are together in the record books," Kreutzer said
Since Matthias started club swimming at six- years-old, he always wanted to continue his swimming career in college.  
"It has always been a dream of mine to swim in college, but right now I am focused on this high school season and a team state championship[…] I have been talking to University of Las Vegas and Denver University  about swimming there" 
The women's and men's swimming has been dominant in recent years and both teams are ready to have a great season. The swim season starts with a meet on January 8th vs. Aloha and Westview at T.H.P.R.D. 
About the Contributor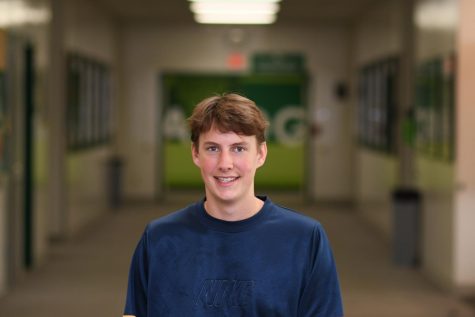 JJ Gray, Managing Editor
JJ Gray is a senior and this will be his third year as  journalism student. He is excited to be in the class and have a great time. In JJ's free time, he reads about sports and listens to many different sports podcasts and radio shows. JJ loves listening to the Ringer Podcast Network every night. He also enjoys talking about and debating sports topics with his family and friends. JJ plays football and he skis at Jesuit high school. JJ is also very into the sneaker and shoe world. He loves to hike and be in the outdoors in his free time. JJ has a cat named Kendrick Lamar and a dog named Reggie and he loves to play with them. JJ has an older sister who graduated from high school last year and was in the journalism class at Jesuit. One of JJ's favorite things to do is travel, his favorite place he ever visited is Amsterdam. JJ loves to read, write and listen to podcasts because they help him take his mind off other things.