Jesuit's Mitigation Approach Over the Last 2 Years
Following the announcements of mask mandates potentially ending soon, Jesuit's mitigation efforts over the last few years have fared well.
Over the last two years, Jesuit has increased testing and added nurses to staff. Other mitigation strategies included outdoor eating spaces, spacing seats in classrooms, vaccinations of staff, and encouraging boosters and handwashing.
Of high schools in Oregon, Jesuit had access to testing early on in the pandemic which helped mitigation efforts. Unfortunately, public high schools generally did not have as much access to testing during the end of winter break for example.
However, "most public schools have been able to get testing from the government and have tests available to them now," nurse Ms. Cox said.
An all-school test was conducted on January 4 where about 1300 tests were conducted. At the last two testing sessions on March 1 and February 15 there were about 25 and 47 people tested, respectively.
Health guidance and the nurses say one of the most important things we can do against COVID is to stay home when feeling sick. 
"If you are sick, whether it is COVID or not, stay home, and if you are not sick come to school," Cox said, "I think we need to get away from thinking everything is COVID and treating it as such and to instead think more holistically."
However, if symptoms develop during the school day, students should head to the nurses' office.
"When I'm sick at school I head to the nurses office and they take care of me," junior Joseph Nguyen said. "They provide rapid COVID tests, and I am grateful for these because not all schools have had access to them."
Other measures Jesuit has taken include restricting spectators at sporting events and adjustments to sports teams.
Recently spectators have been allowed at basketball games as basketball teams continue to assess risk of COVID.
Jesuit has had access to more staff and tests compared to other schools, especially early on, which in part has helped it stay open. 
"I do feel Jesuit is extremely blessed to have access to testing," Cox said.
About the Contributor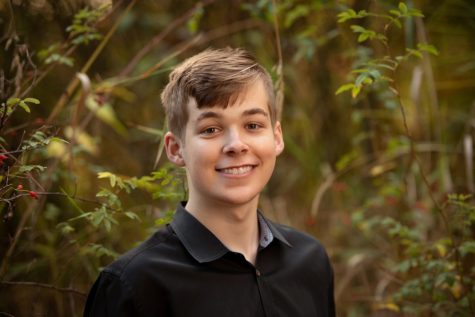 Matthew Heinsen, Staff Writer
Matthew Heinsen
is a senior at Jesuit High School. At Jesuit, Matthew enjoys math, science, and media courses. This year he is taking Advanced Media Production and Yearbook. As far as co curriculars go, Matthew is involved in NHS as an officer this year. As an officer, he helps coordinate NHS events and updates his group on upcoming events. Outside of school, Matthew works as a lifeguard. Matthew's favorite sports to watch are basketball and swimming. His favorite basketball teams are the Portland Trail Blazers and Sacramento Kings. Matthew likes to volunteer for Blanchet House and the Oregon Food bank. In his free time Matthew enjoys paddle boarding, swimming, and hanging out with friends. Matthew has been involved in journalism since a young age. This is Matthew's second year on the journalism program at Jesuit, though he wrote for his local magazine. When Matthew worked with "Cedar Mill Living", he wrote about local athletes and brainstormed with the other writers. During his experience there, Matthew learned how to conduct interviews and work with his team. Matthew wanted to be involved in the Advanced Media Production course to have a broader skill set and to keep people at Jesuit in the loop about events on campus.