How Covid Impacts Men's Basketball
In a season full of unpredictable events, the varsity men's basketball team ran into the hardest obstacle yet. During winter break, they played in the Les Schwab Invitational, against some of the best local and out-of-state teams. After the break, Jesuit tested the entire student body, during which many players on the varsity roster tested positive for Covid. This put the team in a predicament to find enough people to play games. 
There are certain restrictions when it comes to players who contract Covid. Currently, it is a five day quarantine and a negative Covid test to return to practicing with the team. 
The impact of Covid on players is undeniable. A junior guard, Owen Davies, contracted Covid and had to quarantine for 10 days before returning to play. 
"It was a bad experience. Getting back into the game was hard because I didn't feel physically ready," Davies said. "It was also hard mentally, to be able to know all the plays when I returned."
These safety struggles may be the reason that the Crusaders have fallen to a record of 8-8. With tough losses to strong teams, morale was an important factor. 
"Recently we haven't been winning the most games, but I think our team does a good job of having each other's backs and being supportive," Davies said.
In order to fill in the spots for players who contracted Covid, the varsity team decided to call up JV player Henry Smith. As a six-foot junior, he entered the team with a point to prove. 
"I was pretty surprised when I got moved up," Smith said. "I knew that I had to take my chance and play well." 
Smith lived up to the expectations as his level of play continued to impress. Even when players began to return from protocols, he stayed on the varsity team as a scoring option. Davies commented on how Smith impacted the team. 
"When Henry came in his main role on the team was to make shots and play hard, and I think he's done just that," Davies said. "I think he was a great addition and he brings positive aspects to the team." 
Coach Gene Potter also emphasized the role that Smith played when he was moved up. 
"We needed some outside shooting and Henry was shooting the ball really well for us, so we were hoping he would come and extend the floor on the offensive end," Potter said. 
Smith attributes his strong form to the coaching staff. 
"They trusted me," Smith said. "They gave me a chance and played me, and it gave me confidence for future games."
Even with difficulties of playing basketball in a pandemic, the varsity men's basketball team has persevered through adversity. They hope to improve their record for the remaining part of the season. 
About the Contributor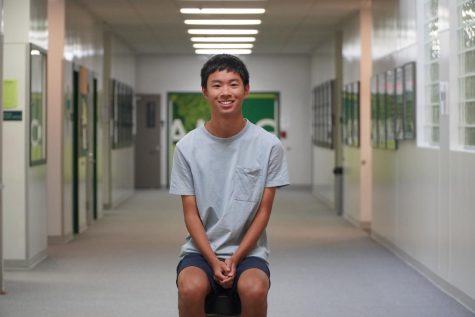 Justin Bian, Sports Executive & Editorial Board Member
Justin Bian is a senior at Jesuit High School and the Sports Executive for the Jesuit Chronicle. He has played soccer for eleven years, and piano for ten. Along with those hobbies, he likes to visit new places around Portland with his family on the weekends. Justin got interested in Journalism because of his older sister, Andrea, who was a staff writer a few years ago. Although his older sister's experience was a great motivator, the main reason he decided to join Journalism was because of his passion for sports. This year, he hopes to cover a variety of sports and write short stories about the games. He also looks to interview players, coaches, and fans, so that the Jesuit community can get insights on the sports teams. Justin would also like to pursue other forms of media, such as broadcasting and podcasts. He aims to bring relevant news around the Jesuit community based on current events on and off campus. At the end of the year, he hopes to have published many articles and have created lasting relationships with classmates and teachers.