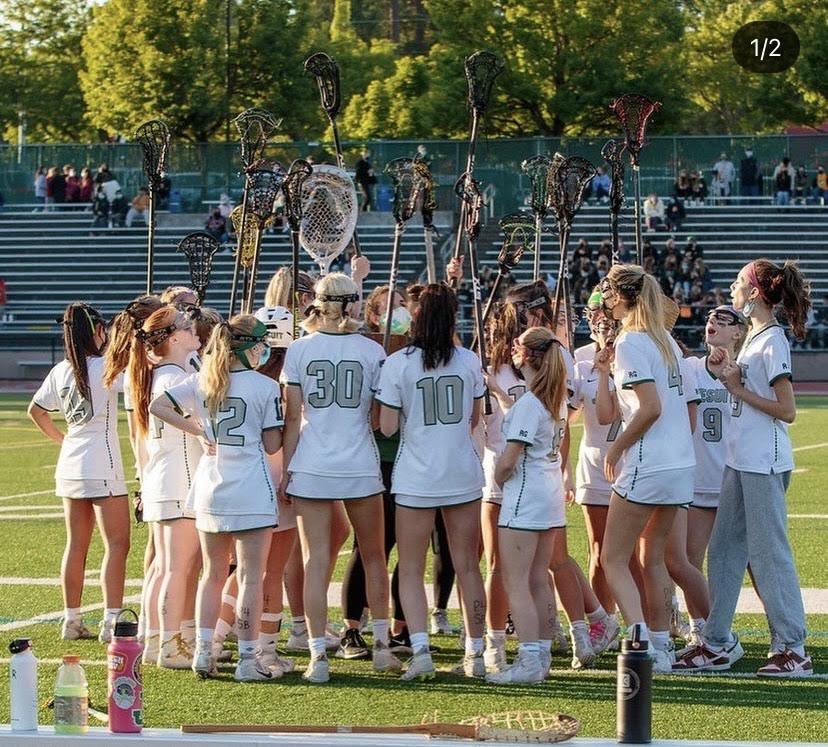 Women's Lacrosse Preview
After dominating and earning a state championship season last year, women's lacrosse is looking to continue their dominance. The official season starts on February 28, and the team is ready.
The team lost four key seniors last year. One of them, Sydney Launder, set a record for scoring 1000 career goals. The seniors were described as the heart of the team. 
"We had a group of 4 seniors who brought the family dynamics" Varsity coach Lauren Blumhardt said.
For most teams, February 28 will be the first time practices together will occur , however not for Jesuit. They have been practicing after school for months. 
"We have been practicing every day after school for a while. The team is looking great" junior Avery Edwards said. 
It is not uncommon for a team to choose a theme for the season. The theme is supposed to set the standard for how the team acts and plays.
"Our theme this season is to be where your feet are," Blumhardt said. 
Mrs. Blumhardt shared that she wants her players to focus on what is happening in the moment, not in the future. She also said that she wants her players to feel empowered and feel like they have a voice. 
"The road to back to back state championships is not going to be easy," Edwards said.
Jesuit beat Lincoln by 1 point last year in the state championship game. Lincoln is a team Jesuit should expect to play. Mrs. Blumhardt also shared that Lake Oswego will be a difficult opponent. 
Jesuit is an experienced team. They will be led by 4 seniors this year. Karis Huh, Parker House, Kiana Santiago, and Abby Hossler.
"We are really looking to them for some leadership," Blumhardt said. 
The team also consists of a strong junior class. The two notable standouts are Piper Daskalos and Sydney Partovi. Both are recent college commits who are looking to help lead the team this season.
Coach Blumhardt is bringing in some new faces to the coaching staff as well. Jason Ben will be coaching the JV team. He only has experience in men's lacrosse, and this will be his first time coaching women's lacrosse.
The team is also looking to bring in younger players. Coach Blumhardt and Edwards shared how impressed they are with the freshman class. 
"The freshmen are the future and the future looks bright. I am very impressed with what they are able to bring to the table" Edwards said. 
"We have a lot of great players so it is going to make for a difficult choice at tryouts," Blumhardt said.